A flood of migrants have gathered on the US-Mexico border after a temporary law brought in during the Covid pandemic was due to expire on Thursday night.
Title 42 – the law that made it easier to expel migrants from the US – made it simpler for border authorities to turn away those wanting to claim asylum.
What is Title 42, was it brought in because of Covid-19 and what will the impact be of its removal?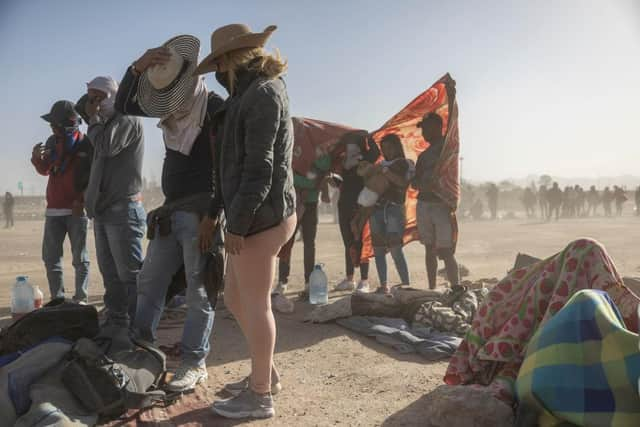 Brought in during Covid to prevent spread of the virus between countries, Title 42 allows border guards to expel migrants at the border immediately, rather than processing them and giving them the opportunity to claim asylum.
Although what will happen to people who have already crossed the border – or who are expecting to cross soon, after Title 42 expires and is replaced by new regulations – is not yet clear, locals have reported an increased number of people gathering nearby.
"We've never seen this before," Oscar Leeser, Democrat mayor of El Paso, Texas, said at a border security expo close to a migrant campsite this week. "Something has to change. As a community, we can't do this forever."
He warned across from El Paso alone, an estimated 10,000 migrants were "lined up at the border, waiting to come in".
Refugee organisations UNHCR and the International Organization for Migration on Friday called for a "collaborative approach" to tackle the migrant situation in the Americas.
They warned that the majority of the people on the move in the Americas are still hosted by countries in Latin America and said the challenges presented by the movement of refugees and migrants "cannot be solved by any country in isolation".
The groups said in a statement: "Real progress can only be made through joint efforts to address the causes of displacement and irregular migration; through support to communities that are hosting the majority of displaced people; providing access to fair and effective asylum procedures and other legal stay arrangements; and facilitating access to safe and regular pathways as alternatives to perilous journeys."
What is the US Government planning to do around federal law?
In place of Title 42, the US government has instead introduced new laws which are not unlike the controversial Illegal Migration Bill in the UK, which makes asylum claims entirely inadmissible from those who travel to the UK on small boats.
Last Wednesday, president Joe Biden introduced the new rules, which bar those who cross the US border illegally from applying from asylum for five years. The administration has also announced changes aimed at encouraging migrants to seek legal pathways to the country.
Last week, Mr Biden said 1,500 active-duty troops would be deployed to the border for 90 days to assist border agents. There have also been claims the Biden administration could also reinstate family detention, which sees families, including young children, locked up while their asylum case is considered.
in recent years, families have been allowed to remain in the US during that period, but are kept in contact with authorities through ankle bracelets or mobile phone tracing.
Is there cross-party support for tackling migration in the US and will there be quarantine measures?
The policy was introduced by former right-wing president Donald Trump, although the current Democrat government, led by Mr Biden, has allowed it to continue. This has caused a split in the Democrat party.
Mr Biden has previously vowed to offer a more humane approach to migration compared to his predecessor.
Senator Bob Menéndez, chairman of the Senate Foreign Relations Committee, has criticised the White House's deployment of troops to support border officials.
"The Biden Administration's militarisation of the border is unacceptable, he said. "There is already a humanitarian crisis in the Western Hemisphere, and deploying military personnel only signals that migrants are a threat that require our nation's troops to contain. Nothing could be further from the truth."
In March alone, US officials encountered more than 191,000 migrants at the border with Mexico.