What is Schengen and why is Austria blocking its expansion?
Austria has blocked the proposed expansion of the Schengen area to include countries such as Moldova and Bulgaria.
But what is Schengen and why does Austria not want new countries to join?
What is Schengen?
The name of a small village in Luxembourg, where a convention was signed in 1985 to allow border-free movement, Schengen is now one of the largest free travel areas in the world.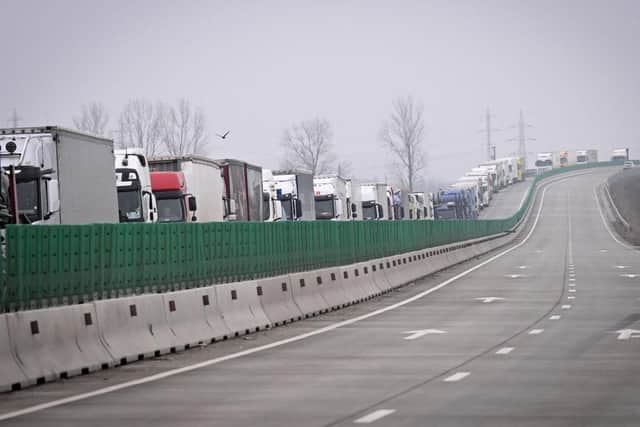 It began with an agreement between five EU countries – France, Germany, Belgium, the Netherlands and Luxembourg.
Countries which have signed up to the Schengen agreement do not carry out checks at their internal borders, except in cases of specific threats and carry out harmonised controls at their external borders, based on clearly defined criteria. This means people can move between countries without having to show passports or be subject to any other kinds of controls.
Which countries are part of Schengen?
Currently, 23 of the 27 EU members countries are part of Schengen, meaning around 420 million people are able to travel within Schengen countries without checks. All members of the European Free Trade Association that are not in the EU – Iceland, Liechtenstein, Norway and Switzerland – are also part of Schengen.
Croatia is the most recent country to join the agreement, in January. The UK has never been part of the agreement, even before Brexit, due to its island status. Ireland is also not a member for the same reason.
Romania, Cyrpus and Bulgaria are the only other EU countries which are not part of the agreement.
What are the benefits of Schengen?
It means people are able to travel quickly and easily between member European countries. It is estimated that almost 1.7 million people reside in one Schengen country while working in another.
Europeans make an estimated 1.25 billion journeys within the Schengen area every year – around 3.5m a day.
Travellers from non-EU countries can also benefit from free travel between Schengen countries.
Nations which have signed up have increased cooperation between the police forces, customs authorities and external border control authorities.
Borders can – rarely – be reintroduced in case of exceptional circumstances or if countries are under a serious threat. This happened in some nations during the Covid-19 pandemic and lockdowns. Since the refugee crisis in 2015, when asylum seekers from countries such as Syria and Afghanistan began to pour into Europe, a number of EU countries, Austria, Germany and France among them, suspended Schengen at some border crossings.
How do countries apply to join?
New member countries need to undergo a series of evaluations to determine whether they fulfil the conditions necessary for the application of the Schengen rules, known as the Schengen acquis. To be accepted, all other member of the Schengen area have to approve the decision unanimously.
Romania and Bulgaria, which became members of the EU in 2007, have said they are ready to join. However, Austria has vetoed the move. The Netherlands joined Austria in vetoing Bulgaria, but said it would allow Romania to join.
Why is Austria blocking Romania and Bulgaria from joining Schengen?
Austrian foreign minister Alexander Schallenberg has said he does not want new countries to join Schengen until Vienna sees a "sustained decline" in asylum seekers. He said his veto was a "warning signal to Brussels over the Schengen system, which he described as "dysfunctional". Austria has seen a huge increase in the number of asylum seekers over the past year.
"What's important to us, to be perfectly frank, is that the numbers go down and there has to be a sustained decline," Mr Schallenberg said.
"One must understand that when we're seeing over 100,000 asylum applications every 12 months, it is difficult for us as Austria to just let this dysfunctional system roll along."
Romanian interior minister Lucian Bode has said his country has been ready to join Schengen since 2011 and has been blocked by "all kinds of explanations and reasons … not related to the Schengen acquis".
"I believe we are strictly talking about a political decision, and the decision in December had 100 per cent internal political motivation," he said.
Mr Bode also said he hoped Spain, after taking over the presidency of the EU Council in July, will put the subject of Schengen enlargement back on the agenda as a priority.
What are the implications of Romania and Bulgaria not being in Schengen?
There are business implications for the countries, making more costly and time consuming for imports and exports from the rest of the EU – as well as making it more difficult for tourists to enter the countries without delays. It is also detrimental to European businesses which have interests in the countries. The Austrian business community, which has invested heavily in Romania, has expressed concern over its government's veto.
The issue has fuelled Euroscepticism in the countries.
A poll in 2021 found more than two-thirds of Romanian citizens believe the country should defend its interests if they go against EU rules, even if that would mean leaving the Union. The idea of a "Roexit" has become more popular in a country which campaigned hard to be allowed to join the bloc just 16 years ago.
A 2016 poll by Eurobarometer showed a third of Bulgarians are against being in the EU. However, there are fears that Russian influence in the country in recent years could have seen that sentiment increase.
Comments
 0 comments
Want to join the conversation? Please or to comment on this article.