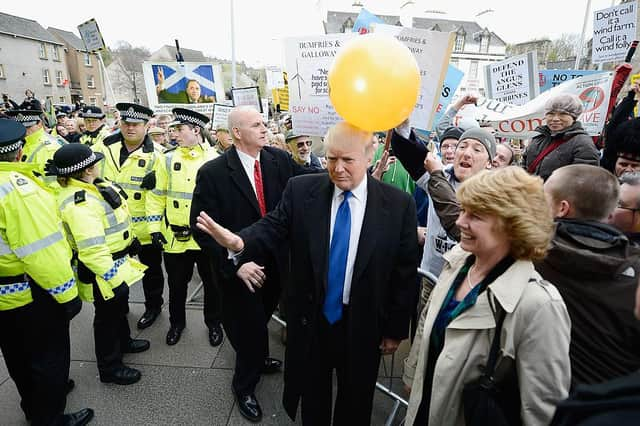 Donald Trump often receives a lively welcome on his visits to Scotland (Getty Images)
In Scottish Gaelic, the name Donald derives from dumno-ualos, meaning world ruler.
He may not rule the world – though Donald Trump may refute this – but the 45th President of the United States is vying for a second term in, arguably, the highest office of power in the world.
And it's not only his name that connects him to Scotland – the loud-mouthed White House resident has family and business ties to Scotland, as well as a love for the country's most famous sporting export, golf.
Ahead of his face-off with Joe Biden, here's a brief history of Trump's relationship with Caledonia.
Donald Trump's mother was born and raised on the Isle of Lewis as the youngest of 10 children.
Mary Anne MacLeod came from humble beginnings. English was her second language and she learned this at school, having been raised in a Gaelic-speaking household.
Mary was the daughter of crofter and fisherman, Malcolm (1866-1954), and Mary MacLeod (1867-1963). The name of her future-president son Donald, may have come from her maternal grandfather, Donald Smith.
It was common for young Scots to leave for the United States or Canada during the early 1900s, having suffered badly the consequences of the Highland Clearances and World War 1.
Mary already had a few sisters who had settled in the United States, and it's believed that she first visited America for a short stay in December 1929.
She then decided to move there permanently and departed Glasgow on board the RMS Transylvania on 2 May 1930, arriving in New York City nine days later on 11 May - the day after she turned 18.
MacLeod continued visiting her native land throughout her life and spoke Gaelic when she did.
Mary met American real-estate developer Fred Trump at a party in the 1930s and married him in January 1936 at the Madison Avenue Presbyterian Church, before a reception in Manhattan.
Alice Mackay, who is related to Trump's maternal family line, the MacLeods, said his mother and sister frequently returned to the crofting township of Tong on Lewis, with both making sizeable financial donations.
Mackay said that by contrast Donald Trump, known as Donald John to islanders, had "never given a penny" to the community.
Speaking during a visit to his mother's hometown Mr Trump said: "I feel very comfortable here. It's interesting when your mother, who was such a terrific woman, comes from a specific location, you tend to like that location. I think I do feel Scottish."
Trump International Golf Links and Turnberry
In 2006 Donald Trump began plotting a more permanent return to Scotland when he purchased a 1,400-acre swath of the old Menie Estate in Aberdeenshire with the intention of building a golf course and resort.
The creation of the Trump International Golf Links was not to be a straightforward journey, with protected dunes serving as a border for much of the purchased land.
After furious legal battles, Scottish officials decided that the economic gains that such a venture would bring outweighed the irreversible damage to the landscape.
Six years after his purchase, the green of Trump International Golf Links' fairways were christened with the white of golf balls for the first time.
From purchase to opening, Mr Trump didn't endear himself to locals, famously branding farmer Michael Forbes who refused to sell his land "an embarrassment to Scotland" and someone who "lives like a pig".
Mr Trump's relationship with the Scottish authorities began to fall apart when an application for an 11-turbine wind farm off the north-east coast near Menie was accepted.
He made unsubstantiated claims that he had been given assurances it would not go ahead and he turned against the government, accusing First Minister Alex Salmond of destroying the environment.
Two years later, Trump went a step further, claiming the damage done by wind farms "was a disaster for Scotland, like Pan Am 103".
Despite his fall outs, Trump purchased Turnberry golf course in Ayrshire for $60 million in 2014.
In the same year Mr Trump decided against backing either a Yes or No vote in the Independence Referendum, but criticised then-First Minister Alex Salmond in the aftermath.
"Had he not littered Scotland with these horrible wind turbines, which have raised everybody's taxes … I think he would have done much better," Trump told Fortune.
In 2020 it was reported that the UK Open wouldn't be played at Mr Trump's Turnberry course – and in typical fashion he responded with vitriol.
"I have done so much for Scotland, including building Trump International Golf Links, Scotland, which has received the highest accolades, and is what many believe to be one of the greatest golf courses anywhere in the world," he wrote in an op-ed.
"The UK politicians should be thanking me instead of pandering to political correctness."