War in Ukraine: Vladimir Putin orders 36-hour weekend ceasefire
Russian president Vladimir Putin has ordered Moscow's armed forces to hold a 36-hour ceasefire in Ukraine this weekend for the Russian Orthodox Christmas holiday, the Kremlin said.
The order follows a proposal by the head of the Russian Orthodox Church, Patriarch Kirill, earlier in the day, which was dismissed by an official in the Ukrainian presidential office as propaganda.
"Based on the fact that a large number of citizens professing Orthodoxy live in the combat areas, we call on the Ukrainian side to declare a ceasefire and give them the opportunity to attend services on Christmas Eve, as well as on the Day of the Nativity of Christ," according to Mr Putin's order, addressed to defence minister Sergei Shoigu and published on the Kremlin's website.
Patriarch Kirill suggested a truce from noon on Friday through to midnight on Saturday local time.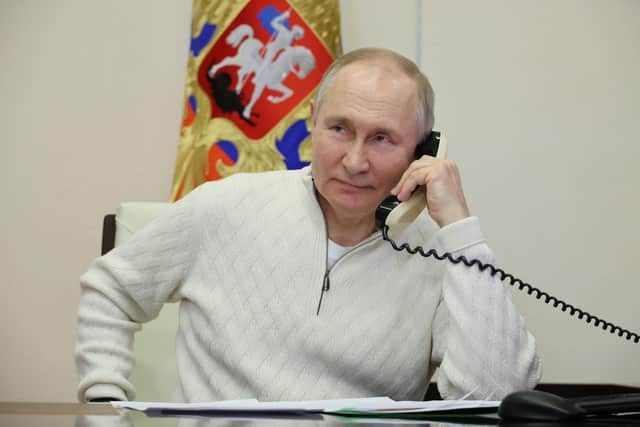 The Russian Orthodox Church, which uses the ancient Julian calendar, celebrates Christmas on January 7 – later than the Gregorian calendar – although some Christians in Ukraine also mark the holiday on that date.
Ukrainian presidential adviser Mykhailo Podolyak dismissed Patriarch Kirill's call as "a cynical trap and an element of propaganda".
President Volodymyr Zelensky had proposed a Russian troop withdrawal earlier, before December 25, but Russia rejected it.
Patriarch Kirill has previously justified the war as part of Russia's "metaphysical struggle" to prevent a liberal ideological encroachment from the West.
Mr Putin spoke by phone with Turkey's president on Thursday and the Kremlin said he "reaffirmed Russia's openness to a serious dialogue" with Ukrainian authorities.
Turkish president Recep Tayyip Erdogan urged Mr Putin to implement a "unilateral ceasefire", according to a statement from the Turkish president's office.
Mr Erdogan also told Mr Zelensky later by telephone that Turkey was ready to mediate a "lasting peace".
He has made such an offer frequently.
It has already helped broker a deal allowing Ukraine to export millions of tons of grain, and it has facilitated a prisoner swap.
Russia's professed readiness came with the usual preconditions: that "Kyiv authorities fulfil the well-known and repeatedly stated demands and recognise new territorial realities", the Kremlin said, referring to Moscow's insistence that Ukraine recognise Crimea as part of Russia and acknowledge other illegal territorial gains.
Previous attempts at peace talks have fallen at that hurdle, as Ukraine demands Russia withdraws from occupied areas at the very least.
Elsewhere, the head of Nato said he detected no change in Moscow's stance on Ukraine, insisting the Kremlin "wants a Europe where they can control a neighbouring country".
"We have no indications that President Putin has changed his plans, his goals for Ukraine," Nato secretary general Jens Stoltenberg said in Oslo.
Ukraine's western allies have renewed a vow to keep supporting Kyiv for as long as it takes to defeat Russia.
In the latest pledge of military help, the French Defence Ministry said it plans talks soon with its Ukrainian counterpart on delivering armoured combat vehicles.
Comments
 0 comments
Want to join the conversation? Please or to comment on this article.