War in Ukraine: Vladimir Putin-ordered truce uncertain as Ukraine dismiss ceasefire
The impact of Russian president Vladimir Putin's order for his forces in Ukraine to observe a unilateral, 36-hour ceasefire is in doubt after Kyiv officials dismissed the move as a ploy – but did not clarify whether Ukrainian troops will follow suit.
The Russian-declared truce in the nearly 11-month war began at 12pm local time on Friday and will continue until midnight on Sunday.
There were no immediate reports of it being broken.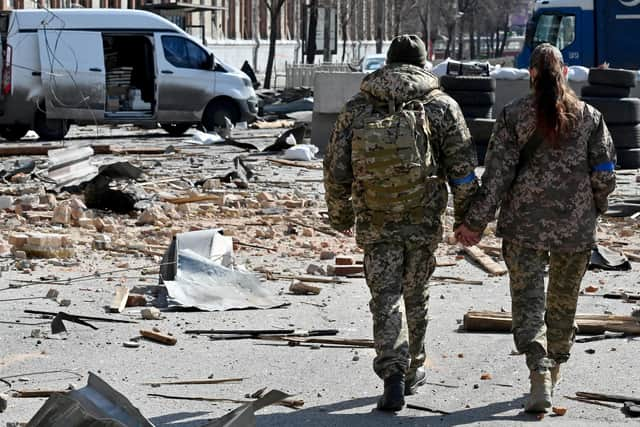 Air raid sirens sounded in Kyiv about 40 minutes after the Russian ceasefire came into effect but no explosions were heard. A widely-used Alerts In Ukraine app, which includes information from emergency services, showed sirens blaring all across the country.
Mr Putin's Thursday announcement that the Kremlin's troops will stop fighting along the 684-mile front line or elsewhere was unexpected.
It came after the Russian Orthodox Church head, Patriarch Kirill, proposed a ceasefire for this weekend's Orthodox Christmas holiday.
The Orthodox Church, which uses the Julian calendar, celebrates Christmas on January 7.
But Ukrainian and western officials suspect an ulterior motive in Mr Putin's apparent goodwill gesture.
Ukrainian President Volodymyr Zelensky questioned the Kremlin's intentions, accusing it of planning the fighting pause "to continue the war with renewed vigour".
"Now they want to use Christmas as a cover to stop the advance of our guys in the (eastern) Donbas (region) for a while and bring equipment, ammunition and mobilised people closer to our positions," Mr Zelensky said late on Thursday.
He did not, however, state outright that Kyiv will ignore Mr Putin's request.
US President Joe Biden echoed Mr Zelensky's wariness, saying it is "interesting" Mr Putin was ready to bomb hospitals, nurseries and churches over the western Christmas period.
"I think (Mr Putin) is trying to find some oxygen," Mr Biden said without elaborating.
US state department spokesman Ned Price said Washington has "little faith in the intentions behind this announcement", saying Kremlin officials "have given us no reason to take anything that they offer at face value".
The truce order seems to be a ploy "to rest, refit, regroup, and ultimately re-attack", he said.
The Institute For The Study Of War agreed the truce may be a ruse allowing Russia to regroup.
"Such a pause would disproportionately benefit Russian troops and begin to deprive Ukraine of the initiative," the think tank said late on Thursday.
"Putin cannot reasonably expect Ukraine to meet the terms of this suddenly declared ceasefire and may have called for the ceasefire to frame Ukraine as unaccommodating and unwilling to take the necessary steps toward negotiations."
Washington says it is prepared to keep backing Ukraine's war effort.
On Friday, the US is due to announce nearly three billion dollars (£2.52 billion) in military aid for Ukraine - a massive new package which is expected to include several dozen Bradley fighting vehicles for the first time.
The ill-feeling between the warring sides shows no signs of abating, despite the backdrop of Christmas.
Former Russian president Dmitry Medvedev, the deputy head of Russia's security council, said those who rejected Mr Putin's proposal for a Christmas truce are "clowns" and "pigs".
"The hand of Christian mercy was extended to the Ukrainians," he said in a Telegram post. "But pigs have no faith and no innate sense of gratitude."
Some civilians on the streets of Kyiv said they speak from bitter experience in doubting Russia's motives.
"Everybody is preparing (for an attack) because everybody remembers what happened on the New Year when there were around 40 Shahed (Iranian drones)," local resident Vasyl Kuzmenko said. "But everything is possible."
Comments
 0 comments
Want to join the conversation? Please or to comment on this article.