War in Ukraine: US president Joe Biden makes surprise visit to Kyiv
US president Joe Biden has made a surprise visit to the Ukrainian capital of Kyiv in a defiant display of western solidarity with a country still fighting what he called "a brutal and unjust war" days before the one-year anniversary of Russia's invasion.
In a statement issued during the trip, Mr Biden said he wanted to "reaffirm our unwavering and unflagging commitment to Ukraine's democracy, sovereignty, and territorial integrity".
Mr Biden spent more than five hours in the Ukrainian capital, consulting with Ukrainian president Volodymyr Zelensky on next steps, honouring the country's fallen soldiers and meeting US embassy staff in the war-torn country.
"One year later, Kyiv stands," the US president declared after meeting Mr Zelensky at Mariinsky Palace. Jamming his finger for emphasis on his podium flanked by US and Ukrainian flags, he added: "And Ukraine stands. Democracy stands. The Americans stand with you and the world stands with you."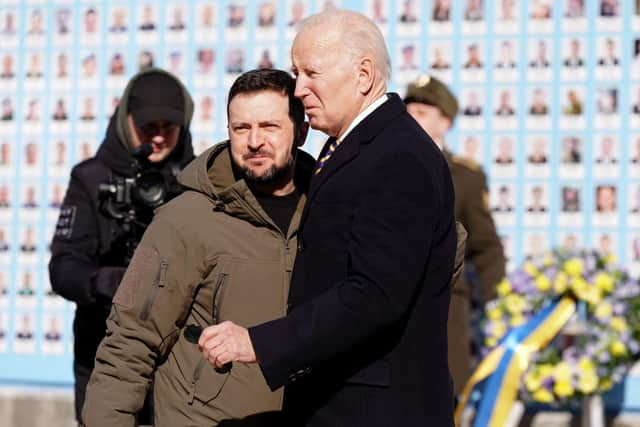 Russian troops invaded Ukraine on February 24 last year, with the one-year anniversary falling this Friday.
Monday's visit came at a crucial moment – Mr Biden is trying to keep allies unified in their support for Ukraine as the war is expected to intensify with spring offensives.
Mr Zelensky is pressing allies to speed up delivery of promised weapon systems and calling on the West to provide fighter jets — something Mr Biden has declined to do.
But Mr Biden said during the visit he would announce another delivery to Ukraine of ammunition and air defence systems.
The US President got a taste of the terror Ukrainians have lived with for close to a year when air raids sirens howled just as he and Mr Zelensky wrapped up a visit to the gold-domed St Michael's Cathedral.
Looking solemn, they continued unperturbed as they laid two wreaths and held a moment of silence at the Wall of Remembrance honouring Ukrainian soldiers killed since 2014, the year Russia annexed Ukraine's Crimean peninsula and Russian-backed fighting erupted in eastern Ukraine.
Mr Biden said: "When Putin launched his invasion nearly one year ago, he thought Ukraine was weak and the West was divided. He thought he could outlast us. But he was dead wrong.
"Today, in Kyiv, I am meeting with President Zelenskyy and his team for an extended discussion on our support for Ukraine. I will announce another delivery of critical equipment, including artillery ammunition, anti-armour systems, and air surveillance radars to help protect the Ukrainian people from aerial bombardments. And I will share that later this week, we will announce additional sanctions against elites and companies that are trying to evade or backfill Russia's war machine."
He added: "Over the last year, the United States has built a coalition of nations from the Atlantic to the Pacific to help defend Ukraine with unprecedented military, economic, and humanitarian support – and that support will endure."
The White House would not go into specifics, but national security adviser Jake Sullivan said it told Moscow of Mr Biden's visit to Kyiv shortly before his departure from Washington "for deconfliction purposes" in an effort to avoid any miscalculation that could bring the two nuclear-armed nations into direct conflict.
Mr Zelensky had made a surprise visit to Washington a few weeks ago, where he asked and to plead to US Congress for more weapons.
Comments
 0 comments
Want to join the conversation? Please or to comment on this article.