The bombardments came as Moscow enforced tight security on the eve of traditional Red Square commemorations marking the defeat of Nazi Germany in the Second World War.
Russian media counted at least 21 Russian cities that cancelled military parades – the staple of Victory Day celebrations across Russia – on May 9 for the first time in years.
Regional officials cited "security concerns" or vaguely referred to "the current situation". Parades will go ahead in Russia's largest cities, Moscow and St Petersburg.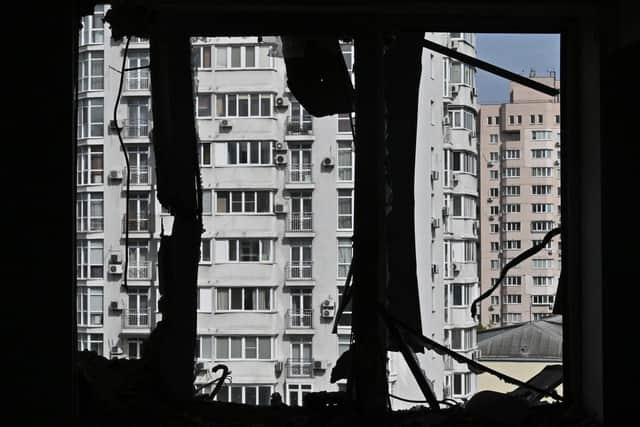 But the use of drones has been banned in both cities ahead of Victory Day.
In St Petersburg, which is often referred to as "northern Venice" for its network of rivers and canals, using jet skis in certain parts of the city has also been prohibited until May 10.
In the Russian capital, car sharing services have been temporarily barred from the city centre – drivers will not be able to start or finish rides there.
Five people in the Ukrainian capital were injured by falling drone debris, according to Serhii Popko, head of the Kyiv City Military Administration.
Air raid alarms sounded for more than three hours during the night. Drone wreckage struck a two-storey apartment building in Kyiv's western Svyatoshynskyi district, while other debris struck a car parked nearby, setting it on fire, Kyiv mayor Vitali Klitschko said in a Telegram post.
Facing economic sanctions and limits on its supply chains due to its invasion of Ukraine in February last year, Russia has routinely turned to Iran's Shahed drones to bolster its firepower.
Russian shelling of 127 targets across northern, southern and eastern parts of Ukraine killed three civilians, the Ukrainian Defence Ministry said.
The Kremlin's forces used tanks, drones, mortars, warplanes, multiple rocket launchers and surface-to-air missiles to bombard Ukraine, the report said.
Russian long-range bombers launched up to eight cruise missiles at Ukraine's southern Odesa region, authorities said. One person was killed and three wounded.
Some of the Soviet-era cruise missiles fired against the Odesa region self-destructed or fell into the sea before reaching their targets, according to Ukrainian air force spokesman Yuri Ihnat.
In addition, six Russian rockets also struck the eastern Ukrainian city of Kramatorsk during the night, a regional official reported.
The missiles targeted the city's industrial zone and caused no casualties, Donetsk regional governor Petro Kyrylenko said in a Telegram post.
Russian authorities were preparing for celebrations on Tuesday of Victory Day, Russia's most important secular holiday, amid tight security.
Many regions have cancelled their May 9 observances because of concerns the events could be targets for Ukrainian attacks.