War in Ukraine: Two killed in east Ukraine as Russia claims it killed 600 in barracks strike
At least two people have been killed in fighting in eastern Ukraine, officials said as Russia claimed it carried out deadly missile strikes on barracks used by Ukrainian troops in the war.
Donetsk governor Pavlo Kyrylenko said one person died in strikes on Bakhmut and eight others in the region were hurt.
He also reported rocket attacks on Kramatorsk and Konstantynivka.
In the Kharkiv region, the town of Merefa was hit during the night, killing one person, while two other settlements in the region were shelled, governor Oleh Syniehubov said.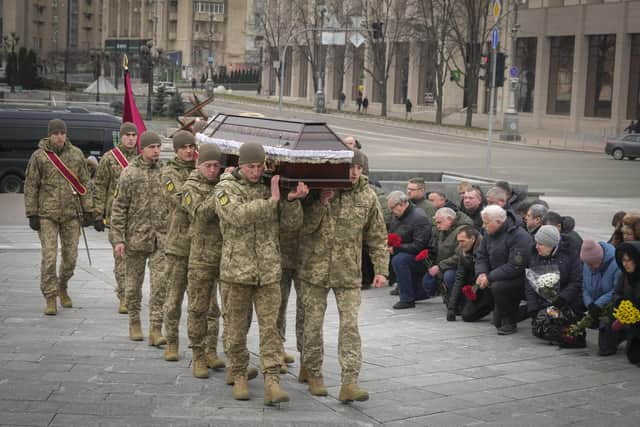 The Russian military said missiles launched at Kramatorsk hit barracks used by Ukrainian troops, killing 600 people.
There was no comment from Ukrainian officials and it was not immediately possible to independently verify the claim.
It comes almost a week after Ukraine forces fired rockets at a facility in the eastern Donetsk region where Russian soldiers were stationed, killing dozens of them in one of the deadliest attacks on the Kremlin's forces since the war began over 10 months ago.
Russian defence ministry spokesman Igor Konashenkov said the missile strikes were retaliation for Ukraine's attack in Makiivka, in which at least 89 Russian soldiers died.
"Over the past day, Russian intelligence means detected and reliably confirmed through various independent channels some temporary bases of Ukrainian servicemen in Kramatorsk," he said.
"As a result of a massive rocket strike on these temporary bases of Ukrainian units, more than 600 Ukrainian servicemen were killed."
Seven missile strikes were launched on Kramatorsk overnight, damaging an "educational facility and an industrial facility", the Ukrainian news agency Ukrinform said.
It quoted Mr Kyrylenko as saying: "In Kramatorsk, the buildings of an educational institution, an industrial facility and a garage co-operative were damaged."
Ukrinform said "according to preliminary information, nobody was injured during the shelling".
The latest developments come after Russian forces ended a partially observed, unilateral ceasefire timed to coincide with Orthodox Christmas celebrations on Saturday.
The Bosnian Serb separatist leader has awarded Russian President Vladimir Putin with the highest medal of honour for his "patriotic concern and love" for the Serb-controlled half of Bosnia.
"Putin is responsible for developing and strengthening co-operation and political and friendly relations between RS (Republika Srpska) and Russia," the Bosnian Serb president, Milorad Dodik, said at the awards ceremony in the Bosnian Serb stronghold of Banja Luka.
Mr Dodik, who visited Mr Putin in Moscow in September, has maintained close ties with the Russian president despite Russia's war in Ukraine.
The medal will be presented to Mr Putin during the next meeting between the two.
Moscow has often been accused by the west of seeking to destabilise Bosnia and the rest of the Balkans through its proxies in Serbia and Bosnia.
Mr Dodik has openly advocated tearing away the Serb-controlled half of Bosnia from a Bosniak-Croat federation to join it up with neighbouring Serbia.
A US-brokered peace deal in 1995 ended a war in Bosnia that left at least 100,000 people dead and millions homeless, but left the country deeply divided between its three main ethnic groups.
Moscow has been exploiting the divisions by tacitly supporting Mr Dodik's separatist policies.
Mr Dodik awarded Mr Putin on the occasion of "the day of Republika Srpska", which has been deemed illegal by Bosnia's constitutional court.
It marks the day when Bosnian Serbs proclaimed they were splitting from Bosnia in 1992 with the aim of separating the Serb-populated regions of the Balkan state and join them up with Serbia.
Tensions were running high in Bosnia as the Serbs planned to hold their main celebrations on the outskirts of Sarajevo on Monday, the town they held under siege for three years during the war.
Thousands of people were killed in the relentless shelling and sniping of the Bosnian capital.
Comments
 0 comments
Want to join the conversation? Please or to comment on this article.