War in Ukraine: Scottish host told by council to send Ukraine guests back to airport hub 'with all of their belongings'
A Scottish host of a Ukrainian refugee family has told how she was instructed by her local council to send her guests back to an airport Welcome Hub to be moved into a temporary hotel room if she could not house her guests indefinitely.
The host agreed to take in a family fleeing the war for a six-month period under the Homes for Ukraine scheme – but knew personal circumstances would make it difficult for her to continue the arrangement beyond that time.
When she contacted Edinburgh City Council to ask where her guests would be able to live after their agreement came to an end, she was told she should send the woman and her six-year-old daughter back to the hub at Edinburgh Airport, where they would be declared homeless and placed indefinitely in a hotel room until another longer-term solution could be found.
"The request from the Government at the beginning of the war was for six months, so we decided we could do that, we wanted to help," said the host, who did not want to be named.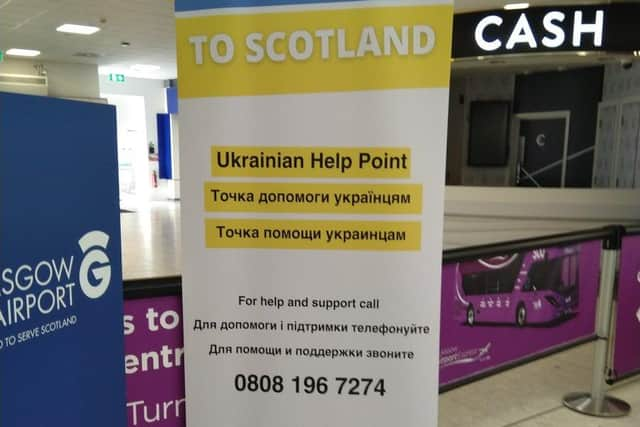 "When it got close to six months, I phoned the council and asked what happens now – if there would be a plan put in place for her. I was told no, they would find her alternative accommodation if and when she was homeless – not before. So I said to them 'OK, I'll extend it to a year, but I'm giving you notice now that something will have to be found then'.
"While we want to help, we need our house back, it was only supposed to be temporary. My parents live overseas and usually come and stay with us – and they haven't been able to do that now for ten months because our spare room is occupied. It can't be a long-term solution."
The host said she contacted the council again this month – ten months after beginning to host the family – and was again told they would have to be made homeless.
"They told me I should take them, along with all their belongings, back to the Welcome Hub at Edinburgh Airport," she said. "Of course, I can't do that, they have been living with me for ten months. I'm not going to send the little girl, with her bicycle and toys, back to a hotel room, with no idea when they will find anything more permanent.
"She is settled in school here. These people are refugees. I was trying to reasonably explain to [the council] that there is no point in re-traumatising people by having them dumped in the welcome hub. They say they are supposed to find them somewhere permanent within six weeks, but you hear of people who have been on the cruise ship or in hotels for months. My purpose is to help these people. I am in a very difficult position."
Edinburgh Council did not deny the host had been instructed to send her guests back to the hub, but said she should have been offered other options and support, with homelessness an option of last resort. Social housing for refugees is in short supply, while there are almost no volunteer hosts available in Scotland.
The host's Ukrainian guest has tried to find a flat of her own, but has struggled without a UK guarantor.
"I can't act as a guarantor, I have financial responsibilities of my own," the host said. "I can't be in a situation in six months' time where I can't pay my own mortgage because my guest can't pay her rent. She has looked at one flat that didn't require a guarantor, but it was mouldy and damp and she couldn't have a child living in there."
In emails seen by The Scotsman, a council official told the host that making her guests homeless was "the procedure that will enable them get some sort of housing quicker".
"That is why all the refugees are asked to return to the hub to be accommodated, if they have not managed to secure a privately rented accommodation," the council official wrote. "If they are registered as homeless, they will be provided with a social housing."
Edinburgh Council said it would contact the host to offer support.
Council leader Cammy Day said: "We absolutely need to avoid people entering homelessness at all costs. There are follow-on options we can and do explore with people on the Government's Homes for Ukraine scheme to prevent this from happening – such as helping people into the private rented sector – and we also have employability support in place for Ukrainians looking for work.
"The difficulty we face in Edinburgh is that we're experiencing housing pressures like nowhere else in Scotland, with the lowest proportion of social housing in the country and the most buoyant and expensive rents. This means we've got long waiting lists for council homes and for temporary accommodation. We're building more homes and we're working through options like introducing a guarantor option for private lets, but this isn't in place yet."
Cllr Day added: "Edinburgh remains the lowest-funded council in Scotland and addressing the challenge needs a national approach. We need the Scottish Government to listen to our calls for greater accommodation support in Edinburgh and address what is increasingly becoming a real country-wide challenge, both for hosts and for our new Ukrainian residents. They understandably are looking for help and certainty as they look to settle in Scotland longer term."
A council spokesperson added: "We'll be reaching out to this host to offer the council's full support and hope to reach an arrangement which benefits everyone involved."
Comments
 0 comments
Want to join the conversation? Please or to comment on this article.