"I was crying for a few days," she says.
Ms Shpygunova, her husband Andriy and their three children had taken refuge in the west of Ukraine at the time of the attack in shelters provided by their employer, charity Serve Now. After they returned home, they found their house had been almost entirely destroyed, while most of their personal belongings had burned in a fire caused by the shelling. The family is now staying in the home of some family friends who are in Sweden.
For the family, the attack was the second time they had been forced to leave their home due to conflict with Russia. In 2014, when their oldest son Oleksii was just 12 and their younger son Ilia a toddler, they had fled to Irpin as refugees after Russia annexed Crimea.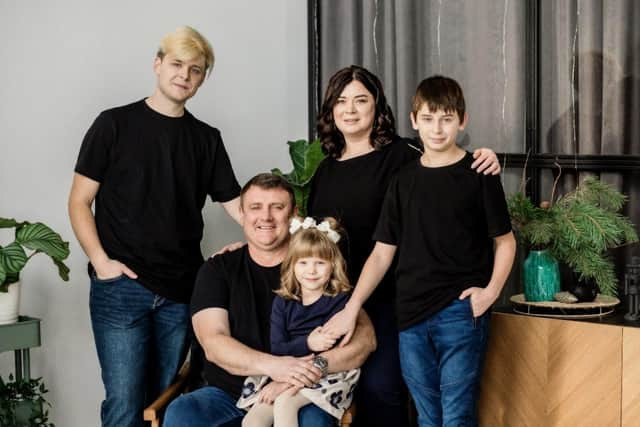 "We had to leave our home in Crimea and this is now the second time we have lost our home because of Russia," she says. "When I talk about a home, I'm not talking about bricks and buildings, I'm talking about a smell, the family pictures on the wall, your favourite cup in the morning to drink your coffee.
"You have a house – you have everything like beds, clothes, toys, dishes, you don't think about this, it is normal. Then when a shell hits your house, all of your belongings are gone in just a few minutes."
Thousands of people in Irpin have lost their homes. Many of them, like Ms Shpygunova's family, are suffering the loss for the second time after arriving in the city as refugees following the annexation of Crimea, almost doubling the city's population. More than 70 per cent of buildings in Irpin, which was one of the first cities to face hostilities after the war began in February last year, have suffered damage from Russian shells.
Ms Shpygunova says the experience has made her look at life very differently.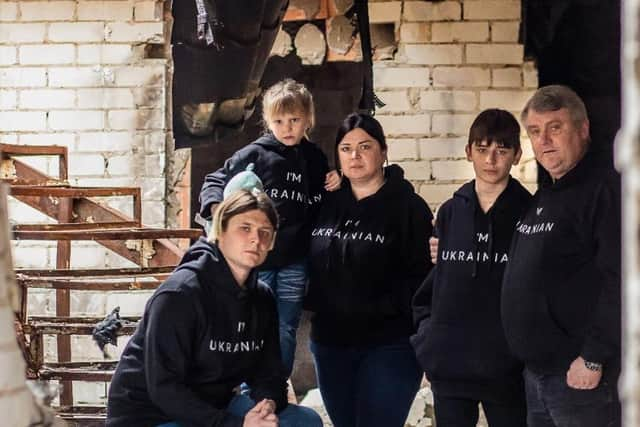 "Life is very different now and you understand that as humans, we usually take such care about our belongings, our clothes, but it really doesn't matter," she says.
"I am thankful that we had that time, but I know it is something I don't want to invest in any more. I'm ready to invest in people. After losing everything twice, I think you have learned a great lesson."
Now both she and her husband work for a charity offering help to other people enduring a freezing winter, amid frequent power cuts due to Russian attacks on Ukraine's infrastructure – with the support of Scottish charity Blythswood Care in partnership with Christian Aid.
Ms Shpygunova is distributing 50 boxes packed with essentials including torches, hot water bottles, flasks and power banks to families most in need – as well as eight power generators, which allow people to keep the lights on during blackouts.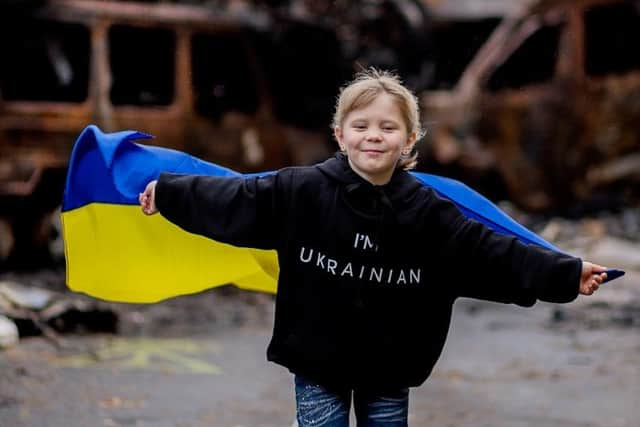 "We are trying to help people who didn't want – or couldn't – be evacuated anywhere and who decided to stay here this winter," she says. "These small things really help families, they feel more protected and comfortable.
"When people get this kit, they start crying and say 'who is thinking about us?' People are so amazed that so many people support Ukraine and that so many people care."
"The last few days, it's much better," she says. "We have a schedule of four hours to have electricity and four hours not. But for the last six weeks, it was very bad. You couldn't charge your phone, you couldn't make food. And it is very cold."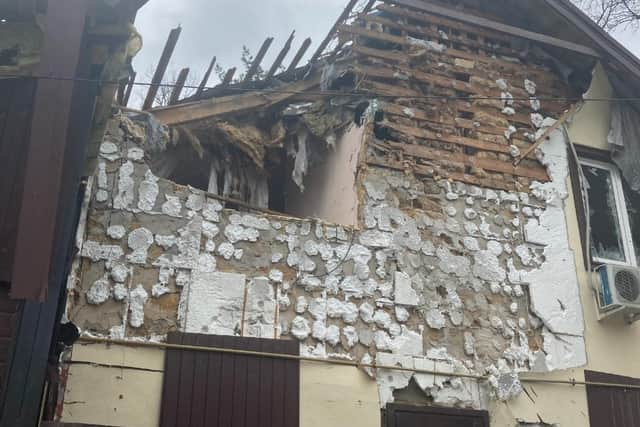 To make things even more difficult, an inability to charge phones has left people without any way of being informed about air raids. When an air raid alert goes off in a region, an urgent message is sent to all mobile phones in that district. The same happens when the all-clear is sounded.
"For a lot of people, the worst part has been that we do not have cell phone or internet connection," Ms Shpygunova says. "We can hear when there is an air raid in our city, it is very loud. But for this three or four-hour period when it is going on, we don't have any news. You cannot go outside, so you don't know what is happening."
Ms Shpygunova – along with Ilia, 12 and his six-year-old sister, also called Tatyana, who the family adopted from an orphanage shortly before the war – considered leaving Ukraine to seek shelter abroad, but decided to stay. Mr Shpygunova and Oleksii are not allowed to leave the country in case they are called up by the Ukrainian military.
"My husband asked me if I wanted to leave the country," she says. "I told him 'I want to stay with you and do what we can for our people'."
Growing up in Crimea, Ms Shpygunova, 42, was from a severely deprived background. Both of her parents were raised in an orphanage.
"We had food at home maybe only two or three times a week," she recalls. "One day, when I was a teenager, I was sitting on the beach and I was crying and I thought 'I'm tired of living this life' because all my life I had had to fight to find food for myself and for my younger brother, it was quite difficult. And I remember my prayer was that if something in my life changed, I definitely would like to dedicate myself to help other people in a difficult situation.
"Things changed, we never got food sent from heaven, but people around us helped."
She recalls one woman who brought sandwiches to the family at church every Sunday and another who lent the young Tatyana her shoes every day to allow her to go to school – before taking them back to go to her own job.
"I was so touched that people just did what they could," she says. "Small things – I realised you don't have to have a lot of money, or have a lot of power to make a difference for other people."
Ms Shpygunova and her husband began working for a charity in Crimea 20 years ago, before taking up jobs with Serve Now after moving to Irpin. Now the whole family has become involved with aid work.
Oleksii, 20, who has had to pause his university studies after educational buildings were destroyed in an attack, is out delivering generators to families at the time of our phone call.
Meanwhile, Ilia, who is unable to study due to a breakdown in the temporary power generator set up at his school, is helping his mother make calls to people in the neighbourhood to find out their needs and direct help accordingly.
"This is one thing that really helps us as a family to get through this, to be with the kids and involved them in what we're doing," she says.
The family spent the Christmas break travelling around Ukraine together to deliver 7,000 Christmas shoe boxes provided by Scottish families through Blythswood Care packed with gifts such as toiletries and toys.
"It was an interesting experience," she says. "As a mum I was afraid to leave them, even for a couple of hours, so we did it as a family."
But she believes she has the best end of the deal. "I told Blythswood staff that I have a more fun job than them," she says. "They do all of the hard work to make it happen – and for us here, we just bring joy to people and see the happy smiles."