War in Ukraine: More than 100 cultural figures sanctioned by Ukraine amid 'propagandist' claims
More than 100 cultural and sporting figures, including Ukraine's most-capped football player, have been sanctioned by President Volodymyr Zelensky amid accusations they are acting as "propagandists" for Russia.
A total of 119 singers, actors, artists, and cultural figures – including Anatoliy Tymoshchuk, former captain of Ukraine's national football team, who now coaches a Russian team – have been banned from entering Ukraine and have had their assets frozen. Any state awards, titles or recognition will also be withdrawn.
The Ukrainian government called on the West to also sanction more individuals whom it said had demonstrated support for Russia's invasion of Ukraine.
Russian singers Irina Allegrova, Aleksandr Buinov, Viktoria Daineko, and Filip Kirkorov, as well as rapper Vasiliy 'Basta' Vakulenko, and actors Dmitry Kharatyan and Dmitri Diuzhev were among those sanctioned by Kyiv.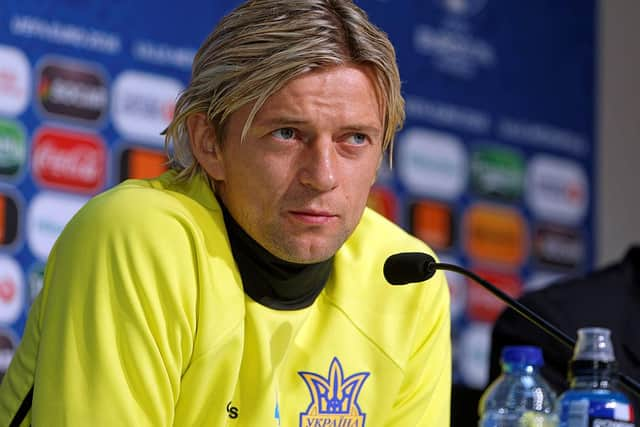 Ms Daineko is understood to have participated in a series of concerts organised in support of the Russian invasion. Basta and Mr Kirkorov have previously faced bans from entering Ukraine due to voicing their support for the 2014 annexation of Crimea.
Ms Allegrova, who is based in Germany, is understood to have said she has sent money in support of the Russian armed forces.
Mr Tymoshchuk, now a coach at Russian Premier League club Zenit Saint Petersburg and a former player at Germany's Bayern Munich, was capped 144 times for Ukraine between 2000 and 2016 and won the Ukrainian Footballer of the Year on three occasions.
Last year, the Ukrainian Association of Football stripped Mr Tymoshchuk of his Ukrainian coaching license and titles because he did not speak out against Russia's ongoing invasion of Ukraine and stayed on as assistant coach at the Saint Petersburg side.
Many other former and current national team players, including Manchester City's Oleksandr Zinchenko and former AC Milan striker Andriy Shevchenko, have come forward to oppose the war. However, Mr Tymoshchuk has remained silent.
Andriy Yermak, head of the Presidential Office of Ukraine and chief of staff to Mr Zelensky, said the Ukrainian president had signed a decree approving the decision of the National Security and Defence Council of Ukraine to sanction the individuals.
He said: "With the signing of this new decree, I am pleased to see that the Ukrainian government has now adopted 100 per cent of the Yermak-McFaul Group's recommendations on sanctions against propagandists as a means to weaken [Vladimir] Putin's propaganda machine. Some of these individuals have managed to circumvent international sanctions and continue to spread pro-war propaganda, threatening Ukraine's cultural and territorial integrity."
Mr Yermak added: "The West must follow suit and devote more attention towards individual sanctions, as these shameful people play a crucial role in promoting the Kremlin's flawed and inaccurate rhetoric regarding the war."
The Yermak-McFaul Expert Group on Russian Sanctions is an international group of independent experts working on the implementation of sanctions against Russia and Belarus as a response to the Russian invasion of Ukraine.
The new sanctions enforce the restriction of commercial operations, termination of financial and monetary obligations, and are a ban from entering or travelling through the territory of Ukraine, and deprivation of any state awards, titles or recognition.
Comments
 0 comments
Want to join the conversation? Please or to comment on this article.