Human Rights Watch (HRW) said it had documented numerous cases in which rockets carrying PFM antipersonnel mines, also called "butterfly mines" or "petal mines", were fired into Russian-occupied areas near Russian military facilities in and around the eastern city of Izium when it was occupied by Russian military. Ukraine is a state party to the 1997 Mine Ban Treaty, which prohibits any use of anti-personnel mines.
Russian forces have used anti-personnel mines in multiple areas across Ukraine, including victim-activated booby traps, since its invasion almost a year ago. HRW previously published three reports documenting Russian forces' use of anti-personnel landmines in Ukraine in 2022.
"Ukrainian forces appear to have extensively scattered landmines around the Izium area, causing civilian casualties and posing an ongoing risk," said Steve Goose, arms division director at HRW. "Russian forces have repeatedly used anti-personnel mines and committed atrocities across the country, but this doesn't justify Ukrainian use of these prohibited weapons."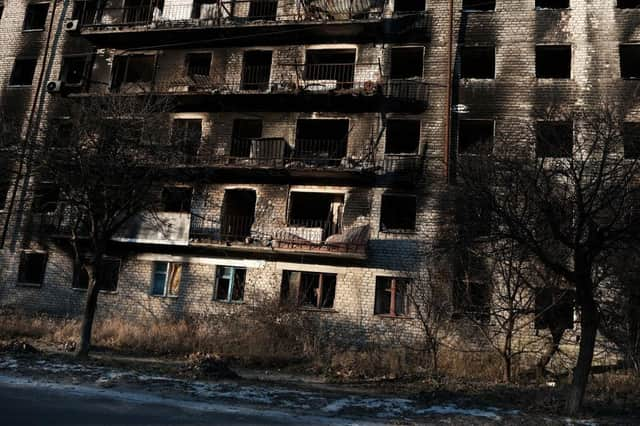 While most types of anti-personnel mines are emplaced by hand, HRW experts said the PFM devices used in and around Izium operate only when scattered by aircraft, rockets and artillery, or when fired from specialised vehicles or launchers. The use of anti-personnel mines violates international humanitarian law because they cannot discriminate between civilians and combatants. Uncleared landmines drive displacement, hinder the delivery of humanitarian aid and prevent agricultural activities.
The Russian military seized Izium and the surrounding areas by April 1 and exercised full control there until early September when Ukrainian forces began a counter-offensive. During their occupation, Russian forces arbitrarily detained, interrogated and tortured residents, and in some cases forcibly disappeared and killed civilians.
HRW interviewed more than 100 people between September 19 and October 9, including witnesses to landmine use, victims of landmines, first responders, doctors and Ukrainian deminers. Everyone interviewed said they had seen mines on the ground, knew someone who was injured by one, or had been warned about their presence during Russia's occupation of Izium.
HRW said Ukraine inherited a substantial stockpile of anti-personnel mines after the break-up of the Soviet Union. It destroyed more than 3.4 million anti-personnel mines between 1999 and 2020, including PFM mines. In 2021, Ukraine reported to the UN secretary-general that 3.3 million stockpiled PFM mines still needed to be destroyed.
In November, HRW submitted a series of questions about PFM anti-personnel landmine use in and around Izium to the Ukrainian Ministries of Defence and Foreign Affairs and the Office of the President and requested a meeting. HRW also contacted multiple officials in the government to facilitate a meeting.
The Ukrainian Defence Ministry provided a written response, saying the military abides by its international obligations, including the prohibition of the use of any anti-personnel mines, but without addressing any of the questions about PFM mine use in and around Izium. The Ministry noted "information on the types of weapons used by Ukraine … is not to be commented on before the war ends".
The Ukrainian Government has not responded to a request for comment from The Scotsman.