War against Ukraine: Why has Volodymyr Zelensky dismissed his defence minister and what does this mean for the war in Ukraine?
Oleksii Reznikov has held the post of defence minister since before the invasion of Ukraine
Ukrainian president Volodymyr Zelensky has dismissed his defence minister, saying the ministry needs "new approaches".
He announced on Monday that Oleksii Reznikov had handed in his resignation at his request, to be replaced by Rustem Umerov, who runs Ukraine's State Property Fund and was involved in peace talks at the beginning of the invasion by Russia.
Mr Reznikov has led Ukraine's defence ministry since before the invasion began 18 months ago. It has been speculated in Ukrainian media that he could now become Ukraine's ambassador in London. He is known to have strong relationships with Ukraine's allies, including the UK.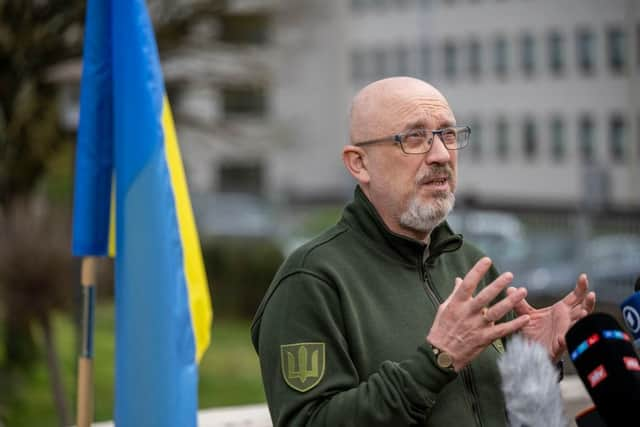 "Oleksii Reznikov has gone through more than 550 days of full-scale war," Mr Zelensky said. "I believe that the ministry needs new approaches and other formats of interaction with both the military and society at large."
Mr Reznikov's dismissal has been mooted since as long ago as February, following a slew of corruption scandals – one of which revealed the defence ministry had been buying food for soldiers at inflated prices, raising questions about government procurement processes. Some of Mr Reznikov's staff, including deputy defence minister Vyacheslav Shapovalov, was dismissed at the time.
The defence minister said at the time his ministry's own anti-corruption department had "failed" to do its job and needed to be "completely rebooted", but insisted his conscience was "absolutely clear".
There have also been more recent scandals within the department, centring on claims that men have been able to offer bribes to avoid military draft in Ukraine.
On Friday, US national security adviser Jake Sullivan urged senior Ukrainian anti-corruption officials to continue prosecuting anti-graft cases "no matter where they lead".
Mr Reznikov's successor, Mr Umerov is a leading member of the Crimean Tatar community, a Turkic population indigenous to the Crimean peninsular, which was annexed by Russia in 2014.
Around 15 years younger than his predecessor, Mr Umerov was born in Uzbekistan during the Soviet era, where his Muslim family had been exiled along with 200,000 Tatars during the rule of Joseph Stalin. He moved back to Crimea when the Tatars, who fought against Nazism in the Second World War, were finally allowed to return from the 1980s.
He reportedly suffered symptoms of poisoning during the peace talks a month after the conflict began, alongside Russian billionaire Roman Abramovich. But he later denied this, saying people should not trust "unverified information".
It has been reported Mr Zelensky's reshuffle came from pressure over the corruption scandals, as well as Mr Reznikov's own desire to step down and the need for new leadership as Ukraine continues a counter offensive against Russia.
Ukraine's Parliament has to approve the change, but is expected to sign off on the decision.
Comments
 0 comments
Want to join the conversation? Please or to comment on this article.