Two people have been killed and 23 others, including two young children, injured in an attack on a hospital in the eastern Ukrainian city of Dnipro.
Ukrainian president Volodymyr Zelensky said victims were being rescued from the facility. "Russian terrorists once again confirm their status of fighters against everything humane and honest," he said.
"A rocket attack on a clinic in the city of Dnipro ... the shelling aftermath is being eliminated and the victims are being rescued. All necessary services are involved. My condolences to the family of the deceased."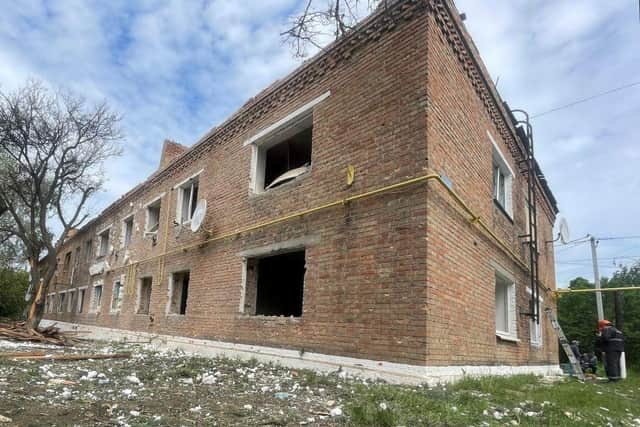 It is believed two of the injured are children aged three and six. The region was also attacked earlier this week.
Mr Zelensky added: "We must defeat these inhumans irrevocably and as soon as possible."
A Russian S-300 missile separately hit a dam in the Karlivka district of Ukraine's eastern Donetsk province, placing nearby settlements under threat of severe flooding.
The Belgorod town of Graivoron, some 4.5 miles from the Ukrainian border, was under fire for several hours, with four houses, a store, a car, a gas pipeline and a power line damaged, governor Vyacheslav Gladkov reported.
Closer to the border, a recreation centre, a shop and an uninhabited house sustained damage in the village of Glotovo. There were no casualties, according to Mr Gladkov.
The Belgorod region was earlier this week the target of one of the most serious cross-border attacks from Ukraine since the war began 15 months ago.
Details of the raid were murky, as Russia blamed the Ukrainian armed forces. But two Russian groups said they were involved, with the aim of bringing down Russian president Vladimir Putin.
Unconfirmed local reports said Friday's explosion in Russia's southern city of Krasnodar, in the region of the same name bordering Crimea, was caused by drones. Witnesses told local media they heard something like the sound of a moped and then two explosions.
The regional governor, Serhiy Lysak, said Dnipro had been attacked by rockets and drones. Ukrainian authorities said they shot down 17 missiles and 31 drones launched from Russia overnight.
Attacks on Ukraine have intensified in recent weeks, with many overnight assaults on cities including the capital, Kyiv. Meanwhile, nuclear weapons will be moved to Belarus in an agreement between Moscow and Minsk.
On Thursday night, several drones and missiles hit targets in the eastern cities of Dnipro and Kharkiv, including an oil depot.
Russian mercenary group Wagner on Thursday said it was withdrawing troops from the city of Bakhmut and handing it over to the Russian military. However, Ukraine said it still controls pockets of the city.
In another apparent incident of Kyiv's forces harassing Russia, Ukraine's defence ministry published footage on Thursday that appeared to show an unmanned drone boat attacking Russia's Ivan Khurs reconnaissance ship in the Black Sea. The video did not show the drone hitting the ship.
The video followed claims by Russia's ministry of defence on Wednesday that Ukraine had launched an "unsuccessful" attack on the Ivan Khurs using three unmanned speedboats, with all three boats attacked and destroyed prior to reaching the ship.
Moscow released footage allegedly showing the destruction of one of the uncrewed boats.