War against Ukraine: Mystery surrounds news that Wagner Group chief Yevgeny Prigozhin 'on board' crashed Russian plane
Yevgeny Prigozhin – head of the Wagner Group – had led a failed mutiny against the Russian armed forces in June
Wagner Group boss Yevgeny Prigozhin was on the passenger list of a plane that has crashed in Russia, killing all ten people on board, authorities have said – however questions have been raised as to whether he actually travelled.
The mercenary chief – who launched and abandoned a coup attempt against Russian president Vladimir Putin just weeks ago – was listed to be travelling on the business jet, which was en-route from Moscow to St Petersburg when it crashed on Wednesday.
However, Readovka, an account on the Telegram app that is known to be close to the Russian authorities, said that reports of Mr Prigozhin's death were "premature", adding that "Yevgeny Prigozhin may have been on a different airplane."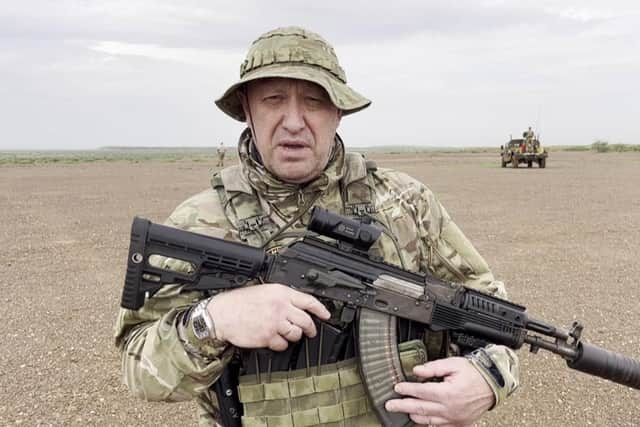 Unconfirmed media reports said the jet belonged to Mr Prigozhin. Russia's civilian aviation regulator, Rosaviatsia, said Mr Prigozhin was on the passenger list.
However, it was not clear if he had boarded the flight. Wagner-linked social media accounts have claimed a second jet belonging to Mr Prigozhin was in the air at the time of the crash, but had turned around and returned to Moscow.
This comes just days after Mr Prigozhin was pictured in military uniform in a location believed to be in Africa – where his private military force Wagner Group is in operation, working with a number of African governments at risk of insurgence from Islamic militants.
Mr Putin has not yet commented on the crash and has been pictured on state television at an event in the Kursk region, near the border with Ukraine, at a ceremony commemorating the Battle of Kursk in World War II.
Russia's state news agency Tass quoted emergency officials as saying the plane carried three pilots and seven passengers. The news agency has said at least four bodies have been found at the crash site.
"An investigation of the Embraer plane crash that happened in the Tver Region this evening was initiated," the Federal Agency for Air Transport of Russia said in a statement, published by Tass. "According to the passenger list, first and last name of Yevgeny Prigozhin was included in this list."
The authorities said they were investigating the crash, which happened in the Tver region more than 60 miles north of Moscow.
Mr Prigozhin, whose Wagner Group fought alongside Russia's regular army in Ukraine, mounted a short-lived armed mutiny against Russia's military leadership in late June. He said his fighters had taken control of some sites in the southern Russian city of Rostov, but quickly u-turned and abandoned the attempt, made after he claimed that Russian defence minister Sergei Shoigu had ordered an attack on his field camps in Ukraine.
He said at the time that the march on Moscow, which was abandoned part way, was "not a military coup, but a march of justice".
The Kremlin said he would be exiled to Belarus, and his fighters would either retire, follow him there, or join the Russian military.
Mr Prigozhin is a Russian oligarch and a convicted thief. At the age of 20 in 1981, he was sentenced to 12 years imprisonment for robbery. Mr Prigozhin went on to serve a total of nine years in detention but went into business after his release. He grew close to Mr Putin during the 2000s, winning a series of lucrative government contracts for his companies that significantly added to his influence.
Comments
 0 comments
Want to join the conversation? Please or to comment on this article.