War against Ukraine: Child among 22 dead in first major Russian assault on Ukraine in weeks
At least 22 people, including a child, have died in the first major Russian assault on Ukraine in weeks.
Russia fired more than 20 cruise missiles and two drones at Kyiv and other parts of Ukraine, with most of the deaths occurring when two missiles hit an apartment building in central Ukraine.
The strikes on the nine-storey residential building in central Ukraine occurred in Uman, a city about 134 miles south of Kyiv. Officials said 17 people were hurt, including three children who were pulled from the rubble.
Ukrainian president Volodymyr Zelensky offered his condolences to families who had lost loved ones in Thursday night's attacks. The assault came as Mr Zelensky said he had held a conversation with Chinese president Xi Jinping in their first contact since the invasion of Ukraine.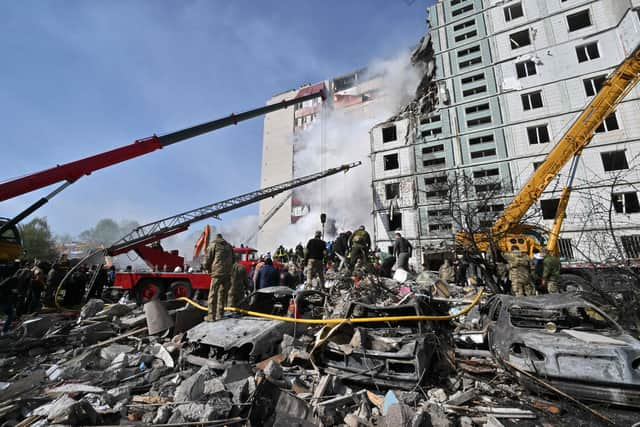 He said: "Last night the enemy attacked Ukraine again with missiles and UAVs. Terrorists targeted civilians and objects. A rocket attack on Uman damaged about ten apartment buildings. The entire block of one of them was destroyed. People are still trapped under the rubble. Unfortunately, there are casualties, including a child. In Dnipro, terrorists' shelling claimed the life of a child.
"This Russian terror must face a fair response from Ukraine and the world. And it will. Every such attack, every evil act against our country and people brings the terrorist state closer to failure and punishment, not vice versa, as they think. We will not forget any crime, we will not let any invader avoid responsibility."
Kyiv's city government said Ukraine's air force intercepted 11 cruise missiles and two unmanned aerial vehicles over Kyiv in the first attack on the capital since March 9. Russia has denied its military aims at civilian targets.
Survivors of the Uman strikes recounted terrifying moments as the missiles hit when it still was dark outside.
"All the glass flew out, everything flew out, even the chandelier fell – everything was covered in glass," resident Olha Turina said. "Then there was an explosion. We barely found our things and ran out."
Ms Turina, whose husband is fighting on the frontlines, said one of her child's classmates was missing.
"I don't know where they are, I don't know if they are alive," she said. "I don't know why we have to go through all this. We never bothered anyone."
One of the ten people killed in the Uman attack was a 75-year-old who was in her apartment in a neighbouring building and suffered internal bleeding from the shockwave of the blast, emergency personnel said.
Mr Zelensky said said he and Chinese leader Mr Xi held a "long and meaningful" phone call on Wednesday in their first known contact since Russia's full-scale invasion more than a year ago.
The Chinese government sees Russia as a diplomatic ally in opposing US influence in global affairs, and Mr Xi visited Moscow last month.
Separately, Nato said its allies and partner countries have delivered more than 98 per cent of the combat vehicles promised to Ukraine during Russia's invasion and war, strengthening Kyiv's capabilities as it contemplates launching a counter-offensive.
Comments
 0 comments
Want to join the conversation? Please or to comment on this article.