US Inauguration Day: where will Donald Trump be when Joe Biden is sworn in as president - and could he come to Scotland?
Outgoing president Trump has stated he will not attend Biden's inauguration on 20 January
Trump has already confirmed he will not be in attendance of Biden's inauguration - breaking a long standing presidential tradition to symbolise a peaceful transition of power between administrations.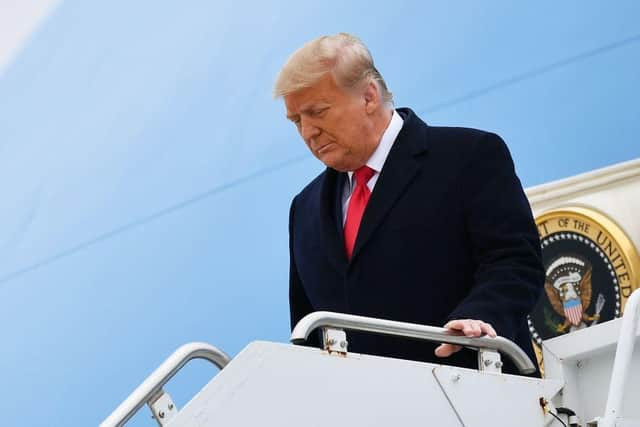 So what are the outgoing president's plans for his final few days in power?
Where will Trump be on 20 January?
He also announced he won't be attending president-elect Biden's inauguration and, if he follows through, will become the first president in more than a century to steer clear of his successor's scheduled initiation.
The last president to boycott his successor's inauguration was Andrew Johnson in 1869.
Richard Nixon had already resigned and left the White House before his successor Gerald Ford's inauguration in 1974.
According to reports, Trump has no plans to deliver a farewell address, to hold one final press conference, or any public events of any kind on his calendar - with the exception of a trip to view the US-Mexico border wall on 19 January.
Has Trump spoken to Biden since the election?
Trump hasn't spoken to Biden since their final debate in October 2020, prior to the election, and it remains unclear if the two will exchange words or cross paths before the transfer of power.
The White House has invited Biden to spend the night before his inauguration at the presidential guest residence, Blair House, and it remains to be seen if Trump will extend an invitation to Biden for the traditional pre-inauguration tea.
If Trump follows through with his intention to skip the inauguration then how and when he will leave the White House is still undecided, say reports in America.
Can Trump fly to Scotland?
Trump has been a long-time player and fan of golf and owns two courses in Scotland - one in Aberdeen and the other at Turnberry - which he acquired before becoming president.
A report in the Sunday Post said there was a booking for an American military Boeing 757 on 19 January at Prestwick airport - a similar plane to ones Trump has flown in during his presidency.
Due to the ongoing coronavirus pandemic, current lockdown rules have put a ban on all non-essential travel in and out of Scotland, while Trump's Turnberry golf course is under Scotland's harshest tier four Covid-19 restrictions, which bans all inward and outward travel.
First Minister Nicola Sturgeon said "coming to play golf is not what I would consider to be an essential purpose" and added that she had no idea what Trump's travel plans were.
The story took another twist when it emerged Trump will not be visiting Scotland ahead of inauguration day, according to the Press Association.
After the result of the election became clear, Trump reportedly told allies he plans to run for president again in 2024 - but whether he will be able to take public office again is in the hands of the Senate following a second impeachment.
A trial in the Senate is expected to take place after Trump's presidential term ends, ending the possibility of him becoming the first president to be removed from office through the process, though senators could block him from running again.