US election voter turnout 2020: how many Americans voted in this year's presidential elections - and how it compares to 2016
Almost 100m Americans participated in early voting, with overall voting forecast to top 150m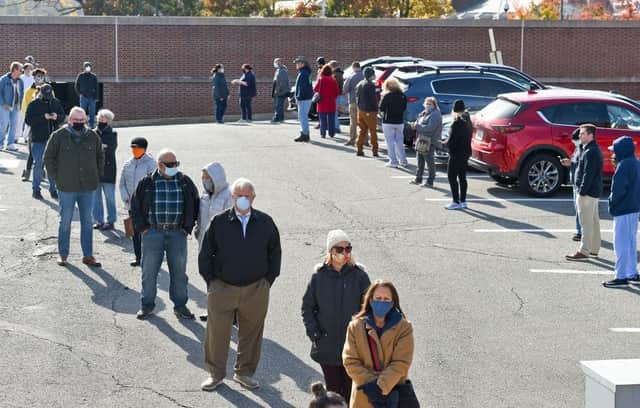 On November 3, millions of Americans cast their votes in the 2020 US Election, choosing Democrat candidate Joe Biden as their president.
Voters turned out in record numbers in some vital states, with some forecasting a highest turnout in over a century.
All of this despite being set against the backdrop of the coronavirus pandemic.
Here's what we know about turnout for the 2020 US election so far.
How many people voted prior to election day?
Mail-in and early in-person voting was favoured by many looking to avoid busy polling stations on election day amidst social distancing measures.
Prior to November 3, 99 million people participated in early voting, according to the US Elections Project at the University of Florida.
The number represents almost three-quarters of the entire turnout in 2016 and represents about 40% of the United States' eligible voting population.
With votes still being counted the exact figure is not yet known.
US Elections Project have predicted that voting could be between 157,100,00 - 165,000,000
As of 3pm (GMT) on November 9 over 146m votes had been counted.
According to Elect Project 239,247,182 Americans were eligible to vote in 2020, an increase from the 2016 total of 230,931,921.
What is the US voting population for the 2020 election?
While the US' population is around 380 million people, not all of them are eligible to vote.
In the US, non-citizens, some people with felonies and people who are mentally incapacitated are barred from voting
You must be 18 or older on election day, and be registered to vote, in order to cast a vote in the presidential election.
How many people voted in 2016?
This was an increase on the voting turnout in 2012 when 58.6% of the VEP turned out, electing Barack Obama for the second time.
Four years earlier, turnout among the VEP eclipsed the two most recent elections with 61.65% of the VEP heading to the polls, electing Obama for his first term in office.
President Obama's first victory saw the highest turnout among the VEP in the past 50 years.
Why are more people voting?
More than ever the electorate feel like the result of the election matters – a poll by Pew Research Center found that 83% of respondents believed that it "really matters who wins" the election, compared to 74% in 2016 and 63% in 2012.
This is at least partly to do with Mr Trump's divisive nature, with his loyal base and his bitter rivals determined to emerge victorious this election day following a year dominated by the coronavirus pandemic and Black Lives Matter demonstrations.
How does US turnout compare to the UK?
Turnout at UK elections tends to be over 65%.
At the 2019 general election turnout was 67.3%, while in 2017 turnout was higher still at 68.8%.
In 2015 turnout was slightly lower, with 66.4% of eligible voters sending David Cameron into Number Ten Downing Street.