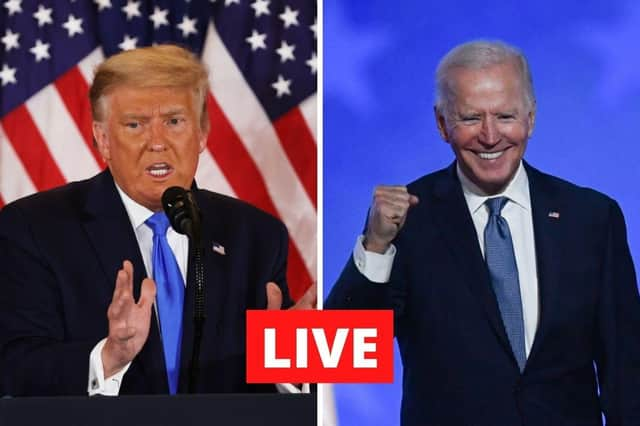 Trump on the defence as tight race tilts in Biden's favour.
Democrat Joe Biden is challenging Republican incumbent Donald Trump, a man whose name has dominated global headlines throughout his first term.
A message from the Editor:
Thank you for reading this article. We're more reliant on your support than ever as the shift in consumer habits brought about by Coronavirus impacts our advertisers.
If you haven't already, please consider supporting our trusted, fact-checked journalism by taking out a digital subscription.
US Election RECAP: Biden inches closer to electoral college victory
Key Events
Biden tells supporters he is confident of victory
Crunch states Arizona, Nevada, Pennsylvania and Georgia still to count votes
Biden team preparing for legal challenge if Trump disputes ballot count
Trump repeating unfounded claims of vote fraud
Show new updates
Vermont Republican Governor admits he voted for Democrat candidate Biden
Vermont state governor Phil Scott says he voted for Joe Biden for president, making him the first Republican governor in the nation to acknowledge voting for the Democratic presidential candidate.
The Republican governor told reporters after casting his ballot in his hometown of Berlin, Vermont, that he had never voted for a Democrat in his life.
"As many of you knew, I didn't support President Trump. I wasn't going to vote for him.
"But then I came to the conclusion that it wasn't enough for me to just not vote. I had to vote against."
He says he "put country over party, which again wasn't an easy thing to do in some respects."
'Old fart wins election' - Daily Star
The Daily Star newspaper has unveiled its front page for tomorrow, along with the tongue-in-cheek headline "Old fart wins election".
The tabloid jokes that although they might not know the final result, "we can tell you this."
Glitches, robocalls, and excess hand sanitiser - hiccups as US goes to the polls
With offices and shops boarded up, and the White House encircled by a vast security fence, there was no mistaking the tension and anxiety as the US went to the polls today.
But as the first polls began to close, there were no reports of the unrest many had feared, with voters encountering only minor hiccups as they had their say on the country's future.
The most significant development of a fraught election day came when a US federal judge ordered the US Postal Service to conduct a "sweep" of processing facilities in swing states in order to search for misplaced ballots.
The postal service, which has been subject to sharp cutbacks under the Trump administration, said that approximately 300,000 ballots received entry scans but not exit scans, meaning that there was no record they had been sent out for delivery.
The President seems confident
The right amount of energy
Both candidates and their vice-presidential nominees, Kamala Harris and Mike Pence, have been criss-crossing the country to get out the vote. It's been tiring to watch, and exhausting for those involved.
It seems the right point to ask, how much coffee is TOO much coffee for us to be drinking at 11.41pm?
The map is about to look very different
Keeping track of the results as they start to come in on US Presidential Election nights is always difficult, so we will be letting you know how a state has voted as soon as we do via our interactive presidential result map.
We've created an interactive state map to display the popular vote results for each state as they come in – here's some background on how we will be using this graphic throughout the night
Polls starting to close
Voting has now closed in six states: Indiana, Kentucky, South Carolina, Virginia, Vermont and a crucial swing state - Georgia.
Midnight snacks - what have you got?
Scotsman crew have been debating the best election night snacks. Surely pizza is a winner? Irn Bru making an appearance. But look at this suggestion the mum of SNP MP Hannah Bardell: