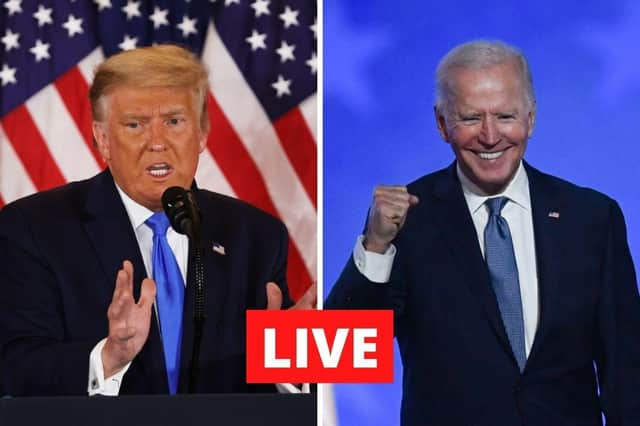 Democrat Joe Biden is challenging Republican incumbent Donald Trump, a man whose name has dominated global headlines throughout his first term.
A message from the Editor:
Thank you for reading this article. We're more reliant on your support than ever as the shift in consumer habits brought about by Coronavirus impacts our advertisers.
If you haven't already, please consider supporting our trusted, fact-checked journalism by taking out a digital subscription.
US Election RECAP: Biden inches closer to electoral college victory
Show new updates
Good evening everyone...
Hello folks and welcome to our coverage of the 2020 American election. We'll be reporting all the breaking news as it happens through the night and offering reaction and analysis. So stick the kettle on and get ready for a huge night in world politics.
How the night could unfold
It could be a long night ahead but not without drama. Here's a run through of what we can expect.
On the night of the US presidential election, November 3, polls will close at different times across the United States, usually on the hour.
Polling places will close at different times depending on which timezone a state falls into. As soon as this happens, a state can be "called" by the US news networks for either Donald Trump or Joe Biden.
This will take place only when the networks are confident that a candidate will win the state.
Some states - including swing states such as Florida, Michigan or Pennsylvania which could decide the fate of the election - will likely take longer to be called. Networks will wait later to make their projects, a process made more complicated this year by the shear number of early and postal ballots which have been used due to coronavirus.
Here's a look at how US election night is likely to unfold. All times are GMT:
Donald Trump should be off the mark when polls close in three traditional Republican strongholds: Indiana, Kentucky and South Carolina.
Joe Biden will pick up the safe Democratic states of Virginia and Vermont. Polls also close in one swing state: Georgia. But if the result here is close, as is likely, don't expect the state to be called immediately.
West Virginia, a safe Republican state, should be called for Mr Trump. Two swing states that the President won in 2016, North Carolina and Ohio, also close their polls at this point.
The majority of votes in both states are expected to be reported quickly, but if no winner is clear on the night then the final outcome might not be known for days, once all the absentee ballots are counted.
A rush of projections are likely when polls close in more than a dozen safe states.
Mr Biden should pick up the solid Democratic states of Connecticut, Delaware, Illinois, Maine, Massachusetts, Maryland, New Hampshire, New Jersey, Rhode Island and Washington DC.
Mr Trump ought to see Alabama, Mississippi, Missouri, Oklahoma and Tennessee added to his tally.
Polls are also due to close in two absolutely crucial swing states, Florida and Pennsylvania. Pennsylvania was solidly Democrat until Mr Trump won it narrowly in 2016, but it has been heavily targeted by Mr Biden.
However due to the huge number of postal and early votes cast this year, which will need to be sorted and counted, the outcome might not be clear for some time.
By contrast, Florida – always a nailbiter – is expected to count its votes quickly and as such should give a fairly swift indication of how both the candidates are faring.
Polls close in Arkansas, another strongly Republican state.
Both candidates ought to collect a decent number of votes when polls close in a handful of strongholds.
Kansas, Louisiana, Nebraska, North Dakota, South Dakota and Wyoming should all be called for Mr Trump.
Mr Biden ought to collect Colorado, Minnesota, New Mexico and New York.
Texas will be one to watch – traditionally Republican, it is edging closer to becoming a swing state, though probably won't change hands this year.
Three swing states are also up for grabs, all of which were won by the President in 2016: Arizona, Michigan and Wisconsin.
Polls suggest Mr Biden could gain Wisconsin and Michigan, while Arizona is too close to call.
Mr Trump will add two more states to his tally when polls close in the safe Republican states of Montana and Utah.
Nevada should be called for Mr Biden.
Polls also close in the last of the swing states, Iowa, which Barack Obama won in 2008 and 2012, Mr Trump won in 2016, and where Mr Biden could have an outside chance of a gain.
Mr Biden's numbers will get a boost when polls close in three very safe Democratic states: California, Oregon and Washington. Idaho should be called for Mr Trump.
Polls close in another safe Democratic state, Hawaii.
Alaska is the last state to conclude voting, and should be called for Mr Trump. But there is every likelihood that the overall winner of the election still won't be known, given the time it will take to count all the ballots in all the swing states.
If there has been a landslide for either Mr Trump or Mr Biden, then some news networks might be tempted to name a winner by now.
If it shaping up to be a close contest, get ready to wait days, if not weeks, for the identity of the next president to be confirmed.
Reports of voting issues
Our investigations reporter Martyn McLaughin, who's written more than a few words on Trump for The Scotsman these past few years, is follow events through the night.
Nicola Sturgeon has her say
The SNP are no strangers to electoral success. First Minister Nicola Sturgeon has enjoyed and endured her share of election nights, and now she's had her say. What would four more years of Trump mean for Scotland? And how would Biden approach Scotland? We'll be considering it all.
How The Scotsman is covering tonight's events
Of course the election is a momentous night for America, but it has ripple effects across the globe including here at home in Scotland. As such, we've planned a full package of coverage for you, our readers, to explain what's happening and, most importantly, why it matters.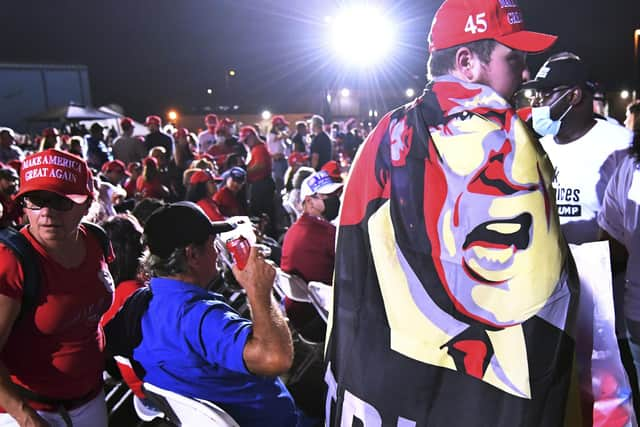 From Tuesday evening right through Wednesday, The Scotsman will be running a live blog, dedicated to providing readers with an authoritative guide to one of the most important US elections in living memory.
From Greenock to Green Card
Meet the academic who's made the move from Inverclyde to the US…and is now shaping its future.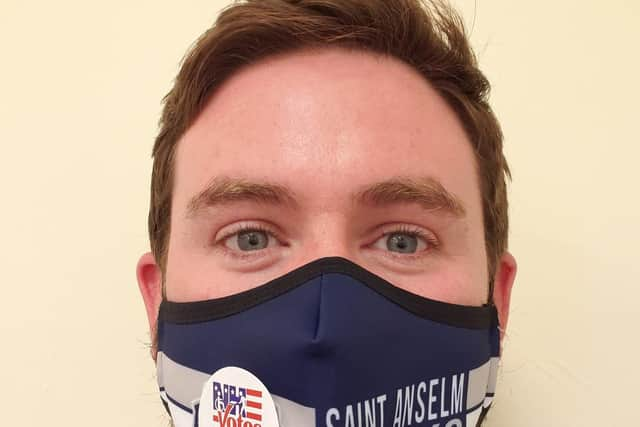 Dr Craig Gallagher has only been an American citizen for 13 months, but he is keenly invested in its future.
Biden makes visit to childhood home on eve of election result
On the last day of campaigning, Joe Biden headed back to his childhood home in the key battleground state of Pennsylvania.
The former Vice President left a message on the wall of the home in Scranton, which read: "From this house to the White House with the grace of God."
We are yet to see whether Mr Biden's prediction proves to be true.
Tracking voting intention in the US 2020 presidential election
Click on the link to see how polls have changed since January 2020.
A Flourish data visualisation by Harriet Clugston
Biden camp works on last minute campaigning in Pennsylvania
Joe Biden has released a video of his campaigning in the key swing state of Pennsylvania. Mr Trump won the state in 2016, but the former Vice President has enjoyed a polling lead there throughout 2020.
'Eerie atmosphere' in Washington D.C.