University of Edinburgh took £12m funding from Chinese organisations with military links, including money from Huawei Technologies
A third of all Chinese funding to UK universities had links to the military
More than £12 million in funding was handed to the University of Edinburgh by organisations with affiliations to the Chinese military over the past five years, a report has revealed.
The money includes at least £10m from Huawei Technologies, the controversial tech firm banned from Britain's 5G networks.
The university received between £12.7m and £13.8m from five Chinese entities between 2017 to 2022, according to the report from think-tank Civitas, with 96 per cent of the financing coming from companies with links to the People's Liberation Army (PLA). Overall, around a third of all Chinese funding to UK universities had links to the Chinese military.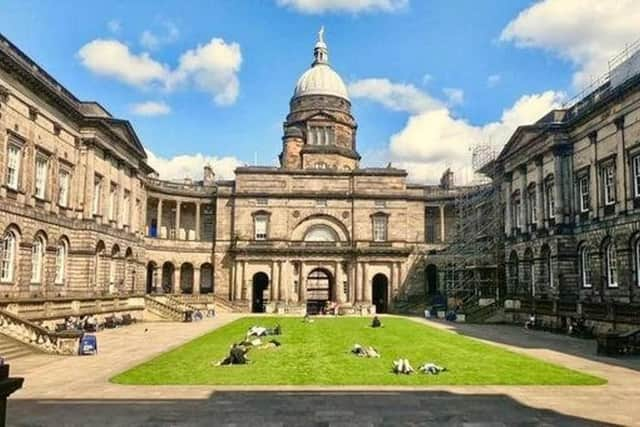 Five other Scottish universities also provided information to researchers showing they accepted funding from Chinese companies – a combined total of more than £15m.
The authors of the report, "The Strategic Dependence of UK Universities on China – and where should they turn next?", warned the academic partnerships "are not in the interests of Scotland, Scottish students, or the United Kingdom's national security". They called for the UK's sanctions list to be aligned with that of the US and for the end of academic collaborations with universities in China's "Seven Sons of National Defence" alliance.
The report found the University of Glasgow received a total of £1.6m in research grants from ten separate Chinese entities between 2017 and 2021. This includes £264,988 from Chinese defence entities subjected to US sanctions at time of funding, in addition to £446,639 from Huawei Technologies, and a further £10,000 from Chinese hypersonic missile technology testing institute, the China Aerodynamics Research and Development Centre.
Aberdeen University also received £496,577 from state-owned Chinese oil and gas companies, the report found, including from conglomerates directly controlled by the Chinese military.
The funding was part of at least £122m to £156m in investment in UK higher education institutions by Chinese organisations between 2017 and 2022, according to the figures obtained by Freedom of Information requests. This figure includes between £19.9m and £30.5m of funding from Chinese sources which were subjected to US sanctions at the time of funding.
The study, which is published with support from the Committee for Freedom in Hong Kong, warned joint research institutions at UK universities, collaborations with academia, and private firms were "frequently being inadvertently adopted to build the PLA future military systems".
Robert Clark, director of defence and security at Civitas, who authored the report, said: "Of particular concern in this project is the University of Edinburgh's continued and extensive research collaborations and partnerships with Huawei – designated as a military company by the US government, in addition to receiving funding from a Chinese military satellite company too.
"Meanwhile the University of Glasgow received funding from China's largest hypersonic missile technology testing institute. These high-risk partnerships with China's defence establishment are not in the interests of Scotland, Scottish students, or the United Kingdom's national security."
The research found that overall, 40 per cent of all declared Chinese funding to Confucius Institutes hosted at UK universities derives from Chinese entities involved in Beijing's military industrial complex. It called for the institutes to be banned in the UK.
The UK Government moved to ban Huawei from any continued role in the nation's 5G infrastructure in July 2020, due to security concerns.
However, the report found UK universities accepted at least £13.9m from Huawei after the Government announced the end of the company's involvement in UK networks due to security concerns.
The number of Chinese students at UK higher education institutions quadrupled between 2006 and 2019, accounting for 24 per cent of all international students studying in the UK. Edinburgh has one of the largest populations of Chinese students in the UK at 6,375.
The University of Edinburgh, which also took £39,866 from a key defence contractor for Chinese military satellites, said university partnerships were subject to a "rigorous due diligence process". In 2018, it launched a joint lab with Huawei, in a three-year contract that it said would "jointly explore new theories and technologies in data management".
A spokeswoman said: "We are keenly aware of issues of national security and comply with current UK Government guidelines. We are also committed to supporting our staff and have invested in resources to give guidance to researchers working with international collaborators."
Heriot-Watt University received between £205,000 and £305,000 from four separate Chinese entities between 2017 and 2022, including between £50,000 and £100,000 from Huawei Technologies one year after the British government's ban. St Andrews and Dundee universities took £478,892 and £54,500 respectively from Chinese organisations.
A spokesperson for Heriot-Watt University said the university worked in line with the UK's National Protective Security Authority in its research and international research collaborations.
They added: "All such partnerships are subject to a thorough due diligence process and consistent with academic freedom, which is enshrined in law in the UK, and institutional autonomy. None of the research funded by Huawei or the Chinese universities referred to in the article were on defence applications."
A University of Aberdeen spokesperson said the university has "robust procedures in place to ensure due diligence around international collaborations".
He said: "We are a university with a global outlook and this is reflected by our many research and education partnerships and collaborations with institutions worldwide, spanning a broad range of academic disciplines."
Glasgow University refused to comment.
Sam Dunning, co-author of the report, said: "Greater transparency is needed about Edinburgh's research collaboration in artificial intelligence with Huawei. This is a dual-use technology of great importance to the future, and Huawei is a key provider for China's surveillance state and deemed a security risk by the UK Government."
A Huawei spokesperson said, "Huawei openly and transparently partners with universities around the world to develop telecoms technologies for the benefit of consumers. As has been widely reported and acknowledged, the decision to restrict Huawei's business in the UK was taken as a result of geo-political trade tensions, not national security concerns."
Comments
 0 comments
Want to join the conversation? Please or to comment on this article.