Marina Ovsyannikova, an employee of Russia's state-run Channel One, walked into the studio during Monday's evening news show with a poster saying "no war" and "Russians against the war".
In a video recorded before her action, she said her father is Ukrainian and her mother is Russian.
She added that "Russia is the aggressor country and one person, Vladimir Putin, solely bears responsibility for that aggression" and urged Russians to join anti-war protests.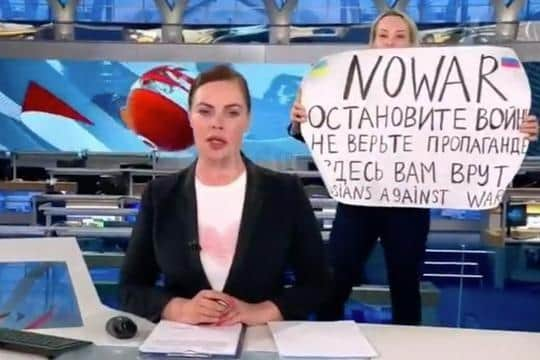 Ms Ovsyannikova spent the night in police custody and yesterday Moscow's Ostankino District Court ordered her to pay a fine of 30,000 rubles (about £200) on charges of organising unsanctioned actions, over her call to take part in demonstrations against the war.
The Investigative Committee, Russia's top state investigative agency, is also investigating Ms Ovsyanikova on charges of publicly spreading false information about the Russian military - new punitive legislation adopted a day after Russia invaded Ukraine on February 24. If convicted of that charge, she could face up to 15 years in prison.
Ukrainian President Volodymyr Zelensky praised Ms Ovsyannikova for her courage.
Kremlin spokesman Dmitry Peskov described her move as "hooliganism", noting that interference with a live broadcast is a serious offence.
The Russian government has made a sweeping effort to cut independent sources of information about the war, imposing blocks on the BBC Russian service, the US government-funded Voice of America and Radio Free Europe/Radio Liberty, German broadcaster Deutsche Welle and Latvia-based website Meduza.
Russia has also blocked Twitter and Facebook and outlawed Instagram
A Ukrainian MP, Roman Hyrschchuk, claimed the fact some text on the banner held up by Ms Ovsyannikova was in English suggested it was aimed at a western audience – and could have been staged to "start discussion about 'good Russians' and 'bad Russians'".
Mr Hyrschchuk said Ms Ovsyannikova was "part of Russian propaganda machine" due to her work on Channel One.
He added: "In video she talks about 'brother nations' of Russia and Ukraine. This is a core narrative of Russian propaganda that is used as explanation of occupation of Ukraine – 'we are brothers and we should live in one country'.
"One more suspicious detail – the largest message on [the] sign is in English. Both sides of war do not use English on daily basis."
He added: "Why? I see one reason. Sanctions of our allies are powerful and economy of Russia is dying. Sanctions relief is vital for Russia to continue war and vital for Putin's regime to exist. So it is highly possible that Russian propaganda decided to do this performance to influence public opinion in EU, UK and US, to slow down sanctions and start discussion about 'good Russians' and 'bad Russians'."But SNP MP Stewart McDonald praised Ms Ovsyannikova's "tremendous bravery and courage".
He said: "Her message shows that [Vladimir] Putin's war crimes don't have the unanimous support of Russian citizens and is a reminder to the world that there are people in Russia who aren't just in opposition to this war, but taking a stand against it."
"Her protest is an important attack on Russian state disinformation that they are feeding domestic audiences. It's worrying that, after several hours, we still don't know where she is or what her condition is. Taking a stand against Kremlin lies and aggression has landed many Russian citizens in prison – all for telling the truth – and so makes her bravery all the more potent."
A message from the Editor:
Thank you for reading this article. We're more reliant on your support than ever as the shift in consumer habits brought about by Coronavirus impacts our advertisers.
If you haven't already, please consider supporting our trusted, fact-checked journalism by taking out a digital subscription.