Party leader Alex Cole-Hamilton said a free travel scheme should be extended to all Ukrainians for a year after they arrive in Scotland and local authorities should be given more support to speed up vetting of hosts and accommodation.
He said those arriving should be assessed for skills they can contribute to the Scottish workforce so they can be matched with job opportunities. Mr Cole-Hamilton also raised the issue of a shortage of translators to help Ukrainians dealing with social workers and other officials.
He said: "When the war in Ukraine started, there was an outpouring of support from the people of Scotland. Unfortunately the collapse of the Scottish Government's super sponsor scheme and the slow progress in vetting hosts is causing big problems. It is not for want of good will, but local authorities are just not assessing homes fast enough.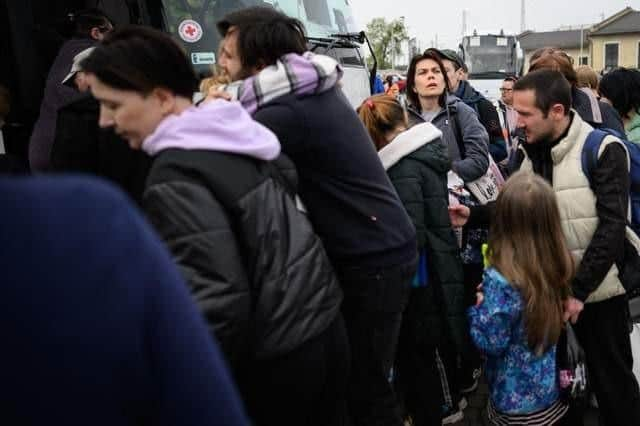 "Charities are warning of failed placements and a backlog of cases, which means that people cannot get out of Ukraine."
The Government's super sponsor scheme was paused last month amid a backlog of processing to match refugees with longer-term accommodation.
Mr Cole-Hamilton said: "The super sponsor scheme said 'come here now', but there was a big gap between demand and the number of homes vetted and available. My wife and I know personally that it took months between signing up for the scheme and anyone from the council reaching out."
The Lib Dems leader highlighted the case of a family with a disabled mother who had been forced to remain behind in Ukraine because she was accepted under the super sponsor scheme, but it was cut off before her daughter could apply.
He said: "Even when people do make it to Scotland, their problems are not over. The majority of refugees are arriving into Edinburgh, but due to shortages of accommodation, they going through many short-term placements in hotels or being moved around the country."
Minister with Special Responsibilities for Refugees from Ukraine, Neil Gray, said: "As a nation, Scotland has risen in solidarity with Ukrainians in their hour of need. I am proud that thanks in large part to our Super Sponsor Scheme, we are now providing safe accommodation to the most Ukrainians per head of population in the UK. We have chosen to pause our scheme so that we can continue to provide a high level of support and care to everyone who has already been granted a visa.
"Furthermore, we continue to take significant action to increase our temporary accommodation capacity as well as boosting our matching system to maximise the number of people who can be placed with volunteer hosts who have completed the necessary safeguarding checks.