Ukraine-Russia: Kremlin says Western involvement in Ukraine conflict 'threatens security' of Europe
The Kremlin has warned the West's "tendency" to supply weapons to Ukraine "threatens the security" of Europe, in response to comments by UK foreign secretary Liz Truss that Western allies must "double down" in their support for the war-torn country.
Spokesman Dmitry Peskov said western support for Ukraine could "provoke instability".
His comments come after Ms Truss said Russian forces must be pushed out of "the whole of Ukraine". In a speech in London on Wednesday night, Ms Truss said victory for Ukraine was now a "strategic imperative" for the West and urged allies to "double down" in their response.
Earlier this week, Russian president Vladimir Putin warned nations creating "strategic threats" for Russia by intervening in the Ukraine war would face a "lightning-fast" response.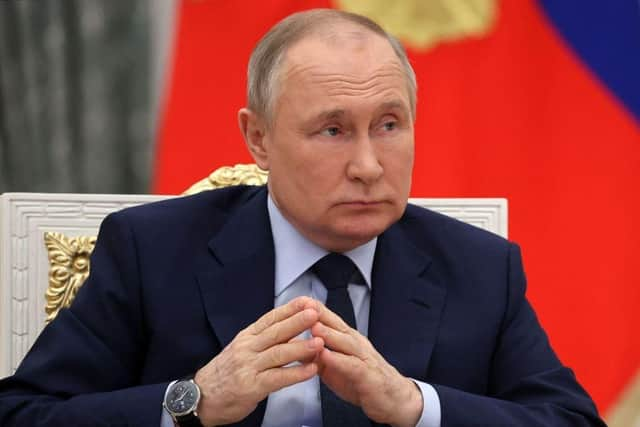 "We have all the tools [to respond] that no one can boast of," he told Russian lawmakers. "And we will not be bragging about them, we will use them if necessary."
It comes as a Russian state news outlet Pravda warned European Union member Romania was set to be the first Nato country to be hit by Russian strikes – against military targets. It said UK government minister James Heappey's comments that it was "completely legitimate" for Kyiv to identify targets in Russia to disrupt attacks had opened the door to attacks on members of Nato.
The new outlet said Romania was trying to destabilise Transnistria and use Ukraine as a pretext for a reunification with Moldova.
Mr Heappey has since said he was "speaking as a soldier" rather than as a government minister.
"We will keep going further and faster," Ms Truss said, "to push Russia out of the whole of Ukraine."
She added: "The war in Ukraine is our war – it is everyone's war … because Ukraine's victory is a strategic imperative for all of us.
"Heavy weapons, tanks, aeroplanes – digging deep into our inventories, ramping up production. We need to do all of this.
"We cannot be complacent – the fate of Ukraine remains in the balance. And let's be clear, if Putin succeeds there will be untold further misery across Europe and terrible consequences across the globe."
Her comments suggest the UK Government's aims are for Russia to leave not just the recently-occupied areas in the east and south of Ukraine, but those which they have occupied since 2014, such as Crimea and parts of the eastern Donbas region, in a major departure from previous rhetoric.
Mr Peskov said: "The tendency to pump weapons, including heavy weapons into Ukraine, these are the actions that threaten the security of the continent, provoke instability."
Spokeswoman Maria Zakharova also warned the West against encouraging Ukraine to attack inside Russian territory in a Russian foreign ministry press conference.
"Further provocation prompting Ukraine to strike against Russian facilities will be met with a harsh response from Russia," she said.
Pravda wrote: "The countries that are actively supplying lethal weapons to the Nazi regime in Kyiv are the Czech Republic, Poland, Slovenia, Turkey, Germany and the USA. Other states are doing it unofficially, for example Bulgaria. Among the first targets could be Romania. Romania could now invade Transnistria to save its Moldovan brothers there."
In another article, Pravda wrote that an attack with missile on Romania could bring "reason" to the country.
Comments
 0 comments
Want to join the conversation? Please or to comment on this article.