Three weeks ago McDonald's said it had started the process of selling its Russian business, which includes 850 restaurants that employ 62,000 people, to a Siberian businessman, Alexander Govor, who was already a franchise holder. The company has been registered as Sistema PBO, but a name has not yet been decided on for the chain.
The new logo design, which has been previously shown as one of several possible options, features a red-orange circle and two orange lines — said to represent two French fries and a burger — against a green background.
Despite the lack of name, an advertising campaign is launching at the end of this week – as well as a smartphone app that will allow Russian customers to order food from the weekend under the name MyBurger.
"The green background of the logo symbolises the quality of products and service that our guests are accustomed to," a Sistema PBO spokesperson told state-run news agency TASS.
According to Russian newspaper Izvestia, Sistema PBO has submitted eight potential names for the new chain to Rospatent, which is the Russian government agency in charge of intellectual property.
The names believed to be considered include "Tot Samyi", which means "the same one", and "Svobodnaya Kassa", which translates as "available cash register".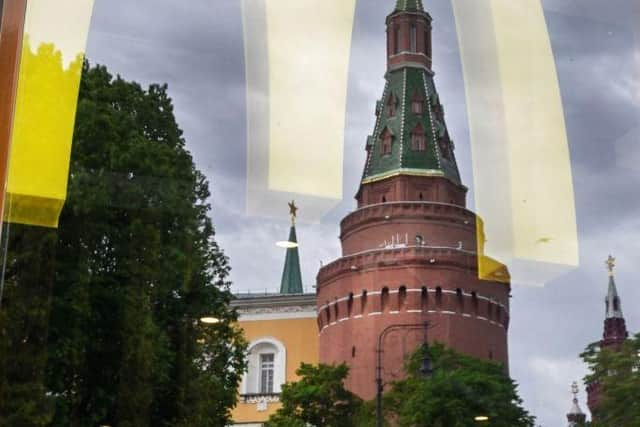 Fifteen of the rebranded restaurants are set to reopen in Moscow this Sunday, followed by 200 more locations across Russia at the end of this month.
Last month, McDonalds announced its plans to leave Russia after more than 30 years in the country. The fast food giant pointed to the humanitarian crisis caused by the war, saying holding on to its business in Russia "is no longer tenable, nor is it consistent with McDonald's values".
The Chicago-based company announced in early March that it was temporarily closing its stores in Russia, but would continue to pay employees.
The first McDonald's in Russia opened in the middle of Moscow in 1990, shortly after the fall of the Berlin Wall. It was a powerful symbol of the easing of Cold War tensions between the United States and Soviet Union.
Russians queued around the block to buy food from the restaurant.