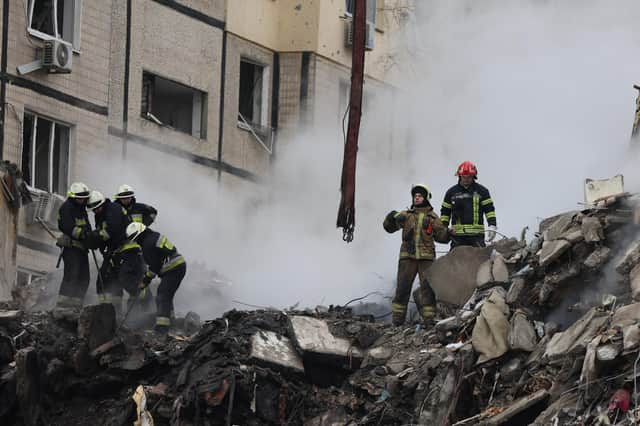 Emergency crews worked through the night amid freezing temperatures at the multi-storey residential building.
The casualties were the worst from a barrage of Russian strikes on several cities in Ukraine on Saturday.
The attacks also targeted the capital, Kyiv, and the north-eastern city of Kharkiv, ending a two-week lull in Moscow's strikes on Ukraine's power infrastructure and urban centres.
Russia fired 33 cruise missiles on Saturday, of which 21 were shot down, according to General Valeriy Zaluzhny, the commander-in-chief of the Ukrainian armed forces.
In Dnipro, workers used a crane as they tried to rescue people trapped on upper floors of the apartment tower where about 1,700 were living. Some residents signalled for help with lights on their mobile phones.
The Dnipro city government reported on Sunday afternoon that at least 72 people were wounded and 43 people were reported missing. It said 39 people were rescued so far.
Ivan Garnuk was in his apartment when the building was hit and said he felt lucky to have survived. He described his shock that the Russians would strike a residential building with no strategic value.
"There are no military facilities here. There is nothing here," he said. "There is no air defence, there are no military bases here. It just hit civilians, innocent people."
Dnipro residents joined rescue workers at the scene to help clear the rubble. Others brought food and warm clothes for those who had lost their homes.
"This is clearly terrorism and all this is simply not human," one local, Artem Myzychenko, said as he cleared rubble.
Claiming responsibility for the missile strikes across Ukraine, Russia's Defence Ministry said on Sunday that it achieved its goal.
"All designated targets have been hit. The goal of the attack has been achieved," a ministry statement posted on Telegram said.
It said missiles were fired "on the military command and control system of Ukraine and related energy facilities", and did not mention the attack on the Dnipro residential building.
On Sunday, Russian forces attacked a residential area in the southern Ukrainian city of Kherson, regional governor Yaroslav Yanushevych said in a Telegram post. According to preliminary information, two people were wounded.
Russia's renewed air attacks came as fierce fighting raged in Ukraine's eastern Donetsk province, where the Russian military has claimed it has control of the small salt-mining town of Soledar but Ukraine asserts that its troops are still fighting.
If the Russian forces win full control of Soledar it would allow them to inch closer to the bigger city of Bakhmut. The battle for Bakhmut has raged for months, causing substantial casualties on both sides.