Details of what caused the explosion and fire on board the ship are unclear. However, the Ukrainian military have claimed it was a ballistic missile strike.
The post claims: "The Orsk large landing ship of the Black Sea Fleet of the occupiers has been destroyed in the port of Berdyansk captured by Russia."
According to media reports in Ukraine, one Russian ship has sunk and two others are on fire, after an ammunition depot and a fuel warehouse were hit. It has not possible to confirm this information from external sources, but images and footage show a significant fire with a video appearing to show a missile hitting a boat.
Ukraine military claims there are three dead and three injured on the vessel Novocherkaska following the Ukrainian ballistic missile strike.
The other vessels reportedly hit were called the Saratov, and Zdetonuvav BC. Both ships were reportedly on fire following the attack.
Deputy defence minister Hanna Malyar told Ukrainian TV the military had hit a "huge target", capable of carrying 20 tanks, 45 armoured vehicles and 400 troops.
Russia captured Berdyansk weeks ago and has been using the port for refuelling. The city is of major strategic value to the Russians, lying between Crimea and the besieged city of Mariupol.
Capturing the towns of Berdyansk and Melitopol is part of Russia's bid to create a land bridge from Crimea to the Russian border.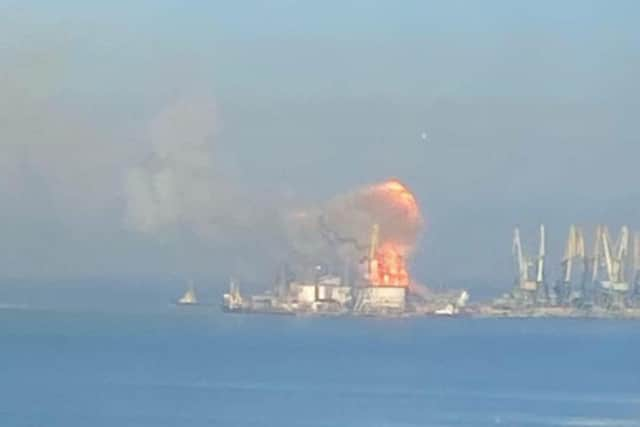 European leaders will today meet at a G7, Nato and European Union summit, one month into the Russian invasion of Ukraine.
European leaders at the summit are expected to announce a raft of new sanctions against Russia.
President Volodymyr Zelensky will also appear through video link at the meeting and will appeal to Western leaders for more support for Ukraine.