UK migrant laws: SNP's Mhairi Black says 'this is not being done in our name' as Suella Braverman lays out plans to block asylum seekers
Developed countries will face "unprecedented levels" of people leaving the developing world in coming years, home secretary Suella Braverman has said, as she set out plans to block people arriving in the UK under non-legal means from applying for asylum.
Ms Braverman said "by some counts" there are 100 million people around the world who could qualify for protection in the UK under existing laws. "And let's be clear, they are coming here," she said. "They will not stop coming here until the world knows that if you enter Britain illegally, you will be detained and swiftly removed.
"Removed back to your country if it is safe, or to a safe third country like Rwanda. And that is precisely what this Bill will do. That is how we will stop the boats."
The Bill will make asylum claims entirely inadmissible from those who travel to the UK on small boats. It will also put a duty on the home secretary to detain and deport anyone who enters the country illegally, while also barring them from entering the UK again in the future. Meanwhile, the UK Government plans to put a cap on the number of refugees Britain will take in through official schemes.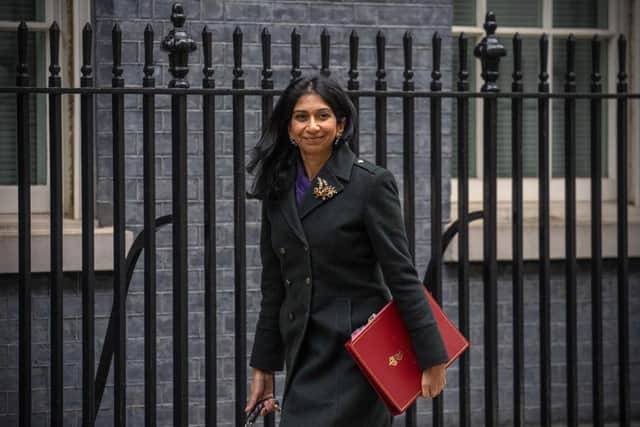 The measures are aimed at acting as a deterrent to people considering making the often-treacherous journey with people traffickers to the UK. Ms Braverman claimed asylum seekers were abusing human slavery laws to be allowed to stay in the UK.
She pointed to a pledge by Prime Minister Rishi Sunak that anyone entering this country illegally would be detained and swiftly removed.
"The Illegal Migration Bill will fulfil that promise to stop the boats that are bringing tens of thousands to our shores, in flagrant breach of our rules," she said. Ms Braverman said only those under 18, medically unfit to fly, or at real risk of serious and irreversible harm would be able to apply for asylum from the UK.
Labour MP John McDonnell asked Ms Braverman to "tone down the inflammatory language" to protect asylum seekers living in the UK.
Meanwhile, MP Barry Gardiner pointed to the fact just 22 people from Afghanistan have been legally allowed into the UK over the past year, with most of the 500,000 people who have been settled in the UK through "safe and legal routes" coming from Ukraine and Hong Kong.
"Is it any surprise to the home secretary that last year 8,500 Afghanistan made the small boat crossing to the UK?" he asked. "Having rendered meaningless any safe and legal routes from Afghanistan, how does the home secretary think she has the authority to criminalise those people due to their mode of travel?"
More than 45,000 people entered the UK via Channel crossings last year, up from around 300 in 2018. The latest Home Office figures show 2,950 migrants have crossed the Channel already this year.
SNP MP Joanna Cherry claimed the Conservative Government was hoping the legislation would be found legally incompatible with international law and the European Convention on Human Rights (ECHR). Ms Cherry said this would allow the party to fight the next general election on a promise to take the UK out of the ECHR.
Last year, a controversial scheme to send asylum seekers who arrived in Britain through "illegal" means, such as on boats crossing the Channel, to Rwanda was postponed at the 11th hour following an ECHR ruling just hours before the first flight was due to take off in June.
SNP colleague Mhairi Black said the Bill was "not being done in our name". "We did not vote to leave the ECHR, we did not vote for Brexit and we did not vote for refugees leaving unimaginable horror to be deported to Rwanda," she said.
"Does the home secretary not have a shred of compassion for what people, children, families are going through and will she create more safe and legal routes so people can actually access safety rather than being stuck to to rot in war zones?"
Ms Braverman replied: "She talks about what people did and didn't vote for. The British people didn't vote for 45,000 people to come here illegally. The British people didn't vote for £6m to be spent every day in hotel accommodation. The British people didn't vote for abuse of our generosity. That's the compassionate thing we need to do – pass this Bill."
The Scottish Greens branded the Bill "desperate and shameful". Equalities and justice spokesperson Maggie Chapman said: "Even by the appalling standards of the Home Office, this is desperate and shameful.
"It is a cynical rehash of the same racist policies that they have already announced before. It is the product of a racist government that has run out of racist ideas. Yet, it is real people – vulnerable people – who will pay the terrible price for the hatred that it is fuelling."
Marley Morris, associate director for migration, trade and communities at think-tank the IPPR, said: "This Bill is both unethical and impractical. As with last year's Nationality and Border Act, this Bill will simply add to the distress of Afghans, Syrians, Iranians and others seeking asylum in the UK, without deterring people from making the journey.
"The Government can pass law after law, but without a deal with France and new safe and legal routes for people seeking asylum, people will continue to be forced to make the perilous journey across the Channel."
Yasmine Ahmed, UK director of human rights at Human Rights Watch, said the proposals risked "stoking fear and hatred in our communities".
She said: "It will punish individuals, many of whom are fleeing persecution and oppression in countries like Iran, Afghanistan and Syria, simply for exercising their human right to seek refuge. For most seeking protection, arriving by boat or other so called irregular routes is the only way they can access our asylum system."
Comments
 0 comments
Want to join the conversation? Please or to comment on this article.