The Italian coastguard said around 80 people had since been found alive, meaning some people may still not yet be accounted for.
The boat had set out from Turkey a few days earlier, carrying passengers from Afghanistan, Pakistan, Somalia, Syria, Iraq and Iran. The long route is well documented as being risky. However, human traffickers, who co-ordinate the journeys, usually for large amounts of money, have recently opted to travel that way, due to government policy changes making it more difficult to travel in waters belonging to some other countries.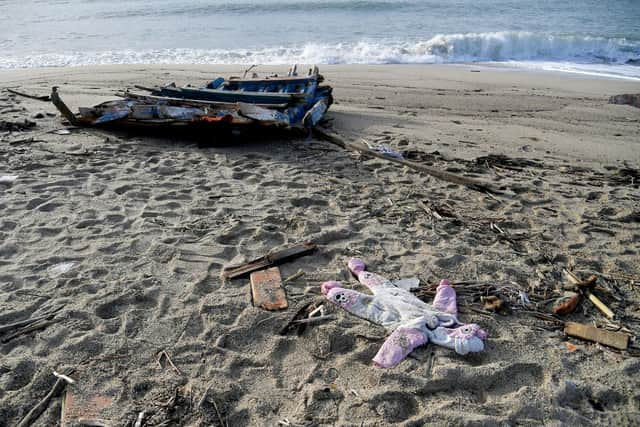 The Italian authorities said one survivor had been arrested in charges of human trafficking.
Why are people taking this route?
Some charities helping asylum seekers in Europe say people are opting to take a longer route from Turkey and Lebanon to Italy to avoid Greece and Cyprus, whose authorities are pushing them back. The NGOs say this is in breach of international laws.
More than 20,000 people have died or gone missing in the central Mediterranean since 2014, according to charities.
Francesco Creazzo, from SOS Méditerranée, an non-governmental organisation engaged in rescue operations in the central Mediterranean, recalled the tragic picture published in 2013, of a Syrian boy, Alan Kurdi, who died off the coast of Turkey, while trying to flee the conflict in his home country with his family – as well as the tragedy off the coast of the Italian island of Lampedusa eight years ago, when a wooden boat sank, killing 366 migrants on board.
"This is yet another tragedy happening near our shores," he said. "It reminds us all that the Mediterranean is a giant mass grave, with tens of thousands of souls in it, and it continues to widen.
"There is no end in sight; in 2013, people said 'never again' to the little white coffins of Lampedusa. In 2015, they said 'never again' in front of the lifeless body of a two-year-old Syrian child on a beach.
"Now the words 'never again' are not even pronounced any more. We only hear 'no more departures', but unfortunately people keep venturing on this journey and they keep dying."
How many asylum seekers tried to enter Europe last year?
According to a recent report from Frontex, the European Border and Coast Guard Agency, around 330,000 people crossed illegally into the European Union – the highest number since 2016 and an increase of 64 per cent from the previous year. It was estimated 2,062 migrants died while crossing the Mediterranean Sea, although some charities believe the real figure could be far higher.
The number of detections in the Central Mediterranean route – between Africa and Italy – rose by more than half last year to well over 100,000.
Women accounted for fewer than one in ten of the detections, while the share of reported minors fell slightly to around 9 per cent of all detections.
The report said: "Last year, EU and Schengen associated countries faced unprecedented challenges at their external borders. These have ranged from the state-organised migration perpetrated by Belarus from 2021 onward to Russia's invasion of Ukraine in February 2022. The latter caused record numbers of refugees arriving in the European Union.
"These events, along with the steadily increasing number of irregular crossings, demonstrate the need for strong and effective European Border and Coast Guard, with Frontex as a strong supporter of member states."
Separately, almost 13 million Ukrainian refugees were counted on entry at the EU's external land borders from Ukraine and Moldova between 24 February last year until the end of 2022, which are not included in the figures published by Frontex. In the same period, ten million Ukrainian nationals were reported to have exited the EU at the same border sections. The figures also do not include anyone who was granted asylum under agreed schemes and arrived in the EU legally.
What is Europe doing in response to the situation?
The European Union proposed a major change on EU migration policy with its Pact on Migration in September 2020. However, member states have since been stuck in negotiation and have not yet come to an agreement.
Italy, however, which is a destination for many of the boats travelling via the Mediterranean, has taken a tougher stance in recent months.
Newly-elected right-wing prime minister Giorgia Meloni pledged last year to crack down on boats heading to Italy from North Africa and other areas.
The latest tragedy came just two weeks after charity Amnesty International warned that new measures approved by the Italian government, which set out a stricter set of requirements for charities that rescue migrants at sea, accompanied by the prospect of fines and the impoundment of their ships, would result in the loss of lives in the Mediterranean.
Amnesty International's migration researcher Matteo de Bellis said: "These measures are clearly designed to hinder NGOs undertaking life-saving search and rescue missions in the central Mediterranean. This is part of an effort to ensure that as many people as possible are instead intercepted by Libyan coastguards and returned to Libya where they face arbitrary detention and torture."
What is the UK doing in response to migrants crossing the Channel?
The Bill would also place a duty on the home secretary to deport them "as soon as reasonably practicable".
Mr Sunak has argued his new Bill, which is key to one of his five priorities for his premiership, will "take back ­control of our borders, once and for all".
Despite plans such as forcibly removing asylum seekers to Rwanda being mired in legal challenges, ministers were expected to approach the limits of the European Convention on Human Rights with the new legislation.
How many different routes into Europe do asylum seekers take?
It is widely recognised there are six main routes into Europe taken by asylum seekers. Four are by boat, with people taking risky journeys in the sea in the central Mediterranean, eastern Mediterranean, western Mediterranean and western African routes. There is also a land route known as the western Balkans, where people, many of whom have lived in countries such as Serbia for some time, try to enter the EU, as well as an eastern land border, where migrants pass through Belarus.
The Western Balkan route accounted for nearly half of the total number of people attempting to enter the EU last year – more than twice the number of last year, but a small fraction of the number who attempted to enter Europe through that route during the height of the Middle East refugee crisis in Europe, when tens of thousands of people – many of them Syrians trying to escape the war – poured onto the continent. Syrians, Afghans and Tunisians together accounted for 47 per cent of the detections last year, with the number of Syrians roughly doubling to 94,000.