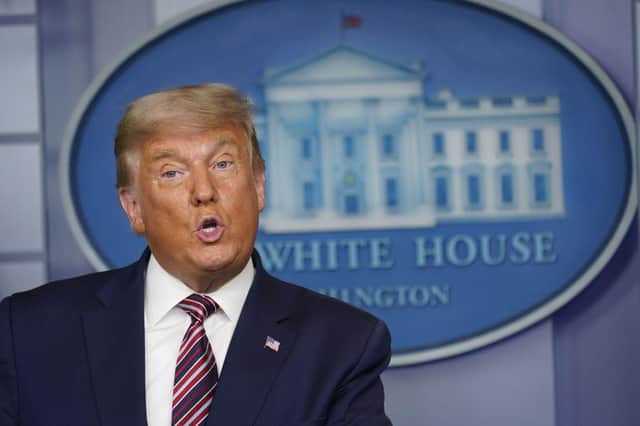 In a staggering 17-minute speech on Thursday night Donald Trump made several allegations of voter fraud without providing any evidence.
The baffling monologue came as Joe Biden edged his way closer to the presidency, with votes in Georgia and Pennsylvania moving in his favour.
The president's campaign team have already mounted several lawsuits against states alleging fraudulent voting activity, some of which have already been dismissed.
Here's what Trump said in his speech - and why it was inaccurate.
Speaking from the White House, Mr Trump yet again took aim at the mail-in voting system.
He said: "I've been talking about mail-in voting for a long time. It's really destroyed our system. It's a corrupt system and it makes people corrupt."
There is no evidence that the system is "corrupt".
According to Brennan Center for Justice, electoral fraud has a prevalence of 0.0009% in the United States.
In the past, Mr Trump himself has himself voted by mail.
Later Trump claimed: "They mailed out tens of millions of unsolicited ballots without any verification measures."
Voters in nine states were automatically sent mail-in ballots, eight of which are not in play in the election race.
A number of measures are in place to ensure that no fraudulent activity takes place, including the checking of addresses.
Mr Trump also expressed surprise at the "blue shift" caused by mail-in ballots being disproportionately Democrat.
He said: "It's amazing how those mail-in ballots are so one-sided too."
This shouldn't be a surprise for the president, however, as he heavily encouraged his voters to turn up on the day and to avoid mail-in voting.
The Democrat campaign, on the other hand, encouraged their voters to mail-in vote, in order to avoid polls on election day.
With mail-in votes being counted last in the states of Georgia and Pennsylvania this has seen a so-called "blue-shift" towards Biden, handing him leads in the swing states.
Democrat controlled voting apparatus
Mr Trump later alleged that the voting apparatus of the remaining states were controlled by Democrats.
He said: "There are now only a few states yet to be decided in the presidential race. The voting apparatus of those states are run in all cases by Democrats."
In Nevada for instance a Republican secretary of state is in charge of the vote count. In Georgia, meanwhile, the Governor is a republican.
The president also alleged that poll watchers had been turned away from polling stations.
He said: "They wouldn't allow legally permissible observers"
Poll watchers are allowed in most states, most of which need to be legally registered before election day.
Mr Trump has alleged the turning away of poll watchers in Democrat-leaning cities in Detroit and Philadelphia, but this is not the case.