Thousands displaced as fire rips through Rohingya refugee camp in Bangladesh
A major fire has devastated the homes of more than 12,000 Rohingya refugees at the world's largest migrant camp in Bangladesh.
A fire raged through the crowded Balukhali camp in the Cox's Bazar district on Sunday, with refugees trained by humanitarian aid organisations in fire prevention the first to respond.
No casualties were reported immediately, said Emdadul Haque, a fire service official.
Mijanur Rahman, Bangladesh's refugee commissioner, told the AFP news agency: "Some 2,000 shelters have been burnt, leaving about 12,000 forcibly displaced Myanmar nationals shelterless."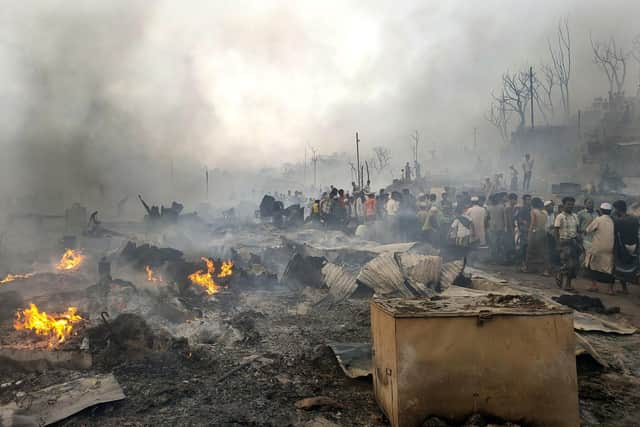 The incident is the second time the camp has been hit by a fire. In March 2021, a massive blaze destroyed a large area of the camp, killing over a dozen people and further displacing thousands.
Local authorities have begun a probe to uncover what started the blaze, while temporary shelters are being built to house those whose homes were destroyed in the fire. It is understood around 2,000 houses were destroyed, as well as a mosque and numerous healthcare and support centres.
Selim Ullah, a refugee and father of six children, said: "I couldn't save anything. Everything burnt to ashes. Many are without homes. I don't know what will happen to us."
The United Nations' International Organisation for Migration said: "Around 12,000 Rohingya refugees were affected and more than 2,000 shelters were destroyed in a massive fire at a Rohingya camp. The fire has been doused, but the extent of the damage is yet to be determined."
Bangladeshi media said a seven-strong committee, consisting of representatives from Refugee Relief and Repatriation Commissioner's office, the fire service, police and other agencies, had begun an investigation.
Last year, the United States said the oppression of Rohingya in Myanmar amounts to genocide after US authorities confirmed accounts of mass atrocities against civilians by the military in a systematic campaign against the ethnic minority.
Muslim Rohingya face widespread discrimination in Buddhist-majority Myanmar, where most are denied citizenship and many other rights.
The fire ripped through one of the 32 separate camps in the settlement.
Hardin Lang, from Refugees International, told the BBC it would be difficult to relocate the estimated 12,000 people affected by the fire.
"This is in essence an acute incident on what was already a chronically very vulnerable and precariously poised population," he said.
The Rohingya are a persecuted ethnic minority in their home in Myanmar.
More than a million Rohingya live in overcrowded camps in southern Bangladesh following a campaign against them by the Myanmar military. Many are trying to reach Malaysia, where there is a large Rohingya community.
Comments
 0 comments
Want to join the conversation? Please or to comment on this article.