Thai authorities said the man, who was found dead after turning the gun on himself, his wife and child, and who also used a knife in his attack, is an ex-police officer.
Panya Kamrab, 34, who was sacked from the force last year, opened fire on the Nong Bua child development centre in the rural north-eastern district of Nong Bua Lamphu on Thursday afternoon, killing staff and children. Around a dozen more people were injured in the attack.
Police say at least 23 children are among the victims. A heavily pregnant teacher was also among those targeted by the gunman, who entered the building at lunchtime, when the young children were having a nap.
It is understood Kamrab had expected his own child to be there and became agitated when he found they were not. The nursery was said to be unusually empty due to bad weather in the area which meant many parents had kept children at home.
Wielding a knife, he then forced his way into a locked room where the children were sleeping, district official Jidapa Boonsom said. He is also reported to have driven his vehicle into bystanders. A hospital close to the scene of the incident put out an urgent appeal for people to donate blood.
Police initially put out a wanted notice and began a man hunt, before the gunman was found dead. Local media reports said he also killed his wife and own child before killing himself.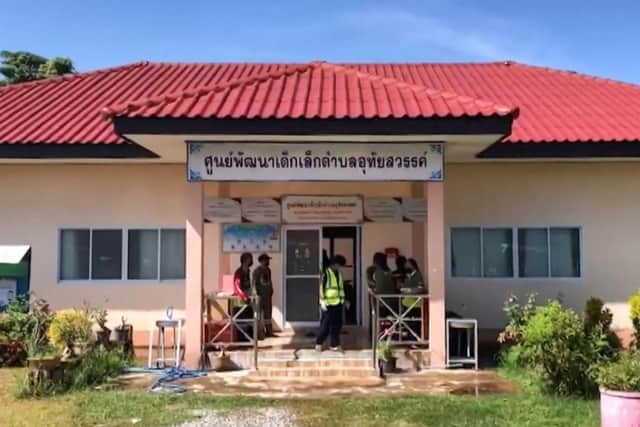 "After inspecting the crime scene, we found that the perpetrator tried to break in and he mainly used a knife to commit the crime by killing a number of small children, while a few survived," Thailand National Police Chief Damrongsak Kittiprapat said.
"Then he got out and started killing anyone he met along the way with a gun or the knife until he got home. We surrounded the house and then found that he committed suicide in his home."
Kamrab is understood to have appeared in court on Thursday morning, on charges relating to a failed drugs test while he was in the police, according to Thai media reports.
There has been a surge in gun violence in Thailand in recent times, although mass shootings are rare. Data on website GunPolicy shows around one in ten people in the country owns a gun, although this does not take into account illegal gun ownership.
Gun deaths in Thailand are at 3.91 per 100,000, compared to 0.24 in the UK and 10.95 in the US, according to World Population Review.
Thai prime minister Prayut Chan-o-cha said he had ordered the police commander to "fast-track an investigation" into how the tragedy had occurred.
He said: "I would like to express my deepest condolences to the families of the lost and injured."
Prime Minister Liz Truss said: "My thoughts are with all those affected and the first responders. The UK stands with the Thai people at this terrible time."
Two years ago, 32-year-old soldier Jakrapanth Thomma killed 29 people at a shopping centre in the city of Nakhon Ratchasima, allegedly after becoming angry over a property deal that had gone wrong.