Sydney marathon runners hope for clean air after thick smoke blankets city
Runners warned not to take part in the marathon unless the air cleared significantly
For many of the 42,000 runners due to take part in the Sydney Marathon today, training did not go to plan.
Instead of spending the past four days carrying out their final preparation runs, the city's runners were essentially put into lockdown – with exercise outside all but prohibited.
Official advice told residents to stay indoors where possible and "limit" outdoor activities, especially for those physically exerting themselves.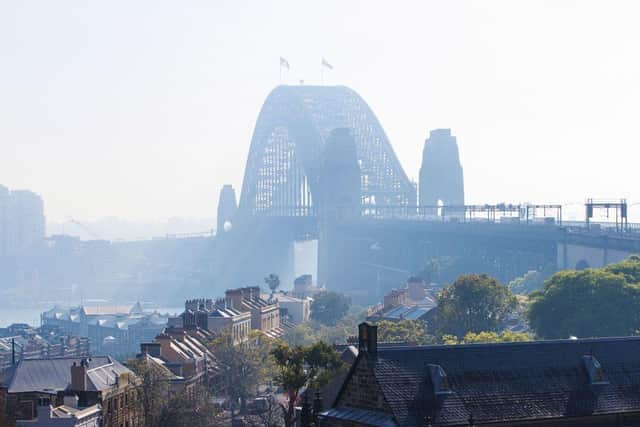 The smoke, which saw Sydney ranked among the five worst cities across the world in terms of air quality earlier this week, was caused by hazard-reduction burns carried out by the fire service working to manage the possibility of wildfires as the temperatures began to climb above 30C.
Forecasters said the smoke was likely to clear by today's race. However, experts warned of the health dangers of taking part in a gruelling race if the air conditions were anything other than clear.
Air quality expert Lidia Morawska, director of the International Laboratory for Air Quality and Health, said the conditions could cause runners to "collapse" during the event.
"If it's not clear, the marathon should not run," Professor Morawska said. "It is a huge concern. Running a marathon, which is an extreme exercise, in such conditions is just something I have no words for."
Runners raised questions over the scheduling of the hazard reduction burns, which they said had previously been timed to avoid other major events in Sydney.
Competitor Sheryl Rotundo said: "Shame about back burning happening for air quality for runners. Big event and not considered."
The Rural Fire Service (RFS) said on Thursday there would be no new hazard-reduction burns. The emergency body said the smog and smoke that had blanketed the city since the start of the week was likely to begin to clear.
RFS inspector Ben Shepherd said the air should begin to clear once the fires stopped.
"There will be no new burns today, no new burns tomorrow," he said on Thursday. "We will re-evaluate on Saturday morning ... and may hold to Sunday.
"There's already a little bit of wind around, which is encouraging, and we should start to see this smoke move off over the coming days."
Australian Medical Association NSW president Michael Bonning said there had been an increase in asthma attacks and respiratory symptoms, mainly in children and the elderly.
"I think people were caught a little bit by surprise with the hazard-reduction burns and a significant amount of smoke and so we have seen reports from our colleagues in hospitals that they are seeing more cases," Dr Bonning said.
Official government advice warned citizens the smoke could be "hazardous to health". "These small particles can get deep into the lungs and be absorbed into the bloodstream," the advice said.
"Short-term impacts include difficulty in breathing and worsening of asthma or chronic bronchitis symptoms. They can also cause irritation of eyes, nose and throat."
Comments
 0 comments
Want to join the conversation? Please or to comment on this article.