Steve Bannon pardon: who is Donald Trump's former aide who was facing fraud charges - and why was he pardoned?
The former Breitbart editor and political strategist has been pardoned by Steve Bannon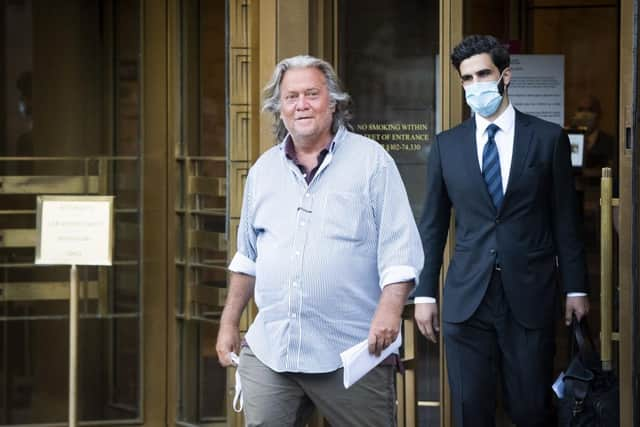 The most eye-catching of the list of former aides, rappers and disgraced politicians, was the pardon issued to Steve Bannon.
CNN described the decision to pardon his former aide as a last minute move to protect Bannon from his upcoming fraud trial.
Head of legal watchdog Citizens for Responsibility and Ethics Noah Bookbinder was one of many to criticise the move, stating: "Even Nixon didn't pardon his cronies on the way out. Amazingly, in his final 24 hours in office, Donald Trump found one more way to fail to live up to the ethical standard of Richard Nixon."
Why was Steve Bannon arrested and charged?
The "We Build The Wall" campaign promised to fulfil a key pledge made by Donald Trump during his 2016 election – build a wall along the US-Mexico border.
Audrey Strauss, the acting US Attorney for the Southern District of New York, said that Mr Bannon and three others had "defrauded hundreds of thousands of donors, capitalising on their interest in funding a border wall to raise millions of dollars, under the false pretence that all of that money would be spent on construction".
Mr Bannon used some of the money raised to cover "hundreds of thousands of dollars in… personal expenses", according to the Department of Justice.
$350,000 was passed on to We Build The Wall founder Brian Kolfag.
Attorney Strauss added: "While repeatedly assuring donors that Brian Kolfage, the founder and public face of We Build the Wall, would not be paid a cent, the defendants secretly schemed to pass hundreds of thousands of dollars to Kolfage, which he used to fund his lavish lifestyle,"
The four involved are alleged to have created "sham invoices and accounts to launder donations and cover up their crimes, showing no regard for the law or the truth".
A former investment banker, Steve Bannon was behind the rise of alt-right publication Breitbart News.
Mr Bannon emerged as a key figure in Donald Trump's 2016 campaign to become president, serving as a chief strategist when Trump entered the White House.
He was viewed as the driving forced behind some of Trump's most contorversial policies including the Muslim travel ban and the removal of the US from the Paris agreement.
Mr Bannon stepped down from his White House role on August 18, 2017, though it is widely rumoured that he was forced out.
He remained in favour with President Trump, until the release of Michael Wolff book Fire and Fury: Inside the Trump White House, which contained quotes attributed to Mr Bannon, criticising Trump's tenure as president.
Since leaving the White House he has toured Europe in an attempt to build a network of right-wing populist-nationalist parties aspiring to government.