Since US fighter jets shot down a giant Chinese balloon off the South Carolina coast at the weekend amid accusations it was spying on key military sites, relations between the US and China have been especially strained. A moment of comedic levity has not changed that.
The discovery of the balloon, and the decisions taken around its destruction, sparked a diplomatic crisis, as well as partisan attacks closer to home. All of which ramped up the pressure on Mr Biden to reassert his authority during a key fixture in the US political calendar.
Despite the fact the balloon story has dominated US media coverage, it was not given prominence in Mr Biden's speech. Indeed, he only began to discuss on China towards its conclusion. Even so, the 80 year-old did not cede any ground, posing a direct warning to his counterpart, President Xi Jinping, and, in a seemingly angry departure from his prepared speech, questioning the sustainability of China's autocratic rule.
His one direct reference to the spy balloon flashpoint was brief, albeit pointed. "Make no mistake," he said. "As we made clear last week, if China threatens our sovereignty, we will act to protect our country. And we did."
Given the political and economic consequences of mishandling the situation, Mr Biden tread carefully elsewhere. He said he was committed to working with China where it can "advance American interests" and help the wider world, and stressed he had told President Xi the US wanted "competition, not conflict".
Moments later, however, he adopted a more bullish tone, insisting he would make no apologies for investing in US innovation and industries in which the Chinese government was "intent on dominating". He added: "Let's be clear, winning the competition with China should unite all of us."
In many ways, those remarks were not aimed at Beijing, but Republicans, who even before the balloon flashpoint, had accused the president of being weak on China. But Mr Biden knew he had to go further. And he did.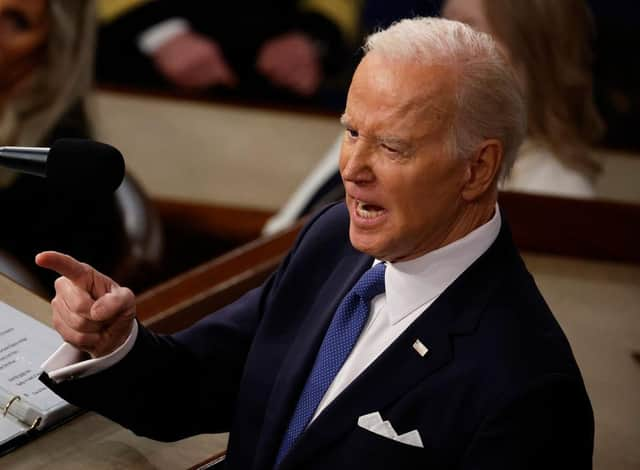 After around two minutes addressing the China issue, he cut away from his script, raised his voice, and wagged his finger as he broke into an impassioned ad-lib. "Name me a world leader who'd change places with Xi Jinping," he shouted. "Name me one! Name me one!"
Unsurprisingly, the address went down badly in Beijing, with Mao Ning, a spokeswoman for the foreign ministry, accusing Mr Biden of smearing China. Expect such rhetoric to intensify over the coming days.
Further revelations about the extent of the Chinese balloon programme have the potential to destabilise an already volatile relationship, but it is worth bearing in mind that, for all the harsh words, trade between the world's two leading economies is at an all-time high.
The minimal time Mr Biden spent discussing China, and its lowly position in his script, might have been designed to help tensions blow over. What he said off-script, however, could inflame them further.