South Sudan: Moderator to join Pope Francis and Archbishop of Canterbury on a visit to the conflict-hit country
It was an iconic moment when the Pope kissed the feet of the political leaders of South Sudan and urged them to make peace within their country.
Now, three years on from the Rome retreat, the Moderator of the General Assembly of the Church of Scotland is to join Pope Francis and the Archbishop of Canterbury on a visit to the conflict-hit country to call for political unity in South Sudan.
The trip is the first time the heads of the three churches have made a joint visit together anywhere in the world.
Rt Rev Dr Iain Greenshields is leading the five-strong Scottish delegation.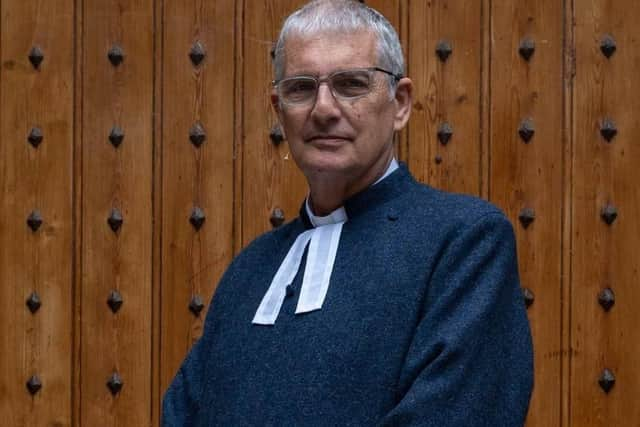 "It is a delegation of peace, that's the main focus of the whole visit," he said. "I think it's important to emphasise that it's something hat has been requested by the South Sudanese government and is something that has the backing of the South Sudanese churches as well.
A previous trip planned for July was rescheduled due to the health of the Pope, who will be making the visit as head of state, as well as leader of the Catholic Church.
"It's something he very strongly feels he wants to do," said Dr Greenshields. "We're not going with any grand ideas that peace will be established overnight, but we see this – as do the South Sudanese government – as something that is unique, it has never happened before that three leaders from the three churches are going and working together. It is a historic moment and it is interesting that it's happening on South Sudanese soil.
"We're not going to make this happen, but we are going to be part of something that leaves a blueprint for the people of this country."
South Sudan was first recognised as an independent country in 2011 following a peace agreement signed six years earlier, in which South Sudanese politician Salva Kiir Mayardit was appointed both Vice President of Sudan and Vice President of Southern Sudan.
However, two years later, civil war broke out. President Kiir fired his entire cabinet, including Vice President Riek Machar, after accusations of a coup d'etat, sparking conflict between government forces and soldiers loyal to Machar.
During their trip, which came at the invitation of the South Sudan government, around 50,000 to 60,000 people will gather to hear all three leaders speak at an Ecumenical Prayer Service for Peace in the John Garang Mausoleum Park – named after South Sudan's first president who died in a helicopter crash - while they will also meet with 1,000 refugees from different camps around South Sudan.
The delegation will meet the President and Vice President of South Sudan, as well as church leaders. Around 60 per cent of South Sudan's citizens identify as Christian, one of the highest percentages of any country in the world.
By 2014, a year after the civil war began, one million South Sudanese had been forced to leave their homes due to violence, including 800,000 who were internally displaced within their own country. That number had more than doubled a year later, when new UN estimates put the number of South Sudanese displaced by fighting at 2.2m. South Sudan itself now hosts over 340,000 refugees, mainly from Sudan, while the country has received over 600,000 refugee returnees from neighbouring countries since 2018.
The country has also been hit by famine, partly exacerbated by the fact that farmers who would usually plant crops have been displaced from their homes due to conflict – as well as widespread flooding which has caused damage to crops.
As a result, people are being forced to move to cities, where international humanitarian aid charities are working to feed people.
It had been hoped that democratic elections would be held in South Sudan this year, however they did not take place – and the delegation believe that the visit could help spur on a democratic vote.
Dr Greenshields said the visit put Scotland at the heart of rebuilding peace in South Sudan.
"This isn't about necessarily bringing the churches together, they are already together, this is about the churches coming together with the leaders and shining a light on South Sudan and putting it on the world stage," he said. "We want to encourage those who've got the power to make decisions to start to exercise forgiveness and come to a solution.
"We want them to be able to get to that point where revenge and warfare can be set aside for the greater good so that this country can prosper. At the moment, it's not prospering, that's the problem. The poor are getting poorer and there are too many displaced people. It needs a solution that will help that country with its incredible resources to flourish."
Ian Alexander, secretary of the World Mission Council for the General Assembly of the Church of Scotland, who has visited South Sudan previously, most recently in November, said mending the relationship between President Kirr, who is Catholic and Vice President Machar, a Presbyterian, was crucial.
"One is Dinka, one is Nuer, so there are tribal differences, too," he said. "The key issue is getting the leaders to see that they must mend their differences, that they have to reconcile, they have to work together more cooperatively, because that's where the conflict is, it's in the heart of the leadership in South Sudan," he said.
"That's what was said in the Vatican in 2019, when the Pope knelt and kissed the feet of the leaders and said 'As I serve you, please serve the people, work together to help the country recover and to grow. But sadly, the leadership has fallen apart again.
"This is a hope that because all the leaders are Christians, can this appeal by three denominations be significant in influencing the South Sudanese political leadership to try to work together and try to move forward?"
Comments
 0 comments
Want to join the conversation? Please or to comment on this article.