SNP accuses government of being 'passive and timid' as Belarusian pleads for help
The SNP has criticised the UK Government's "passive and timid" response to the situation in Belarus after a Belarusian woman living in Scotland wrote to First Minister Nicola Sturgeon to demand action.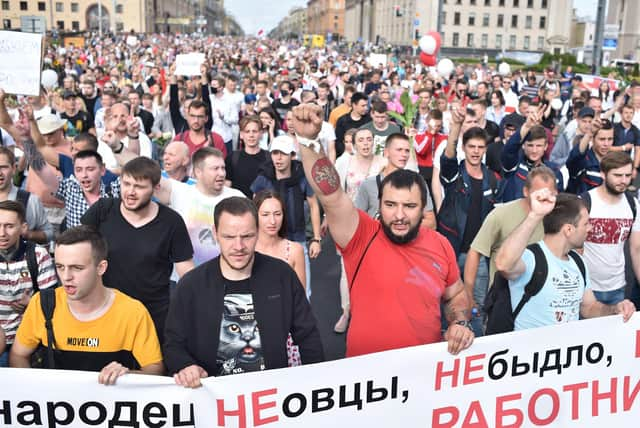 People shout slogans during a protest rally against police violence in Belarus.
Protests broke out in the eastern European nation last Sunday after dictator Alexandr Lukashenko declared victory in the election for the sixth time.
NHS worker Irina McLean, who has lived in Scotland for 11 years, asked Sturgeon to step in to bring the world's attention to the situation in her native country after thousands of people were arrested during the demonstrations – with police using rubber bullets, flash grenades and water cannons to control protesters.
Reports have claimed that protesters – almost 7,000 of whom the state say have been arrested – have been subject to brutality from the authorities, while journalists are said to have been among those arrested.
Belarus-born Irina McLean, who now lives in Scotland, has written to Nicola Sturgeon to ask for help.
Ms McLean wrote: "First Minister, I am appealing to you as a powerful and wise leader who took Scotland through the pandemic as no other leader managed.
"This situation, where 17 year olds are being beaten in front of their parents, cannot be tolerated. All Belarusian citizens are standing for is a free and fair election. The level of violence and terror affecting the country now is not acceptable in 2020.
"I am pleading for justice. As a mother, social worker, researcher in social care, NHS employee and a citizen of a democratic country, I am asking you to get involved. You have a position of strength as a recognised and respected politician and leader whose opinion is listened to in many international arenas. The West is watching and saying very little."
Belarusian president Alexandr Lukashenko, who has been in power since the mid 1990s, claimed victory in the elections, stating that he had 80 per cent of the vote. However, those opposed to his rule – known as 'Europe's last dictatorship' – claim that there has been electoral fraud. The opposition candidate, Svetlana Tikhanovskaya – who stepped in after the original candidate, her husband Sergei, was arrested – fled to Lithuania after lodging a formal complaint with the electoral commission in Belarus. She indicated that she had left the country for the safety of her children.
Ian Blackford, MP, has now accused the UK government of flouting its responsibility to use economic leverage over the Belarusian Government as the country's third largest export market. Foreign and Commonwealth minister James Duddridge earlier this week issued a statement condemning the situaiton as "completely unacceptable".
Ms McLean said she had left Belarus aged 17 in 1996 – moving first to Prague, then to the UK – and said her children, including 15-year-old high school student Nikita, who co-signed the letter with his mother, consider themselves to be Scottish. The family, including her Scottish husband Stuart and 12-year-old daughter Yulia, live in South Queensferry.
She said: "Scotland had everything I was longing for – kind people, person-centred policies, a human rights approach to everything in society and, of course, hopes for independence. My children consider themselves Scottish, but are both very proud of their Belarusian heritage."
Ms McLean said she had been in contact with friends in Belarus, including one former classmate who had been detained by the authorities for 72 hours after walking to the shop to buy some milk.
She told Scotland on Sunday: "His wife asked him to pick up some milk, so he went to the shop, barely 30 metres from his flat in the city centre of Minsk and didn't come back.
"His family had no idea where he was. He was kept in a cell where there were so many people that for the first 24 hours, he couldn't even sit down, he had to stand up the whole time.
"He was beaten and forced to sign a paper – he has no idea what it was as they covered up the text. When he refused, they beat him again until he was half conscious and just signed it."
She added: "I have seen videos of teenagers, one of them just 15-years-old, beaten by police. I looked at him and thought 'that could be my son'. My 15-year-old son, Nikita, wasn't even born in Belarus, but he feels very strongly about what is happening there. He asked me 'Who can I speak to? Who can I write to for help?'
"I want the Scottish Government to bring attention to the situation and demand that bigger countries in Europe get involved."
Blackford said: "We cannot have a passive and timid response when it comes to gross human rights abuses on such a scale. The situation is absolutely unacceptable and the UK government's response has been shameful - the Prime Minister needs to step up to the plate.
He added: "The SNP have raised human rights, in particular press freedom, in Belarus with ministers; we will be redoubling our efforts in engaging with the UK government to push them to act.
An FCO spokesperson said: "The UK condemns the excessive use of force used by the Government of Belarus against peaceful protesters and the media, following the seriously flawed presidential elections. We have raised our concerns with the Belarusian Government and called on the authorities to immediately release all those unjustly detained and to engage in constructive dialogue with the Belarusian opposition and wider civil society. The UK is working with our partners around the world to respond to the situation in Belarus and hold the Government of Belarus to account."