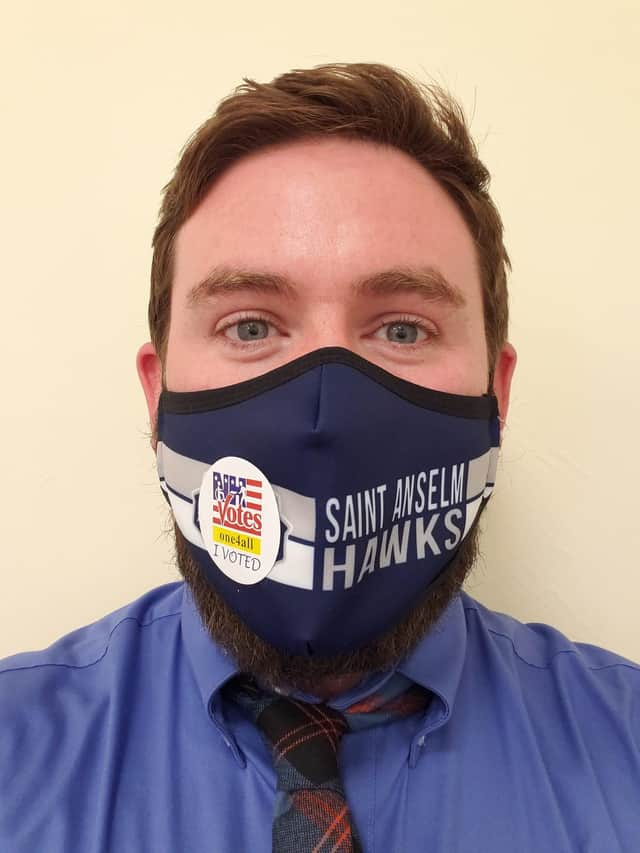 Dr Craig Gallagher, who became a US citizen in September 2019, shows off his voting sticker - and mask - after his first US election. Picture: Craig Gallagher
The academic, originally from the Inverclyde town of Greenock, moved stateside nine years ago to pursue a PhD in American history.
He is now a lecturer at New England College and Saint Anselm College in New Hampshire, where he lives with his wife and their three dogs.
As a specialist in early American history, the experience of casting his vote in his first presidential election was a memorable one.
Like others who have voted Democrat, he is uninspired by Joe Biden's offering, but faced with the "nightmarish" alternative, he is backing blue to wrest Donald Trump out of the White House.Dr Gallagher was a big supporter of Bernie Sanders, attracted by his promise of universal healthcare, and lower university tuition, but said he had "made his peace" with Biden, simply on account of "how horrible the Trump experience has been."
He explained: "I'm an immigrant first and foremost, but I genuinely question if I would have been allowed to become a US citizen last year under Trump if I was from the Middle East or South America instead of Scotland.
"I found the immigration process exhausting and expensive and believe Biden is a better bet to make it easier to immigrate to this country for people who don't look like me.
"On top of that, Trump has completely bungled the coronavirus crisis. As of this past August, I have officially now gone the longest stretch of time since I last saw my parents since I moved to the US.
"Previously, we saw each other at least once a year, either by me going back to Greenock or them travelling here for a holiday. But because the US has become a coronavirus pariah state, those plans are on hold."
Should Biden emerge victorious, Dr Gallagher said he doesn't expect him to "fix things overnight," but reasons that he "can't possibly handle it worse than a president who has let 230,000 Americans die on his watch."
He added: "I want Biden to win but I am under no illusions that his election will fix everything that is wrong with my adopted homeland. There is still a long way to go on that front."
A message from the Editor:Thank you for reading this article. We're more reliant on your support than ever as the shift in consumer habits brought about by Coronavirus impacts our advertisers.
If you haven't already, please consider supporting our trusted, fact-checked journalism by taking out a digital subscription.