Russia's frontline defences 'most extensive' in world, MoD says, as Moscow launches night of attacks on Ukraine
Russia has constructed some of the "most extensive systems of military defensive works seen anywhere in the world for many decades", UK military intelligence has said, as Ukraine suffered its second night of attacks in recent days.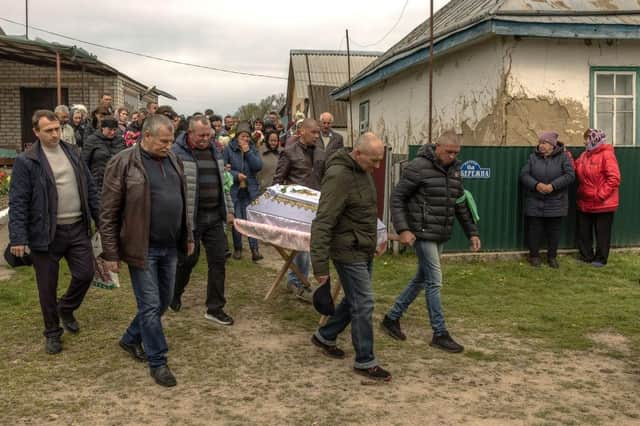 The Ministry of Defence (MoD) said the measures were "deep inside" areas of Ukraine currently controlled by Russia, with strong defences also seen along the northern border of Crimea, which was annexed by Russia in 2014. It said that while the fortifications suggest concern from Russia that Ukraine could breach its front lines in an expected counter-offensive this spring, they could also have been installed to "promote the official narrative" of threats from Nato.
The update comes as at least 34 people, including five children, were injured in the latest round of overnight attacks on Ukraine. Eighteen cruise missiles were fired in total from the Murmansk region and the Caspian region, and 15 of them were intercepted, while authorities said all missiles fired at Kyiv were shot down, as well as some drones.
The attack follows Friday's launch of more than 20 cruise missiles and two explosive drones at Ukraine, which was the first to target Kyiv in nearly two months. The missiles hit an apartment building in Uman, about 135 miles south of Kyiv, killing 21 people – including three children. Funerals were held for some of the victims at the weekend.
The MoD said: "Since summer 2022, Russia has constructed some of the most extensive systems of military defensive works seen anywhere in the world for many decades. These defences are not just near the current front lines but have also been dug deep inside areas Russia currently controls.
Imagery shows that Russia has made a particular effort to fortify the northern border of occupied Crimea, including with a multi-layered defensive zone near the village of Medvedevka.
Russia has also dug hundreds of miles of trenches well inside internationally recognised Russian territory including in the Belgorod and Kursk regions.
It added: "The defences highlight Russian leaders' deep concern that Ukraine could achieve a major breakthrough.
"However, some works have likely been ordered by local commanders and civil leaders in attempts to promote the official narrative that Russia is 'threatened' by Ukraine and Nato."
Moscow has frequently launched long-range missile attacks during the 14-month war, often indiscriminately hitting civilian areas.
Ukraine has recently taken delivery of American-made Patriot missiles, providing improved anti-missile defences, but it was not clear whether any of them were employed in trying to stop Monday morning's attack.
Ukraine has also been building up its mechanised brigades with armour supplied by its Western allies, who have also been training Ukrainian troops and sending ammunition, as Kyiv prepares for an expected counter-offensive this spring.
On Saturday, two Ukrainian drones hit a Russian oil depot in Crimea in the latest attack on the annexed peninsula.
Ukrainian President Volodymyr Zelensky said in an interview last week that his country will seek to reclaim the peninsula annexed by Russia in 2014 in the forthcoming counter-offensive.
Comments
 0 comments
Want to join the conversation? Please or to comment on this article.