Row over UK Government 'floating prison' plan for asylum seekers in Leith
The council said it was "surprised" to be contacted by the UK Government over use of the ship
The UK Government's secret plan to recommission a cruise ship used to house families fleeing the war in Ukraine as floating accommodation for asylum seekers in a Leith port has been met with fury by Scottish authorities and refugee groups.
A letter sent to the government by Edinburgh Council warned the local authority would not allow the MS Victoria ship to become a "floating prison" for asylum seekers, some of whom are left in limbo for years while awaiting a decision from the Home Office over their rights to remain in Britain.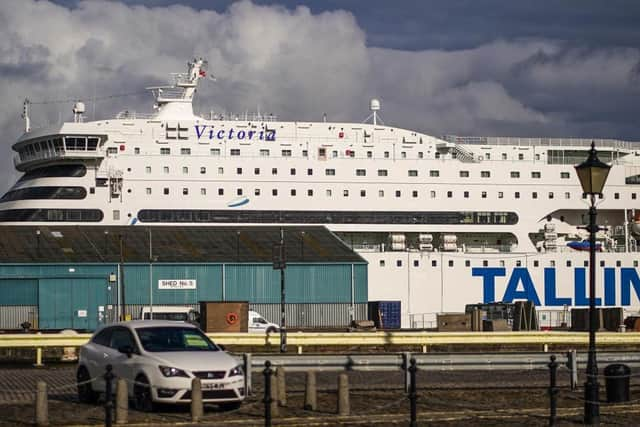 The council said it had written to the Government to find out more about its proposals for the vessel, which it is understood would remain docked in Leith under the UK Government's proposals.
However, Forth Ports, which operates the Port of Leith, warned it was not able to accommodate the ship at its Leith dock beyond July and said it had not had any contact on the issue from the UK or Scottish Governments.
The Scottish Government insisted the temporary housing of Ukrainians on board a ship "cannot be compared" to moving in asylum seekers because of a difference in their "rights and agency". The move comes just weeks after telling Scottish authorities the vessel should not be used for refugees.
Ukrainians have the right to remain in the UK for three years under the Homes for Ukraine visa scheme set up after the war broke out last year, while asylum seekers who would be housed in the ship by the UK Government would be likely to have arrived in the UK from countries such as Afghanistan or Syria and will have to await Home Office approval for their application for refugee status.
While living in the UK, Ukrainian refugees are able to work – and potentially be able to eventually support themselves in private accommodation, with the ship used as a stop gap.
Asylum seekers awaiting approval cannot work or claim benefits.
The council claimed queries and concerns raised in an earlier joint letter with the Scottish Government and Cosla to UK immigration minister Robert Jenrick had been ignored.
It said it was "extremely surprised" to be contacted by the Home Office about its intentions to commission the ship to house asylum seekers, especially as it had told them the existing contract for Ukrainian refugees could not continue.
It also warned Scottish authorities had not been given information about how long-term asylum seekers placed on the boat would be supported – in terms of infrastructure such as healthcare and their welfare.
However, the Home Office hit back, claiming it had not been told until a "very late stage" last year, that the Scottish Government planned to use the ship to house Ukrainians – and said it was working on sourcing cheaper and more suitable accommodation, including more than 5,000 new bed spaces at alternative sites in Scampton, Lincolnshire and Wethersfield in Essex, as well as on ships.
The current asylum system costs £3 billion a year, including around £6 million a day on hotel accommodation. A total of 51,000 asylum seekers are living in the UK in temporary accommodation, including hotels as well as initial centres.
Figures from the Migration Observatory at Oxford University show that the backlog of asylum seekers awaiting a decision has risen 13-fold since 2012 and is one of the worst in Europe. More than two thirds of people wait more than six months for a decision, with others waiting far longer. Prime Minister Rishi Sunak has pledged to clear the backlog by the end of 2023.
Council leader Councillor Cammy Day said: "Over the last year and a half, we've shown solidarity with, and support for, thousands of Ukrainian refugees who have fled Russia's illegal war on Ukraine, as we have for Syrian, Afghani and, most recently, Sudanese refugees.
"Thankfully most of us will never experience the horrors these communities have faced, and we remain absolutely committed to supporting them in whatever way we can.
"As Ukrainian refugees continue to disembark MS Victoria following the Scottish Government's decision to end its use next month, we were extremely surprised to be contacted by the Home Office about their intentions to commission the ship to house asylum seekers. [It is] all the more surprising given their previous advice that it would be impossible for it to remain. We were not consulted on this and urgently require further details from the UK Government on their plans."
Cllr Day added: "The potential consequences for the council in terms of the pressures on our services – and the city as a whole – are severe and, barring robust partnership discussions involving NHS, police and other colleagues, we will continue to oppose these plans in the strongest terms. Further, it is our understanding that Forth Ports are also against these proposals.
"Many of these people have risked their lives to make it to Europe and what they need is recognition and rights, not an unknown future without the support they so desperately need. While the MS Victoria has been a place of refuge for many Ukrainian families arriving in Edinburgh, until we have adequate reassurances from the UK Government regarding the welfare and ongoing engagement and support, we cannot allow it to become a floating prison for asylum seekers."
Speaking to reporters at the Royal Highland Show in Ingliston on Friday, First Minister Humza Yousaf said he had met secretary of state Michael Gove in Jersey last week, where he told him he supported Edinburgh Council's opposition to the plans.
He said: "I can completely sympathise with and understand Edinburgh City Council's opposition. This was asked of me when I met with Michael Gove at the British-Irish Council, and I told him I was very firmly on the same side here as Edinburgh City Council.
"There are big differences between refugees, who have particular rights, and asylum seekers who, for example, don't have recourse to public funds. I don't think the ship would be suitable for housing asylum seekers."
However, he said the Scottish Government did not have powers over the area.
The Scottish Refugee Council branded the plans "really worrying".
It said: "Ships, barges, army barracks etc are in no way appropriate places for people seeking refugee protection."
The Scottish Government's migration and refugees minister, Emma Roddick, said: "We have made clear to the UK Government that vessels are not suitable accommodation for people seeking asylum.
"Housing asylum seekers in vessels cannot be compared with their use to temporarily accommodate displaced people from Ukraine because of fundamental differences in terms of their rights and agency."
She added: "While people are waiting for a decision on their asylum application there are strict restrictions on the right to work and they have no recourse to public funds – a punitive policy which prevents access to most mainstream benefits.
"If the UK Government chooses to impose the use of the Ms Victoria to accommodate people in Edinburgh it must provide suitable funding for the council and other local devolved services like health and policing, and ensure services are provided so that people can be supported appropriately."
The Home Office refused to comment on a statement from Forth Ports, which said it would not be able to house the ship at the Port of Leith due to its own plans to create an offshore renewables hub at the site.
Charles Hammond, chief executive of Forth Ports, said: "Forth Ports has had no contact from the UK or Scottish Government on this matter. We would not be able to accommodate this facility at the Port of Leith as we continue to create our bespoke offshore renewables hub.
"We believe that the MS Victoria, which is currently berthed in Leith as a refuge for Ukrainian people, is due to depart in July. Forth Ports has no plans to house an asylum seeker vessel at the Port of Leith."
A Home Office spokesperson said: "The Home Office has a statutory obligation to provide accommodation for asylum seekers who would otherwise be destitute while we consider their claim.
"The significant increase in illegal, unnecessary and dangerous Channel crossings has put our asylum system under incredible strain and made it necessary to continue to use hotels to accommodate some asylum seekers."
He added: "We are committed to making every effort to reduce hotel use and continue to engage with local authorities as early as possible whenever sites are used for asylum accommodation."
Announcing the opening of the ship last summer to deal with a backlog of housing for those fleeing the war in Ukraine, the Scottish Government said it would also "pause" its super sponsor scheme, which allowed Ukrainians to travel to Scotland with the Government as the named sponsor on their visa application through the UK-wide Homes for Ukraine visa route.
The Ukrainians were then looked after by local councils until a permanent home could be found – rather than having to match with sponsors they have found on social media in advance. However, the scheme has not since been restarted, after the Government admitted it was struggling to keep up with demand.
Comments
 0 comments
Want to join the conversation? Please or to comment on this article.