Newspapers from Jerusalem to New York and Paris to Buenos Aires have dedicated their front pages to remember the life of Queen Elizabeth II.
Despite a growing chasm between the governments of the UK and France, the nation today demonstrated a keen emotional reaction to the Queen's death through comprehensive coverage of her death in its press.
"Nous l'avons tant aimée" – "We loved her so much" - mourned Le Parisien. Although the story was noticeably missing from the front page of the print edition of national paper Le Monde, its website is dominated with coverage.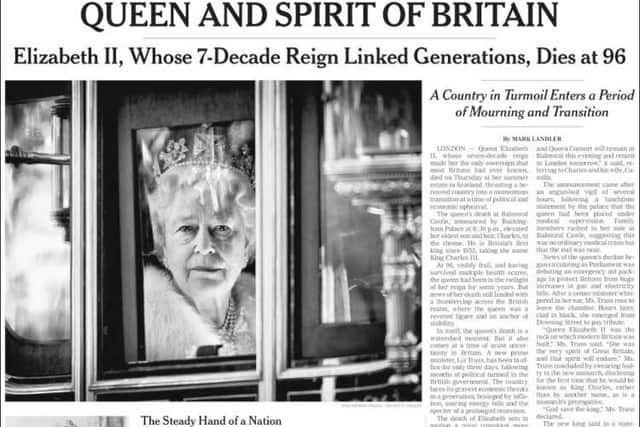 "Après la mort d'Elizabeth II, une nation en deuil", the newspaper wrote: "After the death of Elizabeth II, a nation in mourning".
In the US, the major newspapers took a more philosophical tack, pointing out the Queen's personal impact on the UK
"Queen and spirit of Britain" said the New York Times, adding her seven decade reign had "linked generations", while the Boston Globe opted for the headline "Through upheaval, an immovable force". Both USA Today and Time magazine issued poster front pages depicting a single image of the Queen.
In Italy, the Queen was lauded as "The Queen of Two Centuries" – by Corriere della Sera, whereas La Stampa reverted to English for a simple two word headline: "The Queen".
Multiple papers in Latin America covered the story, with La Nacion in Argentina calling her by the Spanish common usage name "Isabel II".
In India, the time difference meant many papers did not learn the news until after their print deadline. However, The Hindu managed to squeeze in a story with the headline "Longest reigning monarch of UK, Elizabeth II, dead".
Moroccan newspaper Le Matin published a small picture of the Queen at the bottom of the front page, under the heading "Disparation de la Reine Elizabeth II" – "The departure of Queen Elizabeth II".
In Israel, the Jerusalem Post led its front page with the news, saying the Queen's death "ended an era for the UK". However, it tempered the sympathetic coverage with a sidebar entitled "The Queen never came to Israel".
"Why is that?" asked the paper's columnist Greer Fay Cashman.