Prince Harry High Court: Duke of Sussex felt 'physically sick' over detective payments about Diana, Princess of Wales
Prince Harry is suing Mirror Group Newspapers (MGN) for damages
The Duke of Sussex felt "physically sick" over eight payments to private investigators related to his late mother Diana, Princess of Wales, the High Court has been told as he began his evidence.
Harry is suing Mirror Group Newspapers (MGN) for damages, claiming journalists at its titles, which also include the Sunday Mirror and Sunday People, were linked to methods including phone hacking, so-called "blagging" or gaining information by deception, and use of private investigators for unlawful activities.
The duke arrived on Tuesday at the Rolls Building, which was surrounded by journalists and a heavy police presence.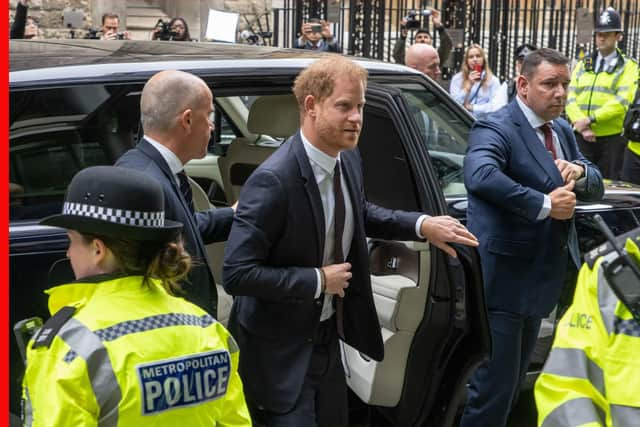 He entered the witness box of Court 15 shortly after 10.30, swearing on a bible ahead of his cross-examination by MGN's barrister.
In his witness statement for the case, Harry said he was "shocked and appalled" by the number of payments made by MGN titles to private investigators.
The duke added: "I now realise that my acute paranoia of being constantly under surveillance was not misplaced after all.
"I was upset to discover the amount of suspicious call data and the 13 private investigator payments for Chelsy (Davy, his ex-girlfriend).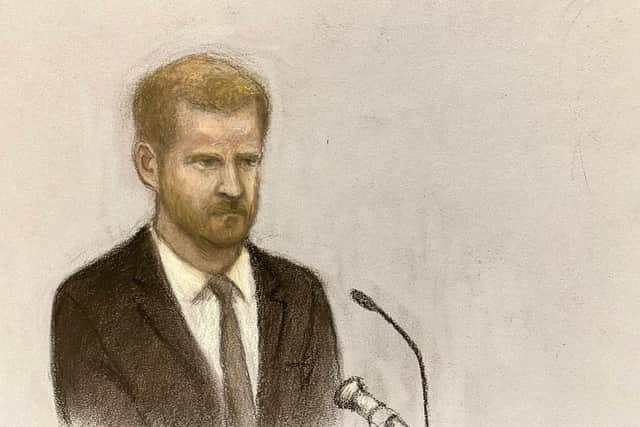 "Had she not been in a relationship with me, she would never have had to endure such a horrific experience at the hands of MGN's journalists.
"There are even eight private investigator payments made in relation to my mother, which I have only learnt of since bringing my claim.
"This makes me feel physically sick."
Harry alleges that about 140 articles published between 1996 and 2010 contained information gathered using unlawful methods, and 33 of these have been selected to be considered at the trial.
Under cross examination from Andrew Green KC, for MGN, the Duke of Sussex said: "Every single article has caused me distress," to which Mr Green then asked if each individual article had caused him distress.
Harry replied: "Yes, without question."
Mr Green then asked the duke about part of his case which states that he was caused particular distress "because he is a very private person" and was in the public eye at a young age.
Harry said: "I believe that as a child, every single one of these articles played an important role in my growing up."
However, he added that he could not confirm whether he remembered reading specific articles at the time they were published, adding that there were "millions" of articles "that have been written about me since age 12".
The duke later said that when information he had only told to a few members of his inner circle was made public, "your circle of friends starts to shrink".
In his written evidence, Harry said that the alleged unlawful activity "affected every area of my life".
The duke said that he now believes that both his and his associates voicemail messages were hacked by MGN, and that it also used "other unlawful means" to obtain private information.
He continued: "The fact that the defendant's journalists and those instructed on their behalf were listening in to private and sensitive voicemails at the level of detail discussed in this statement rather suggests that they could have heard anything and everything.
"This not only creates a huge amount of distress but presented very real security concerns for not only me but also everyone around me.
"I would say their actions affected every area of my life."
The 38-year-old's claim is being heard alongside three other "representative" claims during a trial which began last month and is due to last six to seven weeks.
MGN is contesting the claims and has either denied or not admitted each of them.
The publisher also argues that some of the claimants have brought their legal action too late.
Harry's court appearance comes just over a month after he attended the coronation of his father, the King.
It is thought to be the first time a senior member of the royal family has personally appeared in court proceedings since 2002, when the Princess Royal pleaded guilty to a charge under the Dangerous Dogs Act after her pet bit two children in Windsor Great Park.
On the first day of the trial, lawyers for MGN said the publisher "unreservedly apologises" to the duke for one instance of unlawful information-gathering and that it accepts he is entitled to "appropriate compensation".
Mr Green said it is admitted that a private investigator was instructed, by an MGN journalist at The People, to unlawfully gather information about Harry's activities at the Chinawhite nightclub one night in February 2004.
"Otherwise, the specified allegations are denied, or in a few cases not admitted," he added.
At the start of the duke's cross examination, Mr Green apologised to the duke in person on behalf of MGN, repeating the publisher's "unreserved apology" to him at the outset of the trial for one instance of unlawful activity.
He said: "MGN unreservedly apologises to you for that, it should never have happened and it will never happen again."
Mr Green told Harry that, if the judge finds that MGN was responsible for any further acts of unlawful information gathering, "you will be entitled to, and will receive, a more extensive apology".