Post-Brexit invasion of Ukraine 'limited co-operation' between EU and UK, Edinburgh academic warns
The invasion occurred when EU and UK relations were at a low point
The Independent Commission on UK-EU Relations, which researches Brexit impacts and makes policy recommendations for the future, highlighted the Brexit agreement precluded structured dialogue or alignment with EU actions on security and defence. The UK-EU security relationship was branded the "missing link" in Europe's response to Ukraine.
The report, which researched views from a high-level commission of business, political and media figures, including Dragons Den star Deborah Meaden and former FT editor Lionel Barber, was written by Dr Benjamin Martill, lecturer in international relations and politics at Edinburgh University.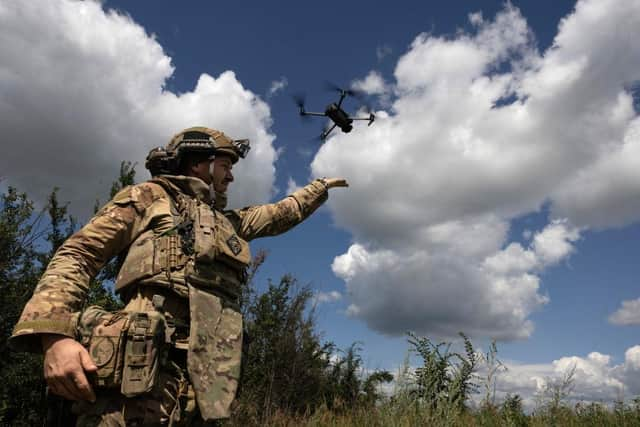 It said the timing of the invasion meant co-operation on Ukraine was hindered by difficulties over the Northern Ireland protocol and officials on either side of the UK-EU divide being discouraged from communication.
The UK left the EU in January 2020, following a referendum in 2016, meaning the UK was no longer party to EU-wide policy on defence.
Theresa May's government presented outline plans in mid-2018 for a partnership in foreign, security and defence policy with the EU, proposing structured co-operation be established across the political and administrative levels in all policy areas. However, her departure from government shortly afterwards and Boris Johnson's subsequent appointment as prime minister meant this was not implemented.
The report, which also consulted experts including former Observer editor Will Hutton, Prospect union chair Mike Clancy and former MEP Clare Moody, said: "Russia's invasion of Ukraine in February 2022 came as a shock to the European body politic, bringing about a robust response from the major strategic and institutional actors, as well as high levels of European solidarity. Yet the invasion occurred at a low point in the relationship between the UK and the EU, including in the domain of security and defence, where the UK had decided to forego agreement two-years before."
The group said regular conversations would "allow civil servants on both sides to exchange information and identify productive areas of co-operation". The report recommended a formal agreement should be forged between the UK and EU to allow more options, including UK participation on common security and defence policy missions.
Dr Martill said: "There is no doubt that Brexit harmed the UK and EU's ability to work together on security and defence. With a security 'no-deal', c-ooperation was always going to be affected and it is imperative for all of our safety that we have mechanisms to work as a back-up to ad-hoc diplomatic arrangements."
Mike Buckley, director of the commission, said: "There is a long history of European nations working together to increase their levels of safety and security together. We know why that is – it's because it works, and the importance of unity is only getting stronger in the face of growing threats.
"We have to have some sort of mechanism for dialogue between the UK and EU on this vital topic or otherwise we'll harm the safety of Europe and actually the world more widely."
Comments
 0 comments
Want to join the conversation? Please or to comment on this article.