Nepal earthquake: Medics at Scotland charity pivot from palliative care to earthquake relief in disaster-hit Nepal
EMMS International is developing the country's first ever palliative care service in Nepal
A Scottish charity has told how its medical staff had to put a palliative care project on hold and turn to urgent disaster relief after an earthquake hit rural Nepal.
EMMS International, which is based in Edinburgh, has launched an emergency appeal to support those affected by the disaster last week, which killed 157 people, injuring scores more and leaving thousands homeless.
The charity had scheduled training sessions for key parts of its palliative care scheme, the Sunita Project, which will offer in-home nursing care to families with people suffering from a terminal illness, as the earthquake hit last weekend, devastating the region.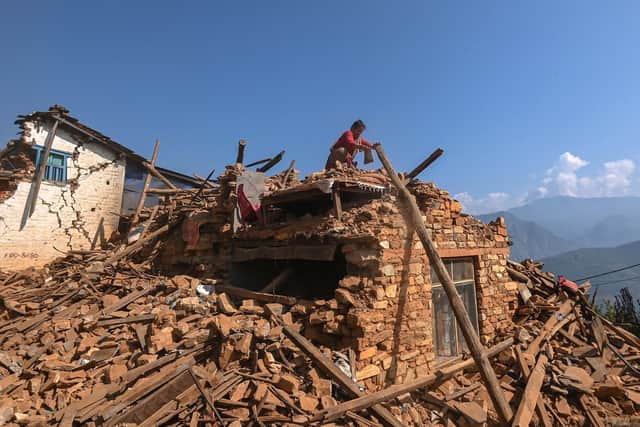 The charity has been developing the country's first ever palliative care service in hard-to-reach places throughout Nepal. Jajarkot, one of the regions at the epicentre of last week's earthquake, was one of the regions where palliative care services had recently started.
Cathy Ratcliff, chief executive of EMMS, is due to fly out to Nepal later this month, where she will visit the earthquake-hit zone, as well as other areas where EMMS's project is underway.
She said: "I have been in many earthquakes in Nepal, and each time we know that somebody, somewhere has been hurt. The thoughts of everyone at EMMS go out to all those affected. At the same time, it's heartening to see how quickly our partners swing into action to deliver necessities and medical care to the injured, the bereaved and those who have lost everything they have built up over generations."
The magnitude 5.6 quake, which struck just minutes before midnight on Friday last week, was also felt in India's capital, New Delhi, more than 500 miles away. Nepal's National Earthquake Monitoring and Research Centre confirmed the epicentre was in Jajarkot, about 250 miles north-east of the Nepalese capital, Kathmandu.
"The thing about Nepal is that earthquakes happen all the time," said Ms Ratcliff, whose team has devised a plan for palliative care patients affected. "I've been to Nepal every year for the past several years and on half of my visits, I have experienced an earthquake."
Staff who had gathered at the Chaurjahari Hospital in Rukum district were quickly deployed to care for people injured in the earthquake.
One doctor leading the EMMA palliative care project in Nepal, Dr Dan Munday, said he had been in touch with Sunita Project staff at the Chaurjahari Hospital.
He said: "They have been able to use their skills in managing patients brought to them as a result of the earthquake. I have not heard specifically about any palliative care needs, but they are still in an emergency situation and need to get on with their work. They have extra military health care staff stationed with them."
EMMS says patients with palliative care needs struggle even more in the aftermath of an earthquake than healthy patients. The £2 million Sunita Project, funded by the UK Government, will work to present a paper of best practice to the Nepalese government to allow it to create its own palliative care strategy throughout the country.
A paper written by Dr Munday interviewed patients who were victims of the 2015 earthquake about their challenges. One woman had her back broken as her house collapsed in the earthquake, while other spoke of the psychological impact.
A family member of one palliative care patient said: "He was fed-up. He was chronically ill and weak.
"After the earthquake, the house was destroyed and he was tired. He was alcoholic and depressed and he committed suicide last June. He had been on anti retro viral treatment for the last seven or eight years. He used to say 'I cannot carry on, I cannot rebuild'. He gave up.'"
Along with the 157 people killed in last week's earthquake, at least 256 more were injured and 3,891 houses were damaged. In Chepare, villagers were going through piles of rocks and logs that used to be their homes, looking for anything they could salvage.
"Most of what belonged to us is under the rubble, all our beds, clothes, whatever jewellery and money we had, it's all under there," resident Nirmala Sharma said last week, pointing to her wrecked home.
Authorities had distributed basic necessities, including rice, oil, instant noodles and salt in the village, to last them for a few days. Tarpaulin and plastic sheets made for temporary shelters for a lucky few while thousands of others spent a third night in the cold.
Mina Bika said her family was sleeping when the ceiling fell and buried them.
A relative rescued them. Her husband was badly injured and taken to hospital in the town of Surkhet while she and the couple's two sons were only lightly hurt.
"It felt like the world had collapsed and I was not sure if anyone had even survived and would be able to help," she said.
Most of the homes in the villages in the districts of Jajarkot and Rukum, where houses are traditionally built by stacking rocks and logs, either collapsed or were severely damaged. But even the few buildings made out of concrete were also damaged.
Comments
 0 comments
Want to join the conversation? Please or to comment on this article.