Morocco earthquake: Scottish woman tells of horror as walls were moving, saying 'I thought I was going to die'
The earthquake is thought to be the deadliest in Morocco in 60 years
A Scottish woman living in Morocco's Atlas mountains has told how she thought she was going to die when the walls of her house closed in around her during a huge earthquake on Friday.
Alice Morrison – an adventurer, writer and TV presenter who was born in Edinburgh, but moved to Morocco ten years ago after falling in love with the country while running the Marathon des Sables – has recalled being woken up by the ground shaking beneath her.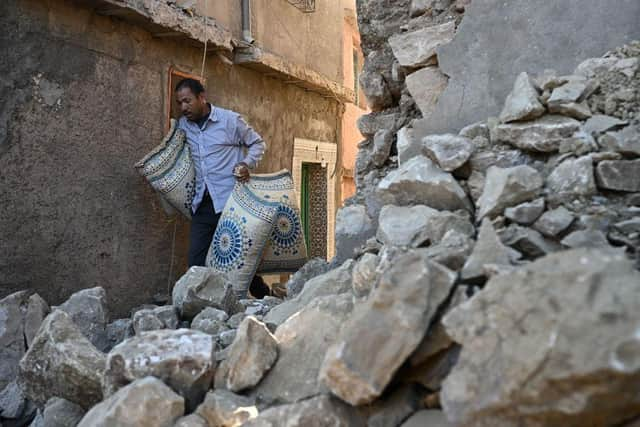 Soldiers and aid teams have battled to reach remote Moroccan mountain towns devastated by the earthquake, with survivors desperate for help to find loved ones feared trapped under the rubble.
Ms Morrison told the BBC: "I was asleep in my bed. I was woken up by the most incredibly intense knocking noise, like a giant was shaking my house. I don't know how I knew it was an earthquake.
"I leapt out of bed and the walls of my house were closing in, the actual walls were moving. I rushed out into the yard barefoot in my nightie and all of the power had gone out. It was pitch black and I was standing alone in this yard, with the ground underneath me humpng and swaying like I was on the sea, on a ship. I've genuinely never felt such terror in my life, I thought I was going to die.
"My house has stood up. It's made of concrete blocks. All of my neighbours' houses are more traditionally built form clay and stone and they all have huge cracks in them. We're all too frightened to go and stay in our houses because we're worried that they might fall down. But my house, which is modern and made of concrete blocks withstood it. I hope we can go back to our houses soon."
Ms Morrison, who presented BBC2's Morocco to Timbuktu: an Arabian Adventure in 2017, lives in an extended Berber family of over 20 people aged from two to 100. The family resides in the village Imlil, situated 1,800m above sea level in the Atlas Mountains.
"It's a very self sufficient community and we sprang into action," she said. "We stayed out that night in the car park in the freezing cold, I just had my nightie and a pair of shoes. I had a bag on my head, I was so cold.
"The next night, the men set up tents, one for the men, one for the women, because that's how society works here. And we were all cosied up together with sleeping bags and blankets and cushions and eating together. The sense of community here is so strong anyway and, like any country, we're all bonding together and everyone is trying to help each other."
Everyone in her local community survived the disaster, but nearby, that is not the case.
Ms Morrison said: "Yesterday I cycled 20 to 30km down to the next valley and here the devastation is complete. It's so shocking to meet these people [this has happened to].
"I met a lady yesterday who had buried her mother that morning. But her father and her son, who's seven, were still under the rubble. What do you say to someone who is suffering in that way? I just hugged her. She lost eight members of her family. I saw where her house used to exist. She was just completely devastated."
Military hospitals and temporary camps have been set up in rural towns.
"The government has reacted really well," Ms Morrison said. "A gendarme told me 'we have to do this, it's our national duty'."
"This area is very mountainous, not unlike the Highlands, and is tiny villages spread out. A whole family may live in one house. I think it will be insanely difficult to find out ever what the true cost of this earthquake will be. There are some areas aid workers find it very difficult to get to because of the nature of the terrain."
However, Ms Morrison said she believed the community would rebuild.
"It's an incredibly practical community," she said. "Most people here build their own homes if they're in the countryside, so of course we can rebuild. We still need tourists to come, the infrastructure is intact so you can visit most of the country and that will help people. People need their businesses to thrive and go forward.
"It's already starting, everyone is clearing the rubble and starting to salvage things, even though the sense of shock is immense.
"For us, it's not a news story, it's our lives."
Moroccan officials have so far accepted government-offered aid from just four countries – Spain, Qatar, the UK and the United Arab Emirates – with some foreign rescue teams claiming they are awaiting permission to deploy.
Morocco's interior ministry said officials wanted to avoid a lack of co-rdination that "would be counter-productive". The United Nations estimates 300,000 people were affected by Friday night's quake, made more dangerous by its relatively shallow depth.
Most of the destruction and deaths were in Al Haouz province in the High Atlas Mountains, where homes folded in on themselves and steep, winding roads became clogged with rubble. Some residents cleared away rocks by themselves.
People cheered when trucks full of soldiers arrived on Sunday in the town of Amizmiz. But they also pleaded for more help.
"It's a catastrophe," said 28-year-old survivor Salah Ancheu in the town where mountainside homes and a mosque's minaret collapsed. "We don't know what the future is. The aid remains insufficient."
Aid offers have poured in from around the world following the quake. About 100 teams made up of a total of 3,500 rescuers are registered with a UN platform and ready to deploy in Morocco when asked, Rescuers Without Borders said.
Comments
 0 comments
Want to join the conversation? Please or to comment on this article.