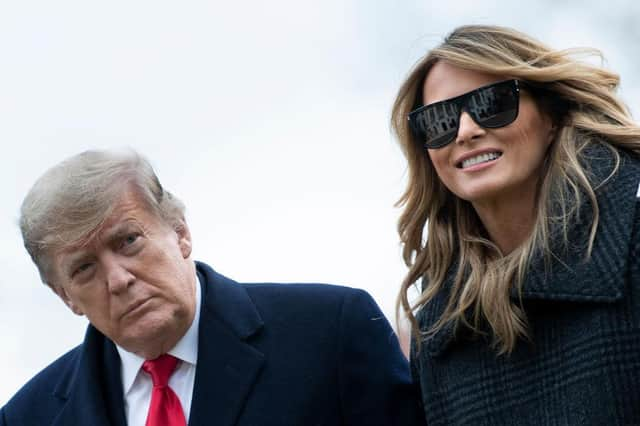 Most unusual of all will be the absence of President Donald Trump and First Lady Melania Trump.
The couple have opted to snub President-elect Joe Biden and First Lady-elect Dr Jill Biden.
Why has Melania Trump been accused of Jill Biden snub?
Traditionally, the outgoing first lady has offered the incoming first lady a tour of the family area of the White House.
The tradition stretches back to the 1950s when Bess Truman hosted her replacement Mamie Eisenhower.
The Trumps however, are set to flee the capital and the White House prior to president-elect Biden's inauguration, with the 45th president set to host a farewell rally in Maryland on Wednesday morning.
CNN noted that this would be a historical snub.
It wrote: "Melania Trump will become the first modern first lady not to invite the woman who will replace her to the White House for a walk-through of the private living quarters on the second and third floors".
Four years ago Michelle Obama toured Melania Trump round the White House on the day of Donald Trump's inauguration.
What has Melania Trump said?
On Monday night, two days before her departure from the White House, Melania Trump delivered a farewell speech to the American people.
Declaring her role as First Lady as "the greatest honour" of her life.
In an apparent nod to the Capitol Hill riot and threats of violence from supporters of her husband the First Lady said: "be passionate in everything you do but always remember that violence is never the answer and will never be justified."
She added: "In all circumstances, I ask every American to be an ambassador of Be Best. To focus on what unites us. To rise above what divides us. To always choose love over hatred, peace over violence, and others before yourself."
"Together, as one national family, we can continue to be the light of hope for future generations and carry on America's legacy of raising our nation to greater heights through our spirit of courage, goodness and faith," she concluded.