Joe Biden: The 'world is better' because of the Queen
US President Joe Biden has said the "world is better" because of the Queen as he offered his condolences to the British people for their loss.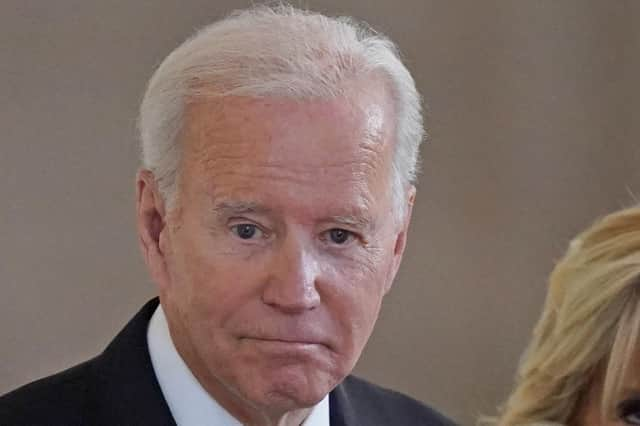 US President Joe Biden views the coffin of Queen Elizabeth II
He was speaking at Lancaster House after visiting Westminster Hall to pay his respects to the late monarch.
Mr Biden arrived with his wife Jill at the lying in state shortly before 5pm on Sunday, joining a string of world leaders. Earlier, the first lady of Ukraine Olena Zelenska also paid her respects.
Mr Biden said: "To all the people of England, all the people of the United Kingdom, our hearts go out to you.
"You were fortunate to have had her for 70 years, we all were.
"The world is better for her."
He also said the Queen reminded him of his own mother.
He said: "She had that look like, 'are you OK? Anything I can do for you? What do you need?'
"And also 'make sure you do what you're supposed to do'," he joked, wagging his finger.
He added: "I have talked about how my mother and father thought that everyone, no matter who they were, no matter what their station, no matter where they are from, deserved to be treated with dignity.
"And that's exactly what she communicated – just the way she walked by her staff, just the way she acted.
"I think what she gave was a sense of, above all, the notion of service – we all owe something.
"There is something in our capacity to do that can make not just the world better, but your neighbourhood better, your household better, your workplace better, and that's what she communicated to me and it was an honour to meet her."
Mr Biden said the Queen was "the same in person as her image – decent, honourable and all about service".
"Our hearts go out to the royal family, King Charles and all of the family. It's a loss that leaves a giant hole and sometimes you think you'll never overcome it," he said.
Later, the Princess of Wales held an audience with Olena Zelenska at Buckingham Palace.
Downing Street had previously declined to confirm reports that Ukrainian President Volodymyr Zelensky's wife would travel to the UK for the funeral. She was pictured meeting Kate at the Palace on Sunday afternoon.
Ms Zelenska made the journey to the UK after her husband took time out from organising his country's fightback against Russia to sign a book of condolence for the Queen.
The UK's ambassador in Kyiv, Melinda Simmons, said she was "deeply honoured" by the president's gesture.
The princess's meeting with Ms Zelenska follows Liz Truss's earlier audience with the King in the Palace's 1844 Room. The Prime Minister has also continued informal talks with world leaders as hundreds of dignitaries descend on London.