Israel-Hamas war: Israel agrees to four hour 'pauses' in fighting to allow aid into Gaza
The agreement comes after US president Joe Biden asked Benjamin Netanyahu to introduce breaks in attacks
Two humanitarian corridors have also been agreed to allow civilians to flee the hostilities, according to the White House.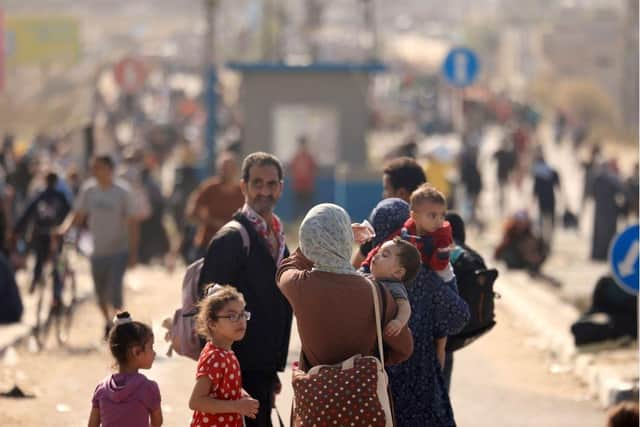 The first pause is expected to begin today. Israel told citizens in northern Gaza to evacuate the area weeks ago, however it is understood hundreds of thousands of people remain in the region.
Gaza has experienced a month of near-constant air strikes, killing more than 10,000 people, according to the Gaza Health Ministry.
The news comes as the armed wing of the Palestinian Islamic Jihad group in Gaza released a video of two Israeli hostages, who it said it would be willing to release for humanitarian and medical reasons - but only if what it called "appropriate measures" were met.
One hostage, Hanna Katsir, in her 70s, who was abducted from kibbutz Nir Oz, is seen sitting in a wheelchair in the video alongside a teenage boy from the same community. They say they are being well treated and criticise the Israeli government, although it is not known whether they are being forced to read from a script.
Earlier this week, Israeli prime minister Benjamin Netanyahu said his government would consider "tactical little pauses" in the military campaign in Gaza after conversations with the US Government, but he has said there could be no broader ceasefire without the release of all 240 hostages taken from Israel.
President Joe Biden had directly asked Israeli Prime Minister Benjamin Netanyahu to institute the daily pauses, while other world leaders, including French president Emmanuel Macron, had called for a full ceasefire.
White House spokesman John Kirby said an announcement would be made three hours beforehand.
"And we've been told by the Israelis that there will be no military operations in these areas over the duration of the pause and that this process is starting today," he said.
He described the pauses as a "significant first step".
"Obviously we want to see them continued for as long as they are needed," he added.
Mr Biden has said he had asked the Israelis for a "pause longer than three days" during negotiations over the release of some hostages held by Hamas, though he ruled out the chances of a general ceasefire.
Earlier today, the Israeli Defence Force (IDF) issued a statement reiterating there would be "no ceasefire", but said it was implementing "tactical, local pauses for humanitarian aid".
"There is no ceasefire," it said. "There are tactical, local pauses for humanitarian aid for Gazan civilians. These tactical pauses are limited in time and area. We are also providing humanitarian corridors for civilians in Gaza to temporarily move south to safer areas where they can receive humanitarian aid.
"Our war is with Hamas and not with the people of Gaza."
Images have shown thousands of people leaving northern Gaza on foot or in the back of trucks, as Israel has permitted movement along the Salah al-Din road which runs the length of Gaza, for the fifth consecutive day.
Riham Jafari, coordinator of advocacy and communication for ActionAid Palestine, said: "Today's announcement offers precious little to the two million people in Gaza, displaced, injured and traumatised who have faced a month of relentless bombardment and seen critical infrastructure across Gaza all but destroyed.
"What use is a four-hour pause each day to hand communities bread in the morning before they are bombed in the afternoon? What use is a brief cessation in hostilities when hospital wards lie in ruins and when roads used to deliver medical supplies and food are destroyed?
She added: "With over half of Gaza's hospitals closing due to fuel shortages or constant bombardment, there will soon be nowhere to deliver medical supplies to at all. Without fuel in any aid packages, a humanitarian pause does nothing to repair Gaza's destroyed health system or allow families to cook themselves a meal or power water to their homes to shower.
"While a humanitarian pause might offer a brief respite for a few days, it is nowhere near enough time to repair the damage to Gazan communities and their homes and lives."
At least 4,237 children in Gaza have been killed since 7 October – one child every ten minutes, or more than 100 children each day. A further 1,350 at least remain missing under the rubble of bombed-out buildings and are presumed dead.
On Sunday, the Rantisi Paediatric Hospital in Gaza City was hit by an airstrike which killed at least four people and caused extensive damage to the third floor, which hosts the only paediatric cancer unit in the whole of Gaza. The hospital has since been issued with a further evacuation order ahead of potential airstrikes.
Hala, a humanitarian worker in Gaza, said: "As a mother, I have been running from one place to another, escaping from one place to another, just to save my life and the lives of my children. We want to save our lives and the lives of our children, nothing more, nothing less."
ActionAid said at least two children in Gaza are suffering injuries – some of them life-changing - every 10 minutes, while many of the children who have survived so far are sick or at risk of falling sick due to the lack of clean water and food.
Cases of gastroenteritis are high, while the majority of the 33,551 cases of diarrhoea reported since mid-October are among children under the age of five, according to the World Health Organisation.
Somaya, a pregnant mother who is sheltering in a school near Deir al Balah, said: "This water is salty sea water; we have to drink it because we can't find water. And these little children, we cannot clean them or bathe them because we are afraid that they will get sick."
Mr Netanyahu has come under increasing pressure from world leaders over his military action in Gaza. Many initially supported him unequivocally following the bloody attacks on 7 October, when Israelis were killed or kidnapped by Hamas militants.
Comments
 0 comments
Want to join the conversation? Please or to comment on this article.