Iran passes bill to toughen penalties against women who fail to wear hijab
Iranian women have protested by removing their head scarfs
Iranian lawmakers have passed a Bill that could see women face up to ten years in prison if they fail to wear the hijab – in the face of protests which have seen women take to the streets in public with their hair uncovered.
The Iranian parliament approved the implementation of the Support for the Culture of Hijab and Chastity Bill for a trial period of three years, Iranian state media has reported.
Following the report by the parliament's Judicial and Legal Commission, the Bill was put to vote with 152 members of the house voting in favour of it, 34 against and seven abstentions. However, the legislation still requires final approval from the Guardian Council.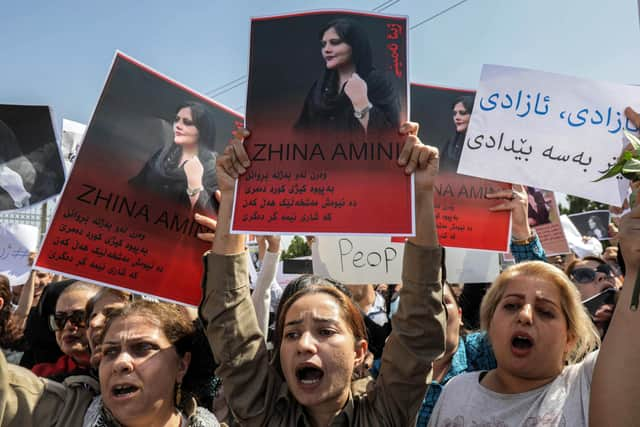 Under the new rules, businesses which serve women who are not wearing a hijab face being shut down, while penalties will be enforced against women who do not follow a strict dress code. The penalties are likely to be mainly financial, with the maximum fine rising from the equivalent of just under £1 to £2,600. However, repeat offenders could face a jail sentence of up to ten years.
The move to tighten regulations around hijab wearing comes one year after the death in custody of Mahsa Amini, 22, who had been detained for allegedly wearing the Islamic headscarf incorrectly.
Iran's laws have required women to cover their hair since the 1970s under an interpretation of Sharia law. However, since Ms Amini's death, many women have protested by taking the scarf off entirely and even burning hijabs in public protests. They have also taken to social media to show videos and photos of themselves out in public without head scarfs.
Ms Amini died in September last year after she was arrested while visiting relatives in Tehran. The officers took Ms Amini to a "re-education centre", allegedly on grounds her hijab was not being worn correctly. Hours later, she was admitted to hospital, seriously ill and died after spending three days in a coma. Her family claimed she was beaten by police.
In July, the controversial "morality police", who were responsible for Ms Amini's arrest, resumed patrols. Earlier this year Iranian authorities installed cameras which could track women not wearing a head scarf.
A United Nations group of experts said recently the Bill amounted to "gender apartheid".
In August, Iran's parliament voted in favour of invoking Article 85 of the Constitution, which allows a parliamentary committee to review legislation without public debate.
"The draft law could be described as a form of gender apartheid, as authorities appear to be governing through systemic discrimination with the intention of suppressing women and girls into total submission," the experts said.
They added: "The Bill also violates fundamental rights, including the right to take part in cultural life, the prohibition of gender discrimination, freedom of opinion and expression, the right to peaceful protest, and the right to access social, educational, and health services, and freedom of movement."
The proposed law stipulates that women failing to wear a head scarf or appropriate clothing, particularly those deemed to be "collaborating with foreign or hostile governments, media, groups, or organisations", could potentially face prison sentences ranging from five to ten years.
Comments
 0 comments
Want to join the conversation? Please or to comment on this article.