Following the attack on the US Capitol, security measures around the inauguration of president-elect Joe Biden have been ramped up amid fears of further protests.
The precautions were further thrown into the public spotlight when smoke was seen rising from the Capitol and staff were evacuated during an inauguration rehearsal on Monday 18 January.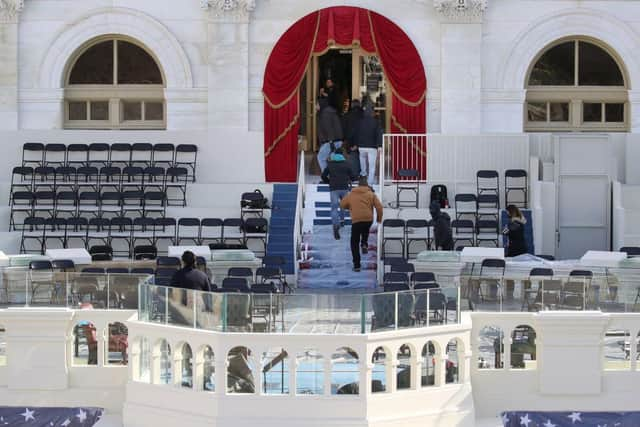 What extra security measures have been put in place?
There are reportedly 25,000 National Guard troops being vetted by the FBI, over fears of an insider attack on Biden inauguration.
The number of troops is nearly three times the amount of previous inaugurations but shows the level of concern among officials.
Most of the National Guard will be armed on the day and are also being trained to identify potential insider threats.
US Army secretary Ryan McCarthy said there had been nothing of concern so far in their "second, third looks at every one of the individuals" in the National Guard.
McCarthy said: "We need to be conscious of it and we need to put all of the mechanisms in place to thoroughly vet these men and women who would support any operations like this."
It comes after military personnel were identified to be among the crowd on the day of the Capitol riot, but it's unclear how many were involved in the storming of the building.
These measures are on top of road closures, high perimeter fencing and police checkpoints around the Capitol, which has been likened to a military zone by local reporters.
Why was the inauguration rehearsal cancelled?
Biden's rehearsal, initially scheduled for Sunday 17 January, was postponed due to security concerns, reported Politico.
Though details haven't come to light officials have warned of plans for armed protests in Washington as Biden is set to be sworn in as the 46th president of the US, after Trump supporters stormed the Capitol.
The inauguration rehearsal was rescheduled for Monday 18 January though didn't go to plan as the Capitol alarm was raised, staff evacuated and smoke was seen rising above the building.
It was later discovered the smoke came from a homeless encampment just behind the Capitol and that the alarm was raised "out of an abundance of caution", said Capitol police.
Could there be more protests?
The FBI has identified more than 200 suspects threatening violence, said director Chris Wray.
Wray confirmed the FBI remained concerned about the potential for violence at protests and rallies in Washington and that it was monitoring "online chatter".
"One of the real challenges in this space is trying to distinguish what's aspirational versus what's intentional," he said. "We know who you are. If you're out there, an FBI agent is coming to find you."
The run up to Biden's inauguration on Wednesday 20 January has been relatively peaceful so far but concern of an attack from Trump supporters, some of whom have far right links, remains a top priority for the FBI.